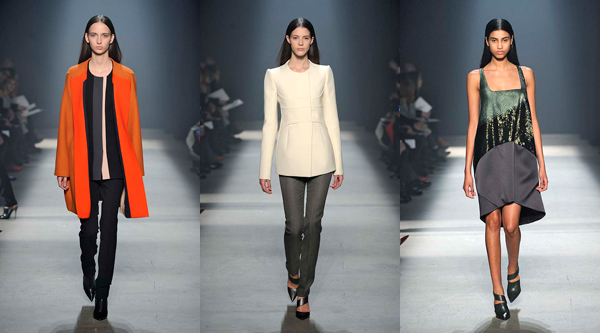 NYFW Fall 2014: Narciso Rodriguez, Naeem Khan, Karen Walker, All Saints
|
(NEW YORK) Narciso Rodriguez
Clean lines and gorgeous color blocking are de rigueur for minimalism maestro Narciso Rodriguez. His Fall offering was no exception, starting with the first few looks, which were exceptionally cut and done in shades of poppy, magenta, and rust. Impeccable seaming prevailed on cap-sleeved frocks. Meanwhile, sharply-cut wool toppers were cheekily lined with coordinating colors, meant to be worn with chic insouciance: flapping open, perhaps sans a scarf. Work-apropos riffs on suiting managed to be simultaneously elegant and tastefully sensual, in sensible charcoals and blacks. Sparkle gets a subdued treatment under Rodriguez's watch, with a series of earthily hued shifts and tops streaked with monotone metallic beading wrapping up the show.
Naeem Khan
"We took the feathers, the fringe, and the sex from cabaret, but we put it into an elegance for the kind of woman that I design for," said Naeem Khan of his latest collection backstage before the show. While Khan might have cited cabaret as one of the influences, we couldn't get old Hollywood glamour out of our heads as the models sashayed down the runway against the backdrop of a larger-than-life grid of stage lights. They set the tone perfectly for the gold-hued collection, spiked with an array of jaw-dropping crimson looks. Khan started off the drama with black satin embroidered with 24-karat gold thread roses. Other new and noteworthy details this season include hand-dyed feathers to match the colors of a leopard for voluminous plume covered hems and, as Khan described to us with enthusiasm, "We hand cut pieces of chiffon, shirred it, and sewed it in patterns. It's really cool!" His clear passion and adoration for couture design only elevate the value of his beaded, embroidered, and fringed gowns. There was also head-to-toe animal print utilizing the aforementioned feathers, a full-length gown with rows upon rows of chevron patterned, beaded fringe as well as its mini-dress counterpart, and sophisticated florals in print and applique. It was a collection fit for royalty—maybe Queen B(eyonce), whose stylist, Ty Hunter we spotted at the show, or Princess Deena Al Juhani Abdulaziz perhaps, who also looked on from the front row.
Karen Walker
The modern day suffragette got a stylish redux, courtesy of Karen Walker. While she may have designed the collection with the ladies of the past in mind, the Lean In generation will certainly benefit from the collection as well. Present were smart suits and trou, plus dresses that positively highlighted the female figure. Also to note? The blue suede pieces, in the form of a T-shirt and dress, which used simple seams to their advantage. These suffragettes are clearly too busy to brush their hair, but they certainly had a moment or two to swipe some orange lipstick on their lips. As you're probably wondering, the sunglasses were also brilliant, ranging from a rectangular pair with orange lenses to a rounded pair with pale blue lenses. As this was Walker's first tryst with handbags, she debuted a selection including clutches with quotes and round cross body satchels. We'll sign up to join Walker's lady-power gang, as long as we get to wear one of her amazing burgundy velvet burn-out dresses.
All Saints
What would a wall of layered and peeling posters look like if it were turned into a collection of clothing? Well, it would look like All Saints' latest collection. Creative director Wil Beedle merely stepped outside of his East London atelier to find his inspiration, even shooting his lookbook in the surrounding area. While some features were blatant references, like the rips of paper that were literally imprinted on the clothing, others were a touch more subtle. Their outerwear is still strong, and more structured than last season, with moto jackets featuring sharp edges in both leather and shearling. While the dresses and skirts carved out the strongest silhouettes, a golden silk jumpsuit was attention-grabbing in all the right ways. Last season the label introduced a revamped shoe label, and their second season of chaussures is certainly something to write home about. Their leather thigh-high boots are nothing to mess with, and a black pair of pointy booties with a distinct burnt-out toe is likely to be a sartorial fave.