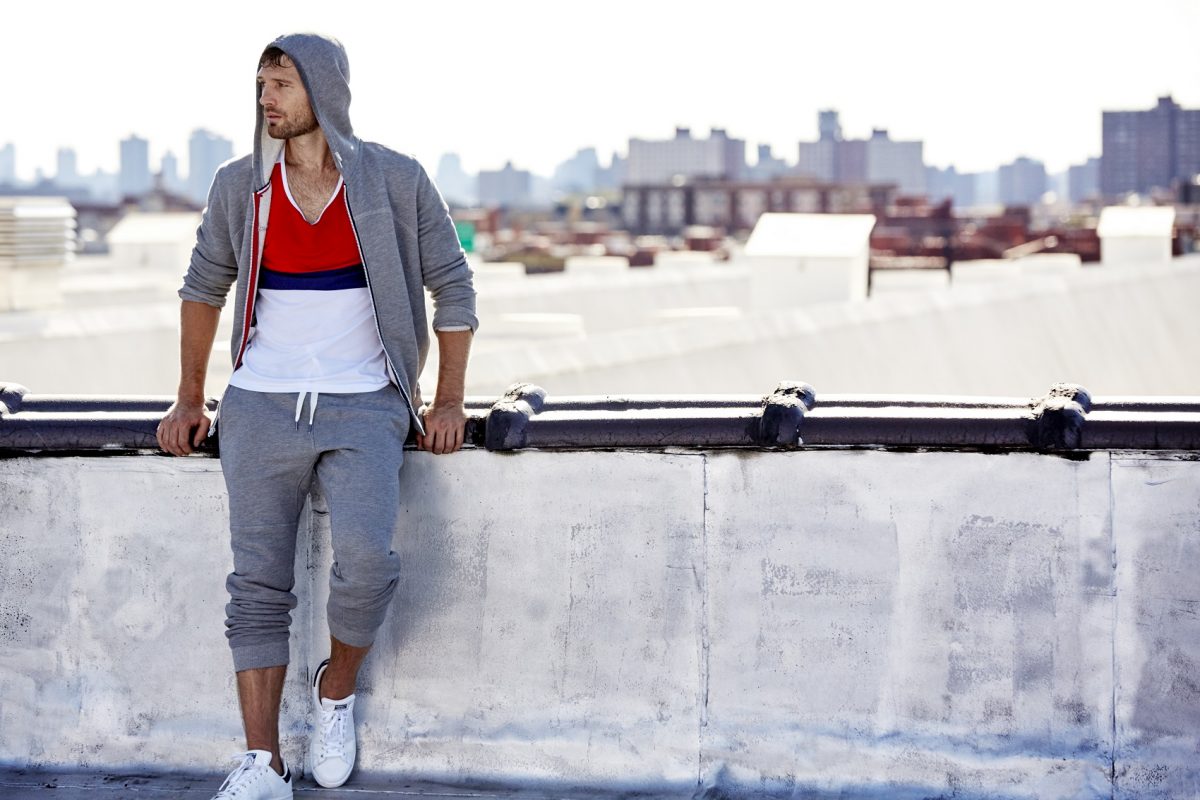 Need a dose of entrepreneurial inspiration? Meet Daniel Shapiro, a merchandising vet of The Gap, Old Navy, and American Eagle, who launches his own label, Fourlaps, today. The athletic apparel line for men, inspired by vintage images of Ivy League athletes, brings some much-needed color to the market. Shapiro tells all! 
What's your background?
Corporate retail merchandising. When you work for vertical specialty retailers, you have the opportunity to work with design, marketing, production, and planning. You have your hands in all aspects of the business, which made my job fun and challenging. I've always found the creative side of the business to be the most interesting. I ran a bunch of different businesses over the years, everything from boy's to men's and women's denim.
Why did you decide to branch out on your own?
I've always wanted to do my own thing, but starting a business is one of the hardest things you can do. In 2013, I re-examined my career and decided to travel to Australia and New Zealand to reset. Travel has always been a source of inspiration, and it gives me perspective. As soon as I came back, I decided to just go for it, and finally started the company I had always dreamed of. I have never looked back.
What's the concept of the collection?
The simplicity of the styling and the colors are a nod to the past, but the collection is very modern. Fourlaps is all about clean lines and bright optimistic colors—combined with great fabrics and lots of functional details. It's a radical departure from what's in the marketplace.
What are the signature pieces?
I would say the Bolt Short in four-way stretch. It's the perfect length and has plenty of pockets including one perfectly sized for an iPhone. Also, the Rush Hoodie in a very soft, sturdy, French terry is a great piece for getting you to and from the gym. You'll never want to take it off.
Why is it called Fourlaps?
Four laps make up a mile. It's your first athletic challenge.  The mile is your starting point, but it's just the beginning of what you can achieve.
What were the biggest challenges in putting the collection together?
The biggest challenge is that I'm doing this myself. There's a lot of creativity that comes from a group effort, so while I've enlisted an amazing group of advisors and collaborators, I am the ultimate decision-maker. The plight of a Solopreneur! Luckily, I happen to work out of a shared creative workspace called NeueHouse. I have met some incredible and smart people there, and it's nice to be able to bounce ideas off of other entrepreneurs.  Being in the right environment is paramount to success.
How will the brand be sold?
Solely through our website. I believe that the direct to consumer model is the future of retail. You really get to control the brand experience and understand your customer. Selling our product vertically allowed us to pass along the great value to the customer, which is why almost everything in the line is under $49.50.
What's your longterm plan?
I have high hopes for this brand. My intention is to grow the men's product line, add women's, and I would love to do footwear. My goal is to offer new products every month. I have already started working on our second collection and am really excited for what's ahead.
Are you nervous?
If I weren't nervous, that would be a problem. As an entrepreneur, I think nerves drive you to be bold and push yourself to the limits. But I counter that by working out six days a week and by doing transcendental meditation twice a day. That helps me weather the storm.
Model: Vince Dickson (Wilhelmina)
Photographer: Baldomero Fernandez