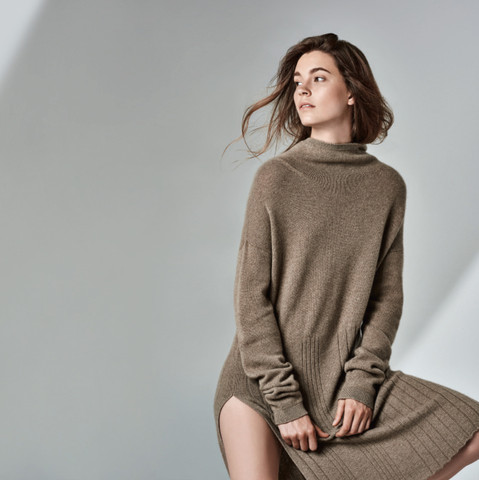 Meet Matt Scanlan, founder of Naadam, a luxurious new cashmere brand that sources the finest fibers while preserving the tradition of its herders in Mongolia. 
How did Naadam get started?
I have a background in venture capital, and my business partner [Diederik Rijsemus] has a background in econometrics. We weren't fashion guys, although I think now we probably are. I was pretty sick of what I was doing so I quit. I called [Diederik] to find out what he was doing, and he said that he was going to Mongolia. I asked if I could meet him there. I got off the plane, and there were cows on the runway. I was freaked out—it was like going to Mars. We didn't know anyone or what we were doing, and we didn't speak the language. We ended up in a car with two Mongolians who are in the cashmere trade who were on their way to meet friends in the countryside. We joined them and drove 20 hours straight, off-road the whole time. We arrived at Gobi Desert and met a goat herder who produces cashmere each spring. Our ride wasn't leaving for three weeks, so we were stuck there, and started to ask questions.
Seriously?
Yeah! We realized there were ways to invest in nonprofit work, veterinary programs, and breeding practices—things that control the health of their animals, which positively impacts their livelihood and the fiber they sell. The material they had access to is very rare. We realized we could raise money selling cashmere. If we bought raw cashmere, we'd get it at a good price because we bypassed trade layers. The end result was a supply chain that constantly reinvested in itself.
How is business now?
I was back in Mongolia in June and bought 40 tons of cashmere. I took $3 million in cash out of a bank, put it in plastic bags, and made that 20 hour trip to buy cashmere from the herders. We sent it to Italy where it was spun into a yarn, which we're selling on its own in addition to producing our own knitwear collections. In just two years, it's blossomed into something we weren't sure could exist. We're not geniuses; we've approached things differently.

Who designs the collections?
One of our co-founders, Hadas Saar. We depend heavily on her intuition and aesthetic. She went to FIT, and afterward worked on knitwear at Elie Tahari. She also worked in factories in Italy where she oversaw knitting, and spent time in knitwear at Badgley Mischka and Vera Wang. Then she ended up at Li & Fung and ran knitwear for their $3 billion-business. I was introduced to her by a mutual friend and told her what I was doing. I think she felt it was about time something like this existed in the fashion industry.
What was the inspiration for your current fall/winter collection?
It redefines the expectations for cashmere. It's a versatile collection that can be worn around the house but can easily convert into something more formal. The inscription was versatility and relying on classic, timeless silhouettes that are updated to reflect a more modern approach to design. On the men's side, you'll see things that represent a very traditional CPO/military-jacket that's updated. For women, we played on something that's even more traditional: styles that relate to the Mongolian coat they use that's meant to be wrapped and worn and repurposed. It's represented through a color palette that's inherently natural—think sands, stones, indigos, and olives.
Ultimate destination for sweater weather?
I love when sweater weather turns in New England. There's nothing better.
How many sweaters do you own?
Probably 50 or so, easily. I'd say 95 percent of them are cashmere. I'm either wearing a cashmere sweater or I'm not wearing a sweater at all.
What's your favorite sweater in your men's collection right now?
I love the navy blue/brown sweater blazer. The way I wear it, it looks more like a cardigan meets a blazer.
Tell us about your cashmere club!
There are three sweaters, and you get one a month. Each sweater costs $250, but it's basically buy two and get one free. The sweater you choose is meant to be timeless, a sweater you live in. You pick a color palette. Each month, we ship you one sweater in the palette. If you picked the navy, black, and gray palette, you'd get one each month, but we don't tell you what order they'll arrive in! To get three sweaters for $500 is an awesome deal.
Plans for a spring/summer collection?
We'll be launching the collection direct-consumer-only for women while men's will be both direct-consumer and wholesale. You can find our sweaters at retail giants like Bergdorf Goodman and online, but we're in smaller stores as well. We care about curating an experience, and you need to be in a place where you can unload that story. We're specific about the partners we've decided to bring on.
What's the price point of Naadam?
It's $65 online for a 100 percent cashmere beanie, which I'm obsessed with and have in every color. Sweaters range from $250 to $1,500. We make some sweaters that are just excessive from a cashmere standpoint, knowing it was kind of ridiculous when we made it, but we try to sell it at a reasonable price. Items that are $1,500 are really unique, and if were sold anywhere else would probably cost over $3,000. We try to have fun with what we make.
How do you see yourself expanding?
I care very deeply for digital. I think it's the best place for us to interact with our customers. You don't get that experience in the wholesale market, so I really see us pushing into digital and not only representing cashmere but our full fashion brand online, be it through a subscription model or something else, so we can meet people where they are.