You know (and love!) them on Instagram. Now, meet the top types who caught our eye at Paris Couture last month. They will be rocking your world IRL all week long.
SOO JOO PARK
Wilhelmina Models
What's new?
I just came back from haute couture season in Paris. Before that, I spent two months in Seoul, shooting a TV show. In total I think I was away from New York for nearly three months, so I'm busy unpacking, cleaning, and readjusting myself.
What was your first-ever couture show?
Chanel, for Spring/Summer 2013. I was lucky enough to get an exclusive with the house, which made the whole experience even more special.
Does couture feel very different from ready-to-wear? How so?
Couture looks and feels more formal and elegant. Timing-wise, there's also an overlap with Men's Fashion Week in Paris, and there are fewer shows, so I have more time and opportunities to meet and hang out with a lot of my friends.
What have you learned from Karl Lagerfeld?
That the best way to stay focused and be content with your job is to have a great sense of humor and great attitude. And never stop working, because workaholics can't survive otherwise.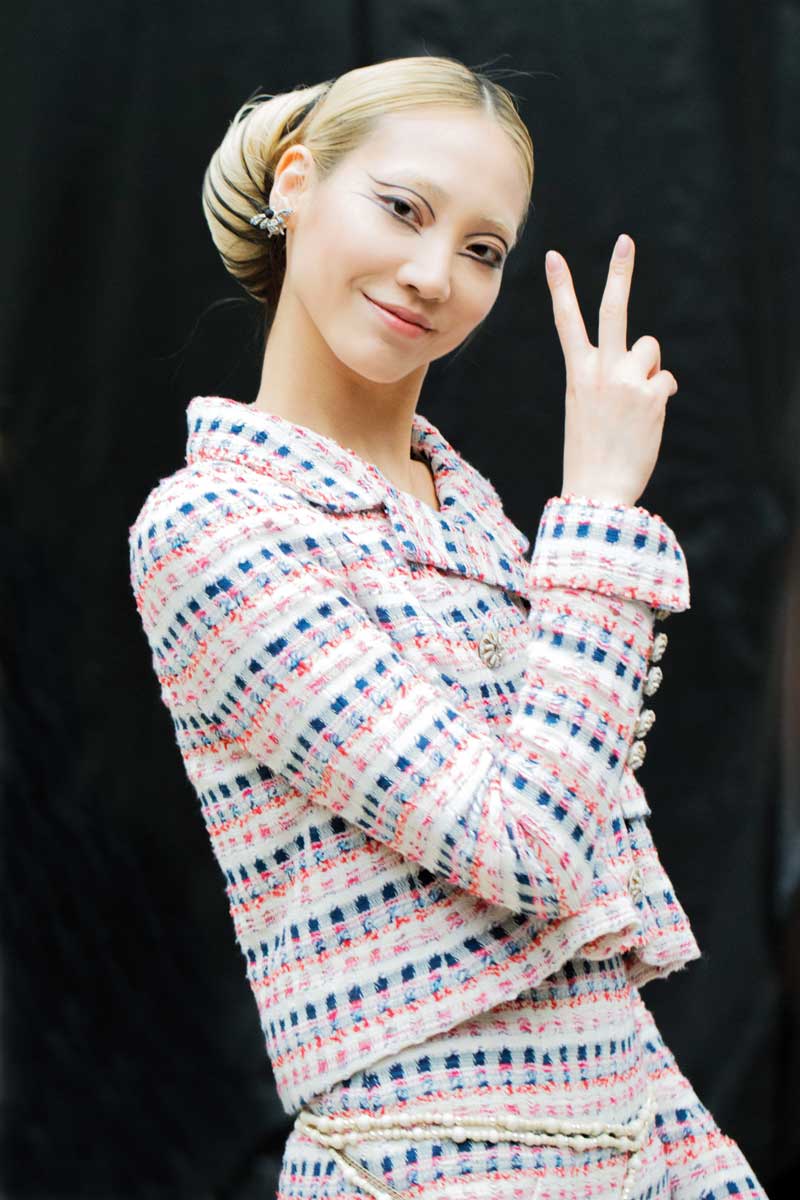 What are your Paris traditions?
I always go to the spa at a nice hotel or the hammam with my girlfriends and eat steak tartare at least once. I go to galleries and museums if I have time, and in the summer, I make sure I stop by the carnival in the Tuileries Garden.
If you weren't modeling…
I have lots of interest in music and design, so maybe do something around that? Recently, I've taken up DJing as a hobby. I've done a couple of gigs, too.
Which designers would we find in your closet?
It's a mix of more modern, easy-to-wear looks from designers like Alexander Wang and Helmut Lang; new up-and-coming Korean designers; some standout pieces from brands like Moschino and Comme des Garçons, one-of-a-kinds from vintage shops…and of course, some Chanel. It's very eclectic.
You were clearly a big David Bowie fan. Why?
His amazing presence, many winning looks and reinventions, and of course, his music. I'm not sure I can even pick out a favorite phase, but if I had to, it'd be somewhere between his Berlin and Thin White Duke days.
Have you jumped on the Snapchat bandwagon?
Yes (@soojoomoojoo)—I think it's more fun than Instagram. It feels much more spontaneous and less work-y.
Photography: FirstView and ImaxTree