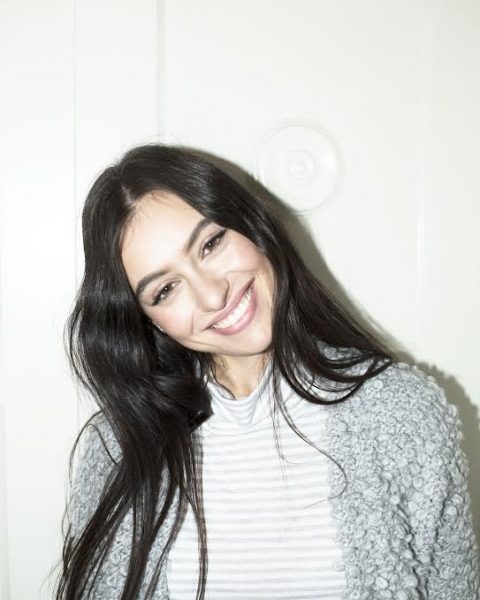 She models, writes, creates short films, and works with some of the top fashion brands in the industry. Meet Marta Pozzan, who just transformed her blog "It's Super Fashion" into a creative platform where she shares all things fashion, beauty, art, and cinema through images and videos. We caught up with Pozzan to get the low-down on the site and which fashion brands she's been collaborating with lately. 
Why did you revamp your site from "It's Super Fashion" to "Marta Pozzan?"
People working in the fashion, media, PR, and entertainment industries knew my blog by my name. As more influencers and Instagram personalities launch brands and apps under their own names, I felt like I needed to make that change as well.
When did you launch the blog?
While attending college in Milan, I started working as a fashion editor for
Vanity Fair Italy'
s fashion editor-in-chief 
Silvia
Paoli
and for 
LostinFashion.it
, a fashion and lifestyle blog. In 2011 I came to LA, and after helping my friend
Jaime
King
with 
her blog for the
Huffington Post, 
I said to myself: I love it so much, I think I should start my own blog. In 2012 I launched 
It's Super Fashion.com
What kind of content are you featuring on your new site?
Martapozzan.com
 is a curated gallery of images that are art, fashion, cinema, and design-related that feature shoppable products through a story-telling and editorial approach. I'm currently focusing on video content, where I feature brands and clothes through mini fashion films.
Tell us about these mini fashion films. 
The new video series featured on my website is called "Fashion Tales."  It's a narrative of fashion short films that feature brands and is delivered in a cinematic way.
Where did your passion for cinema and art stem from?
Fashion is surely my main and prime passion. However, I'm a big cinema lover—I'm especially nerdy about independent movies. Some of my favorite directors are Sofia Coppola, Wes Anderson, and Terrence Malick.  I'm also an art lover—I'm in awe of Cindy Sherman and John Baldessari the most. Art and cinema inspire my sense of fashion way more than simply attending NYFW or browsing through fashion magazines. Taking acting classes and having participated in several commercials, short movies, and music videos made me want to breathe life into my own stories, characters, and personas. Creating cinematic content within the fashion digital world was something that I thought only major brands like Miu Miu, Prada, and now Gucci could do. But then I thought to myself, all I need is a character, a 40-second glimpse of her thoughts, a colored backdrop, and a featured dress.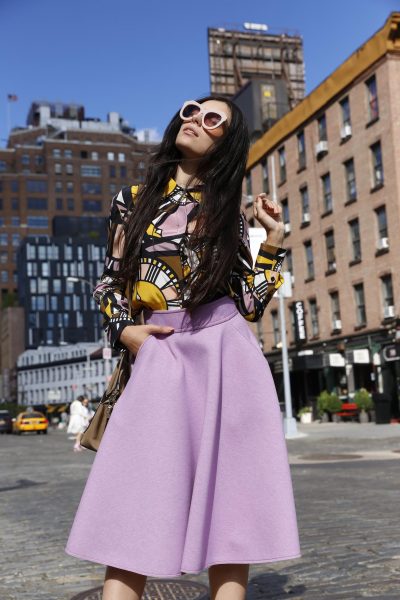 What have you been up to on the modeling front?
I've been in a lot of commercials lately, but the most exciting gig will be a digital campaign for the new KENZO fragrance, which I'm shooting in Paris during Fashion Week in October.
How do you describe your personal style?
My style is edgy and urban, clearly super European and kind of sophisticated at times. When I pick my outfits I feel like I want to be as graceful and timeless as a ballet dancer but then I also love to express my creativity through more fashion-forward styles, with statement accessories and unexpected matches.
Tell us about some of your most recent collaborations.
Back in May I got to curate, art direct, and style the main window of an iconic LA store, Madison LA, for a pop-up. I staged my own window at the flagship store on 3rd street and selected my 20 favorite pieces from their current collections, all available online at 
madisonlosangeles.com
. I also enjoyed taking over the Snapchat and Instagram accounts of
W Magazine
during PFW and Farfetch during the Cannes Film Festival. Currently, I'm working on a social media partnership with TZR and Sorel.
Click
here
to check out Marta's website.
photo credits: Clara Zara, Ashley Frangie, Angela Peterman, Bradley Meinz, Federica Dall'Orso, Silke Labson, Jacopo Lorenzini