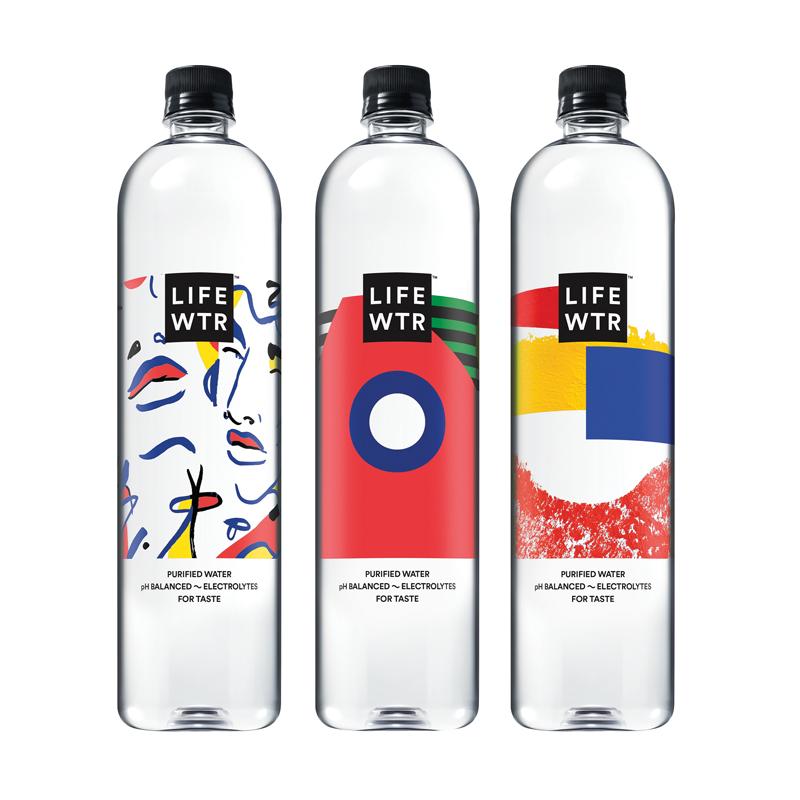 Thanks to its eye-catching bottles and delectable take on H2O, LIFEWTR's splashy debut was hard to miss. Now, the luxury beverage purveyor has turned its attentions to emerging female artists Adrienne Gaither, Trudy Benson, and Lynnie Z, who have created artwork for LIFEWTR's "Series 2" labels.
What was the concept for your bottles?
Trudy Benson: I combined digital collage with detailed photos of a painting to create an abstract image with both texture and flat areas of color.
Lynnie Z: It was important to me that the design connected with people. My idea was to keep it informal with a relaxed loose line. The concept of the design is a free-flowing, abstracted figurative image all around the bottle that feels intimate and explorative.
Adrienne Gaither: Conceptually, my goal was to celebrate the interaction of color through movement, shapes, patterns, and contrast. I wanted to produce a design that highlighted my discipline as a colorist and geometric abstract painter. It's also pretty awesome that the "Series 2: Women in Art" bottles launched for the summer—our colors work perfectly with this weather!
What were the challenges in creating your designs?
Trudy: The challenge came in creating something that would translate to a palm scale and have the kind of legibility that is still eye-catching.
Lynnie: I didn't want my design to mix in with the usual graphics that you see on branded products. I saw this as a great opportunity to rethink how we can embellish the simple container of water that will inspire the everyday consumer's creativity.
Adrienne: Taking a step back to value and accept imperfection was my greatest challenge. I love the work I do; sometimes I can obsess over the details and work a design into the abyss.
LIFEWTR is raising awareness that works by female artists make up only between 3 and 5 percent of the permanent museum collections in the U.S. and Europe. Any thoughts on why the numbers are so low?
Trudy: This is a tough question, and one that I am not fully qualified to answer. I agree with Lisa Phillips, director of the New Museum, who said that this inequality is part of a "deep cultural bias and persistent gender divide."
Lynnie: A few years ago, I heard this statistic for the first time and it never ceases to amaze me that the art world is still so out of balance when it comes to gender and diversity. Back when I was studying at art college, my class was made up of 99 percent women, so there are plenty of women out there. I think that most of us have been educated by an art world dominated by men and their work has filled galleries, museums, and books for centuries. Female art has been so poorly represented, and so few female artists have been able to have an impact on the status quo.
How can that number change?
Trudy: Because 51 percent of visual artists today are women, that number has the potential to change. I think it has to start at the commercial gallery level.
Lynnie: Social media is an incredible mirror reflecting tastes and preferences. It has given women an opportunity to create their own platforms, and it's showing in great numbers that these women have an audience! It's important that the art world recognizes this and gives a more truthful representation of what's really happening. Women are the creators of many communities, and this imbalance has been the trigger for us to come together and support one another's creative ventures in the forms of collectives, group shows, workshops, and talks.
Adrienne: That number can change by bringing awareness to the lack of women being represented, similar to what LIFEWTR is doing by creating a platform for female artists. It's also important to make space for critical dialogues with more diverse and inclusive institutional culture, as well as interacting with artists' communities outside of our immediate scopes. There should be more group and solo exhibitions of female-identified artists. These numbers could also change if there were a greater value, interest, and care for women in general.
What are some of the challenges you face as a female artist?
Trudy: On average, women still make less money than men. Work by female artists is persistently undervalued compared with that of their male peers in both primary and secondary markets.
Lynnie: My personal experience as a female artist has been pretty positive. I've always known that I have to try a lot harder. I found myself amongst a wonderful circle of female artists during my years at art college. Our lives are incredibly interwoven to this day. We all want to look out for one another, but no one wants to be brought on to a project as the token female, which has happened to many of us.
Adrienne: Being an artist is hard. From Suprematism and the De Stijl movement to California hard edge, geometric abstraction is definitely a white man's sport in the art world, so you can imagine the responses I get doing this work. I knew those challenges were going to be there when I decided geometric abstraction was my style of painting. I did it anyway.
What do you hope to gain from this collaboration?
Trudy: It would be incredible if my collaboration with LIFEWTR led to even one young woman deciding to pursue a career in the arts.
Lynnie: This collaboration is a great opportunity to address a subject I feel quite passionate about, and that is hugely empowering. It's important to bring the issue to the fore and allow people to connect with it, opening a creative discussion. Knowing we have a long way to go to gain a more equal balance certainly puts the fire in my belly to spread the word and inspire others.
Adrienne: I hope to bring more awareness to the lack of representation for women in art and continue advocating that women of all backgrounds and disciplines be championed.