It's likely you've already seen LIFEWTR bottles all around town this week, with editors, mods, and designers relying on their H2O for a hydration fix. The sleekly branded water company creates handheld works of art, recruiting both artists and designers to whip up their bottle designs. For Series 4, focusing on "Arts In Education," LIFEWTR enlisted three young talents—high school art student Luis Gonzalez, a cartoonist known simply as KRIVVY, and street artist David Lee.
1. Luis Gonzalez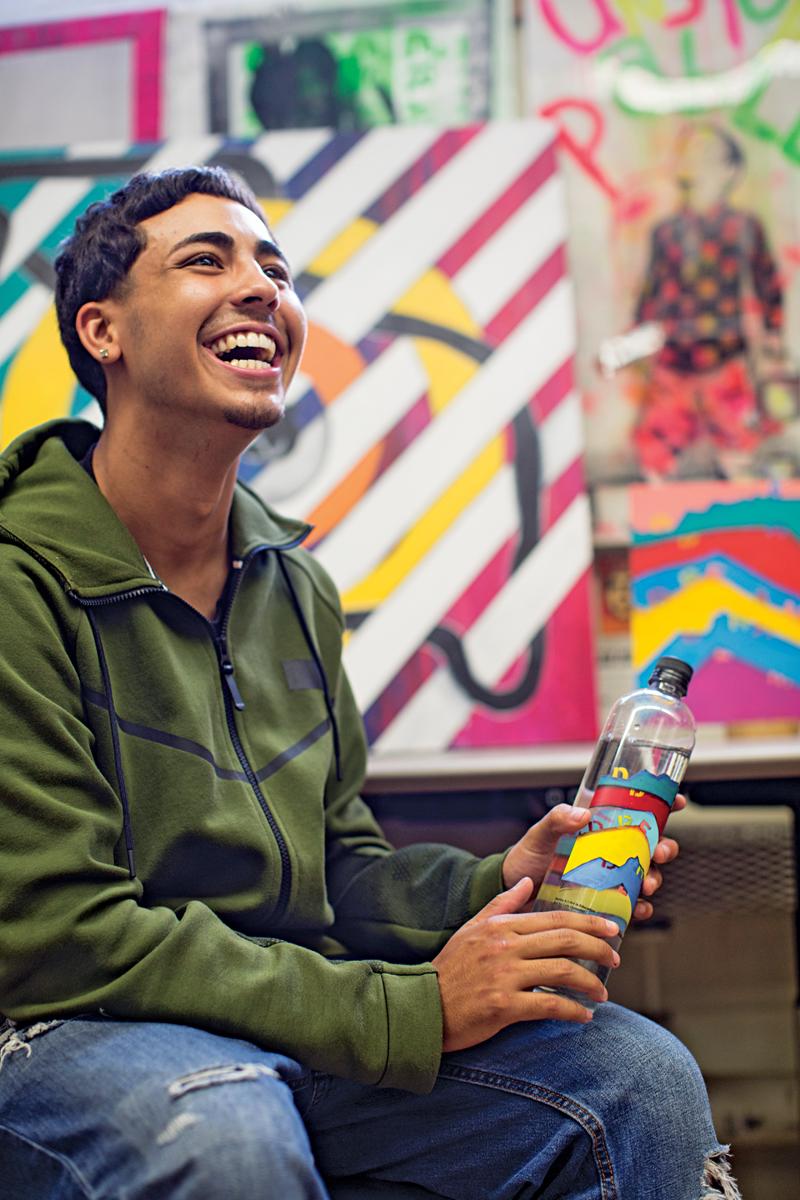 How would you describe the creative process of designing your LIFEWTR bottle?
When I daydream, I feel most creative. Once I focus on an image, I find the materials and colors that best express my vision.
When did you first start creating art?
Art crept up on me. I always loved to doodle and draw, but I didn't take it seriously until I got to high school. That's when I started to work with my high school art teacher and mentor, Ari Hauben. And I began to see how important art was in my life. With his support, I gained the confidence and skills to find my niche. When people started paying me for my artwork, and then LIFEWTR chose to use my design, I realized that art was the perfect profession for me because it connects my passion with vocation.
How has Ari Hauben inspired you?
He showed me that my art is more than just an outlet, and that with dedication and perseverance, I can do anything I set my mind to. I found that art was in my everyday life; I was always trying to create something new. This motivated me to finish my schoolwork early, and spend more time working on my art. Mr. H. really planted the seed, and he showed me that art could let me express my feelings and thoughts while creating something beautiful. And as my interest grew, so did the time he provided for me in his classroom. I was in school more, and connecting with more positive things and distancing myself from the negative.
Which artists do you look up to?
I look up to Mr. Hauben a lot. I also like street artists—Banksy, Kaws, and Shepard Fairey. They use layering, stenciling, big color, and social messages. I've been influenced by branding, logos, cartoons, and
even toys.
As a Boston native, where are your favorite places to get inspired artistically?
My favorite art is at the Boston Button Factory because it displays Ari Hauben's [and his colleagues'] artworks. I admire the gallery's use of multiple mediums, which make its work compelling; this inspires me to try different modes of creating. I also love the ICA Boston, because it has an incredible variety of new artists and styles, including street art, abstract art, sculpture, video, photography, and more, showing me that there are no limits on great art. My neighborhood, Dorchester, is the most important inspiration for me. It's where I feel most myself, most able to connect to things that are important to me. I hope that I can inspire other young people to create art and follow their dreams.
2. KRIVVY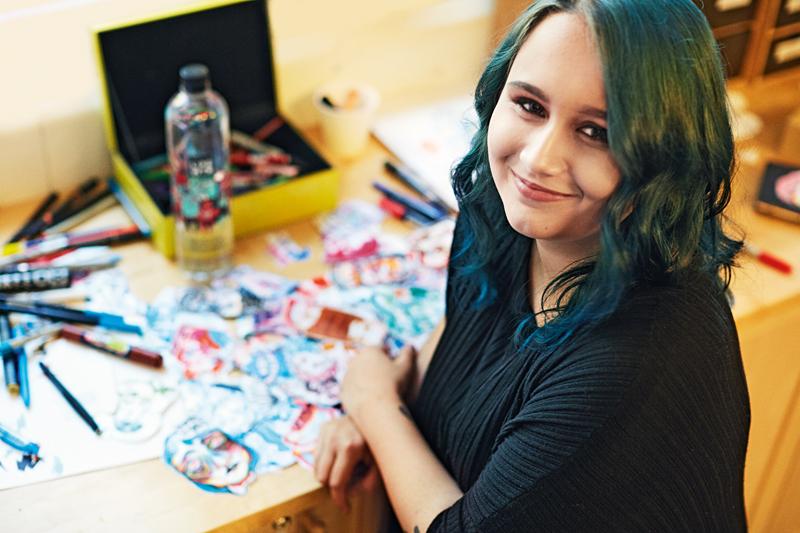 What was the design process like for your LIFEWTR bottle?
LIFEWTR had seen an image I had created previously, and they wanted me to expand on it for the bottle. I drew an embarrassing number of different characters until I settled on the ones for the final image. I drank a lot of coffee and skipped a lot of work, but I'm super happy with the result.
Where did your interest in surrealist cartoons come from?
I'm interested in exploring the human condition. I tend to focus on figurative works because I have my loved ones on the brain most of the time. I grew up reading a lot of graphic novels and comics—Calvin and Hobbes, The Far Side, and Peanuts, mostly. As I got older, I dipped into autobiographical zines and other self-published works. I think my work is surreal because I'm surreal. I don't plan anything out. I just draw, draw, draw. It comes from a weird place inside me. I've always loved things that were slightly off-kilter, and spent a lot of my time letting things come out and not trying to confine them. I'm a fan of the strange and bizarre; I think that has something to do with it.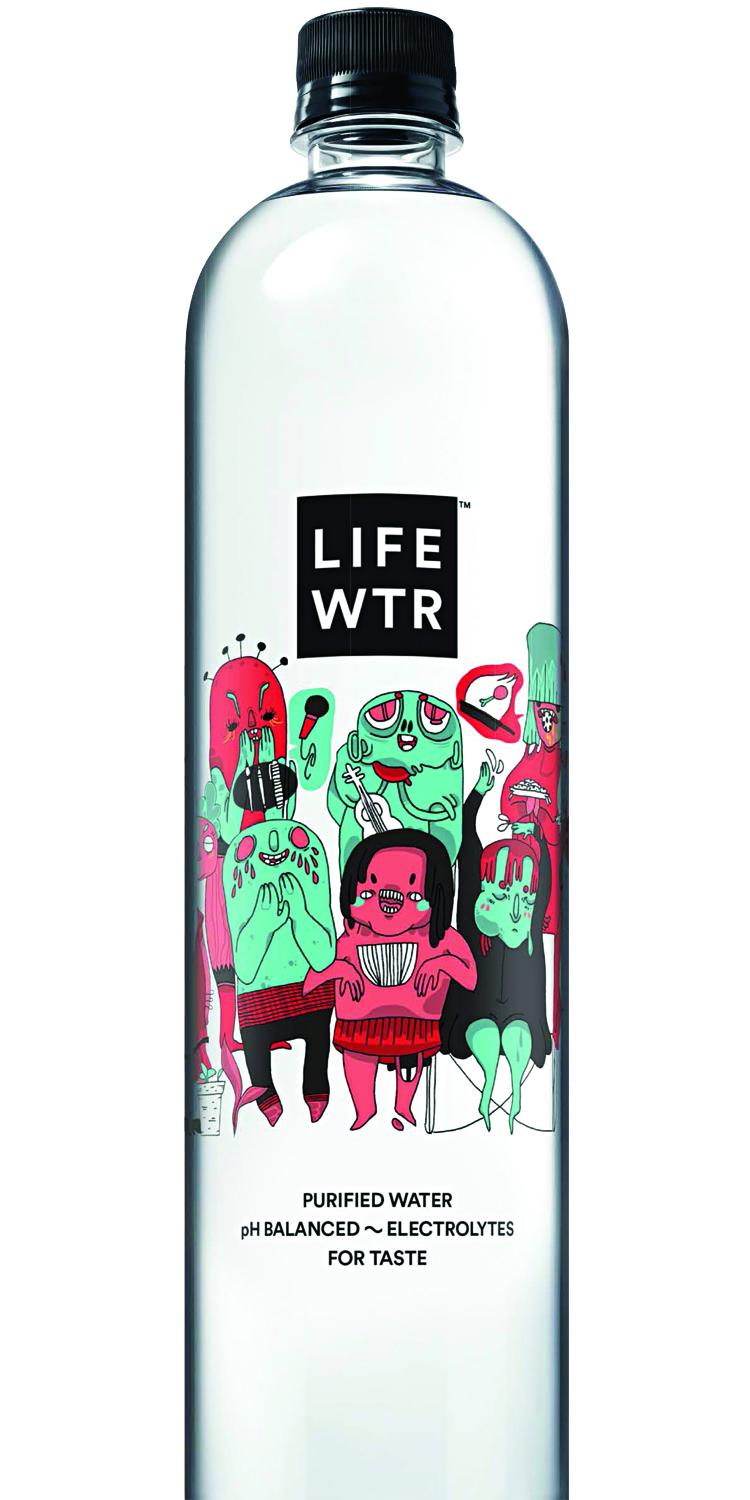 How did you get interested in sticker making?
I cannot get enough of stickers. Every time there's the option to buy stickers, I cave. When I was younger, I hated them because they're designed for single-use. I'd hoard my favorites and never use them, but then no one would ever see them. As I got older, I let go of the mentality I had as a kid and became a lot more comfortable with letting good things go when they needed to. I started drawing on label paper and sticking them everywhere—on bank cards, on shoes. I just couldn't stop.
Any art mediums you want to dabble in?
I'd like to start sculpting, to bring some of these little characters to the 3-D realm.
What does your work as a graphic recorder and counselor in training entail?
Graphic recording is essentially taping a huge piece of paper to a wall and visually outlining and mapping the goals and objectives of the meeting taking place—whatever the facilitator or group wants to capture. I've recorded in both creative and corporate settings. It's always a new experience. To a certain extent, everyone is a visual learner. I'm also currently enrolled in George Brown College's Assaulted Women's and Children's Counselor/Advocate program, which will hopefully open new paths to continue working with communities and making a difference.
3. DAVID LEE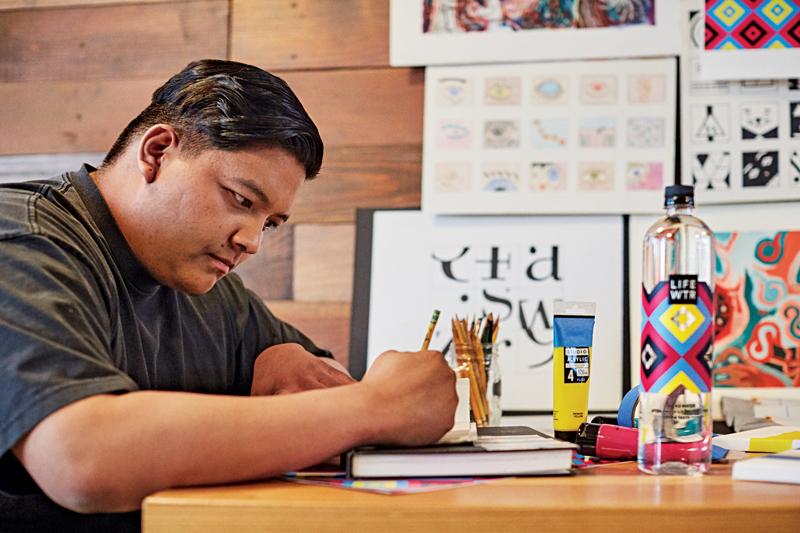 What inspired your LIFEWTR bottle design?
I wanted to create something balanced—that's what I think of when I think of water. I usually sketch first to get out my ideas, but this time, I just went straight to the computer to create different patterns. The pattern you see on the bottle stuck out to me. As for seeing my work on a bottle, I still can't believe it. It still feels like a dream.
How did doodling as a tween lead you to graphic design?
My doodles in middle school were of graffiti and abstract shapes. I wasn't really good at it, but I like to think if you keep practicing, you get better. But doodling helped me in school. Whenever we had a lecture, whatever the subject was, I would try writing the word in block letters or bubble letters in my notes. When I studied, I'd see them and remember what the teacher was talking about in the lecture. It's like a photographic memory, but with little doodles.
What about graphic design and typography excites you?
The thing about graphic design is that everyone can do it. Everyone has their own style. I like to do vectors and some Photoshop. And typography looks so simple, but it's so much more than just simply writing. I took a typography class one semester, and it blew my mind. For example, the anatomy of typography opened my eyes. There's a reason why everything looks balanced, and whenever it doesn't, it's because something's off.
Where do you go in L.A. to check out incredible graffiti?
I usually go to Little Tokyo, Koreatown, Echo Park, Venice Beach, and downtown L.A. You'll see one piece one week; the next week, there's something completely different in the same spot. That is what I love about L.A.—the art is always changing.
Are there any specific graffiti artists that inspire you?
Chaz Bojórquez, Retna, Alex Kizu aka Defer, El Mac, and Nychos.
How do you think art can make a difference in the world?
Art allows people to express themselves when words can't. Sometimes, I just want to be alone, so I turn to art to express myself. Art helps make words and complex concepts visual so all ages can understand them, and it can also display messages to a variety of people, even when we don't speak the same language. It helps get the word out.