There's a new kid on the block—and a fashionable one, at that. Meet Elisa Johnson, 21, EJ Johnson's little sister and star of E!'s new show "EJ NYC." We chatted with the LA native–and F.I.T. student–about moving to NYC to pursue a career in fashion, her new show, and where we can find her this summer. 
You're being dubbed "the next big thing" since joining EJ's new show. How does that feel?
It's beyond flattering! I just hope that I can use the platform for good, and to work toward pursing things I love. Carving my own way in life and showing a new perspective—the Elisa perspective.
Did you enjoy filming?
The filming process was fun—we went to places I have never been before, which was great! However it was sometimes difficult balancing my coursework with the long filming hours. I was super surprised my spring semester grades came out A-okay!
When did your passion for style and fashion first start?
I feel like I've always had an eye for fashion, but probably seeing my mom get dressed for events when I was young is when I became interested. I loved helping her get dressed and giving her my opinion on my favorite looks. Also, I think that entering into my high school years was when I really started to focus on fashion and having my own personal style. Since I went to a private school where we were required to wear uniforms, I think that boundary forced me to take a look at my personal style. I received uniform penalties on a daily basis because I needed to live with fashion every day and I wanted to set myself apart from everyone.
What pushed you to study fashion?
I study fashion business management, not design, because I wanted the foundation and the full picture of what the fashion industry would be like.
That starts with being a smart businesswoman. But I would love to dabble in design in the near future. I know that having my your fashion line is the hardest thing you can do. It's definitely something I should work up to. What I have learned from my dad is that it's okay to take risks and not be afraid of failure. One of my hobbies is collecting vintage and new sunglasses…I feel like your outfit's never complete without a shade, so I would love to design my own sunglass line.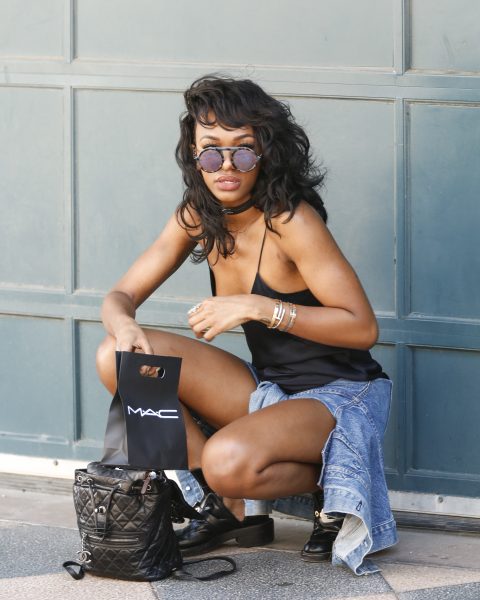 How has going to fashion school influenced your personal style?
It's been so interesting to see all these different people of different backgrounds and their approach to style and piecing together looks. I get inspired every day on campus.
How would you describe your style?
I like to mix and match street-wear with high-end labels, and incorporating menswear styles with more feminine styles. Music influences me as well as the streets.
Do you ever steal from your brother's closet?
All the time! Because EJ is so tall I can wear a lot of his tops as dresses with a chic high leather boot or something cute. EJ is a little more uptown and I'm a little more downtown but I definitely love stealing from his closet. But don't get it twisted…he also loves a good Elisa Johnson piece!
Who are your favorite designers?
I have a lot but my top are Laquan Smith, Alexander Wang, Demna Gvasalia [for Vetements], and Ricardo Tisci.
Where do you look for inspiration?
I mainly go to style websites and follow street style accounts like Nabile Quenum, who takes everyday street style photos in Paris. I really just dress myself!
Do you prefer NY or LA?
I think I will always be an LA girl. New York and LA are so different to me! When I'm in LA I am literally at home with my parents living under their rules, and on top of that restaurants close at 10 p.m. and clubs close at 2 a.m.. There's no crazy sirens at night…it's a more zen. As for NYC, it speaks to my crazy side! I have so much more freedom. I have my own apartment, no one there to tell me what I can and cannot do, clubs close at 4 a.m.. I can't choose which one I like more…I feel like I need both in my life.
What are you go-to spots in NYC?
I love going to the new Barney's downtown. I am also obsessed with any taco place, like La Esquina. I also love shopping or just walking around in Soho. For dinner you can find me at Mr. Chow, or any Asian restaurant. During the night, the main spots I go to with my friends are Up&Down and 1Oak, but I don't really go out that often. I really enjoy my couch, Netflix, and ordering food from Postmates.
Have you been to Fashion Week?
My favorite this past season was Jonathan Simkhai but I also loved the fun element of the VFiles shows—they are the most entertaining, with live performances and the most amazing clothes. I am dying to see the new Saint Laurent and Balenciaga…I can't wait to see what they've come up with.

SANTA MONICA, CA – JUNE 18: Actress Elisa Johnson (L) and Samaria Smith (R) are seen at Third Street Promenade on June 18, 2016 in Santa Monica, California. (Photo by Rich Polk/Getty Images)
Who are your style icons?
I always struggle with this question, but Rihanna always kills it for me and I absolutely adore Nicole Richie because she's always taking risks.
Is there ever a dull moment when you and EJ are together?
Most definitely not! When we are out we are always giving some pre-choreographed routine. But actually a lot of the time at our apartment it's chill! EJ is always watching Whitney Houston performances, or locked in on the Family Guy reruns and then I'm hooked on some weird crime show like Snapped or Fatal Attraction!
Do you go to the Hamptons at all?
My brother loves the Hamptons…I personally do not enjoy it. It's beautiful and I love to just be by the pool and relax, but overall the Hamptons scene is a little too bougie for me! We went there recently for EJ's birthday…you'll see it on the show!
Are you interning anywhere this summer?
Last summer I did a few things with the world's largest eyewear company Luxottica. This year, I have plans to intern with these gorgeous girls called Coco and Breezy. They have their own sunglass line. I met them out in LA and we have been cool ever since, so I asked if I could work with them so that I can get a true feel for what it's like to have your own line and learn more about the eyewear industry.
Any travel plans?
My family always does a European boat trip to the South of France for a few weeks, so that will definitely happen—the people, and by that I mean the beautiful boys, and the party scene make it my favorite time of the year!