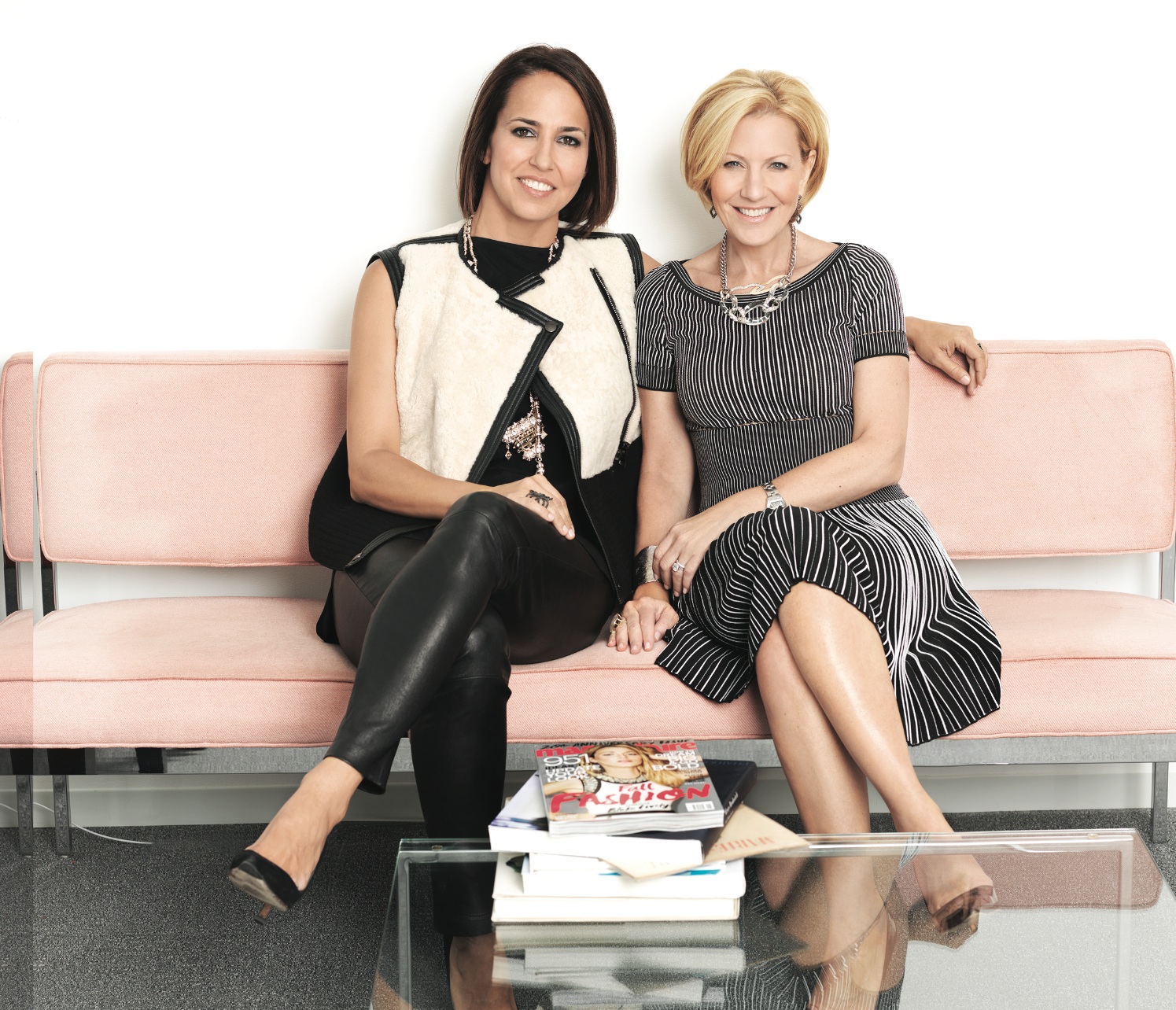 A delicious Media Issue story you might've missed during the madness of NYFW! For 20 years, the U.S. version of Marie Claire has been filling its pages with a solid mix of fashion editorials and real world features. So while the glossy blows out their candles, join your Daily on taking a look back at the good times from the past two decades.
BY DENA SILVER
When were you first introduced to the Marie Claire brand?
Anne Fulenwider: I had first interviewed to be a senior editor at Marie Claire when Bonnie Fuller was the editor. I always identified with that early iteration of Marie Claire; a fashion magazine for women who were interested in the world at large.
Nancy Berger Cardone: I've known Michael Clinton, the president, marketing, and publishing director at Hearst, for a very long time, and we had lunch shortly before I left Condé Nast in 2009. He asked me which Hearst magazine I would want to be the publisher of and I said Marie Claire. A week later he called to tell me that this job was open; shortly after I was sitting at my desk here closing our March issue.
It seems like fate that you both ended up here!
Anne: It really feels like that! Plus, Nancy and I have worked together at three different places.
Where were you 20 years ago?
Nancy: I was the advertising manager at Vanity Fair, but was dreaming about becoming a publisher.
Anne: I was just graduating college.
The first-ever Marie Claire issue was a weekly that was released every Wednesday. What do you do on Wednesdays?
Nancy: Anne and I actually have weekly meetings every Wednesday, although most of our best ideas come from plane rides.
Anne: It probably has to do with the mix of altitude, free time, and champagne! The idea for the Branché magazine actually came to us at 30,000 feet.
Anne, how did you use your previous executive editor gig here to prepare for the lead job?
Anne: We launched the Marie Claire @Work section while I was executive editor and when I was interviewing to be editor-in-chief here, I had to fly to Paris to meet the French for my final OK. On the flight I was reading through old issues of the magazine and I came across an article with tips on how to ace a big interview in the @Work section. It was such a full circle moment.
And did Joanna Coles offer up any words of wisdom before you took on the editor-in-chief job?
Anne: She actually took me out to lunch before I took the job and we were very much in touch when I got the offer. She's always been a great mentor to me; very encouraging to take on more, do more, and be more ambitious.
What excites you about the future of the publishing side of this mag?
Nancy: We like advertising pages and we want to have a lot of them, but what we're doing is bigger than that. There's a renewed interest in creating new experiences with the magazine, like our denim issue this past August. It was a great way to reveal a fantastic cover, but also to give a first impression of the visual theme of that issue.
What has been a monumental advertising moment for you during your Marie Claire time?
Nancy: When Apple launched the iPad mini, they actually chose to launch their ads with Marie Claire in January 2012 as the exclusive women's lifestyle magazine. And hopefully 20 years from now we'll be talking about what else we're launching with Apple.
If you could get Marie Claire something for her birthday, what would it be?
Anne: Since she's only 20 years old and she can't drink in the U.S. yet, I might get her a fake ID!
Nancy: And I'd get her a fabulous pair of shoes.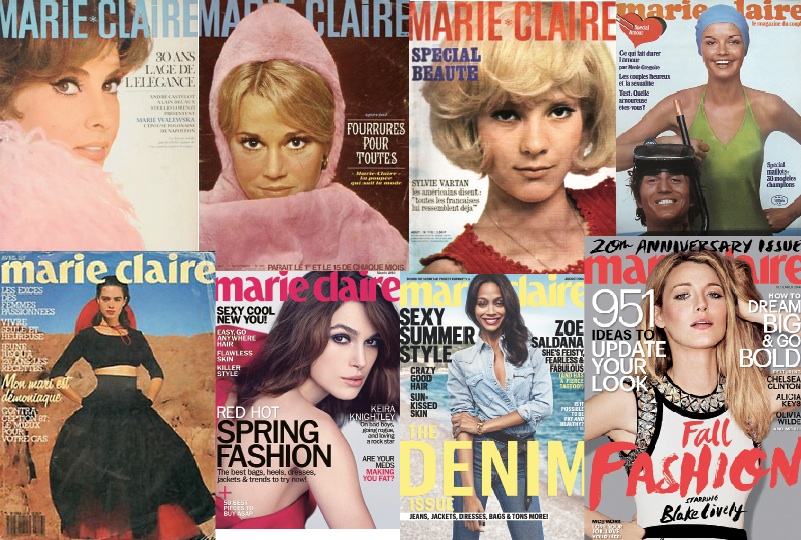 L'Histoire du MC!
1937:  Founded in Paris by Jean Prouvost and Marcelle Auclair, the première issue of  Marie Claire debuts as a weekly.
1954: The frequency changes to monthly.
September 1988: A U.K. version is introduced.
August 1994: The magazine arrives stateside as a quarterly, with Claudia Schiffer gracing the first cover. Bonnie Fuller was the glossy's inaugural editor-in-chief.
September 1995: The American edition of Marie Claire goes monthly; Linda Evangelista appears on the cover.
June 1996: Glenda Bailey, editor of  Marie Claire U.K., arrives in New York and takes over the EIC job from Fuller. After five years, she moves to Harper's Bazaar. 
August 1996: Jennifer Aniston is the first celebrity to appear on a cover.
June 1997: Marie Claire launches its first website.
November 1999: Courtney Love is the first musician to cover the mag.
July 2001: Redbook's Lesley Jane Seymour is named editor-in-chief of Marie Claire.
November 2004: The glossy celebrates its 10th anniversary issue with Jessica Simpson on the cover.
April 2006: Joanna Coles arrives as the latest EIC.
November 2011: Marie Claire @Work debuts as a 72-page supplement on the working girl's guide to getting ahead. It features Katie Holmes on the cover.
December 2009: Nancy Berger Cardone is named VP, publisher, and chief revenue officer at the magazine. She was previously the VP and publisher at Gourmet.
2009: Running In Heels, a reality TV show based on three Marie Claire interns hits the airwaves via the Style Network.
September 2012: Coles decamps to take the lead at Cosmopolitan, and Anne Fulenwider joins the team as their latest EIC. This is a reunion of sorts for her, as she was the executive editor at Marie Claire for two years before heading to Condé Nast in 2011 for a nine-month stint as the editor-in-chief at Brides.
March 2014: Introducing Branché, a free pop-up mag from the editors that features insider info on fashion, beauty, and more.
September 2014: The largest issue in the history of  Marie Claire makes its debut, ringing in at 454 pages with 269 ad pages.
PLUS! Former Marie Claire EICs Chime In…
Lesley Jane Seymour, editor-in-chief, More" "Having studied French since grade school and studied in France during college, I was absolutely a Francophile. When Hearst asked me to edit Marie Claire I thought I had died and gone to heaven. Using the power of print and advocacy journalism, I was able to change the way the world dealt with everything from domestic violence to starvation in Africa."
Glenda Bailey, editor-in-chief, Harper's Bazaar: "During my time at Marie Claire, I like to think I gave it a sense of humor, a sense of justice, and a sense of style. Today, it's the magazine for women who work and that works beautifully for women."
Bonnie Fuller, editor-in-chief, Hollywoodlife.com: "Our challenge was to create a Marie Claire magazine that featured the mix of designer and affordable fashion, as well as coverage of the serious women's issues that Marie Claire was known for. It has proven itself to be a brand that has connected powerfully with women. The proof is in its success."
Joanna Coles, editor-in-chief, Cosmopolitan: "Marie Claire was such a fabulous part of my life and I got so lucky with hires; Lucy Kaylin, Joyce Chang, and of course Anne Fulenwider. And how could I forget Running in Heels? We did the deal with no real expectation it would actually get made. We were gobsmacked when the show ended up airing in 16 countries and when we came across a flock of fans in Marrakech. Though no one was a more devoted viewer than Alber Elbaz!"