Mara Hoffman is part of a growing group of designers and consumers committed to making fashion less wasteful and more inclusive. The Daily Front Row caught up with her to find out more about exactly what steps she and her business are taking and the impact it is having on the ever-important bottom line. 
Was there a particular moment or inciting incident that made you decided your brand needed to be more eco-conscious?
My company was 15 years in when we made the shift. During the last few of those years, the brand was moving at a more rapid pace and the company was on a fast trajectory towards what felt like being a contributor of mass production. At that point, I was also becoming much more aware of our, and the industry's, impact on the environment. I came to understand that I was a contributor to this growing environmental mess, something that my son would have to take on, that I was leaving behind for generations after me. I knew that we could do better, that we could run this brand with more care and could contribute in a way that felt positive and authentic. So, I went to our director of production and told her we needed to make changes or close shop.
How did making that switch impact your bottom line?
A lot changed and at the same time a lot did not. It costs more money in different places when making this switch. It changed how we sold and who we sold to, and changed how we were communicating. We had to cut out a lot of the things that fed our business to make space for something kinder and more sustainable, so there was definitely a contraction, a conscious one that would make room for a more conscious expansion in the future.
Rio Bikini Top, MARA HOFFMAN, $140; Lydia Bikini Bottom, MARA HOFFMAN, $145
What is your feeling about fur? Not for your business necessarily, but just in general.
I am definitely not a fur person. I don't want to wear it and I don't want to use it in my business. But I can't say that without acknowledging that we use leather accessories sometimes for styling purposes. All vintage, but still, it's the same story or at least similar. Seeing leather doesn't evoke the same visceral reaction and I think that's why we aren't talking about it as much. We do not manufacture anything with leather or silk.
What is one thing people can do to make more ecologically responsible fashion choices? Maybe one thing they can stay away from or look for? A shift in buying habits?
Read the labels. If you don't recognize something, look it up. Buy vintage. If buying new, buy with the intention of making it last — give it the longest life you can. Spend a bit more on quality and buy less, invest in your pieces and cherish them. Read the care labels and follow their instructions. Hold clothing swaps with your friends and coworkers to help extend the life cycle of your clothing. Each piece of clothing you buy should be treated as a commitment. Start shifting your relationship to all material things, clothing and everything else you already own or purchase.
Your business is more eco-conscious, but what are you doing in your personal life to protect and replenish the planet?
I'm personally invested in nurturing a business that produces sustainably and acts as a resource to consumers, other brands, and anyone that wants to learn more or get involved. At home, I shop sustainably when I can across clothing, food, beauty, and home goods. When it comes to clothing, I buy very few new things and am by nature a uniform dresser, so I'm a big proponent for wearing more, washing less.
In what ways do you feel you still need to improve, personally or professionally, to bring yourself and/or your company more in line with your values? 
Professionally, it's not a change that happened (or could have happened) over night, so we're still on our journey and always will be. I'd like to continue improving our fabrications, gaining further transparency throughout our supply chain, and offering more packaging options, to list a few. Personally, I'd like to continue taking steps to get where I want to be, carrying a reusable coffee cup more often, taking fewer cabs, being more conscious of the businesses I buy from and support.
Do you fly private?
No.
What would you like to say to people who just don't care about the effect their actions have on the environment? Or who don't think their actions really make a difference?
Wake up and welcome to your planet. You are an integral part of a growing movement. One only made possible by self regulated changes in private and public life, so each person involved (and not involved) plays an active role.
How have your feelings about the importance of environmental issues affected your personal politics? What about your personal relationships?
I've always had a certain moral compass and my stance on environmental issues never ran opposite to that. I have relationships with and bring people into my life that align with my moral compass and we don't have to have the same beliefs, but there's not anyone in my life that heard my environmental views and felt it was an issue. As I've become more outspoken personally and through the brand, I've been able to connect with more people that care about the environment, more people have challenged, taught, and helped me to grow.
What has been the most rewarding part of making your company more transparent and ecologically responsible?
Feeling aligned with my company and our messaging. Knowing that when we had the opportunity, we chose to
do better and will continue to do that.
You sell a handful of your designs in extended sizes (14-20) — what was behind that decision?
We have always wanted to fold more women into our world and to be more inclusive. As we started making these changes in the sustainability realm, we realized how capable we were, that we didn't need to keep waiting and could start doing the things we'd been talking about but pushing off. It took longer than the the outside world would expect or hope for because it is not a simple thing to add to your line. It takes a whole new approach to fit and sizing which is an investment in itself.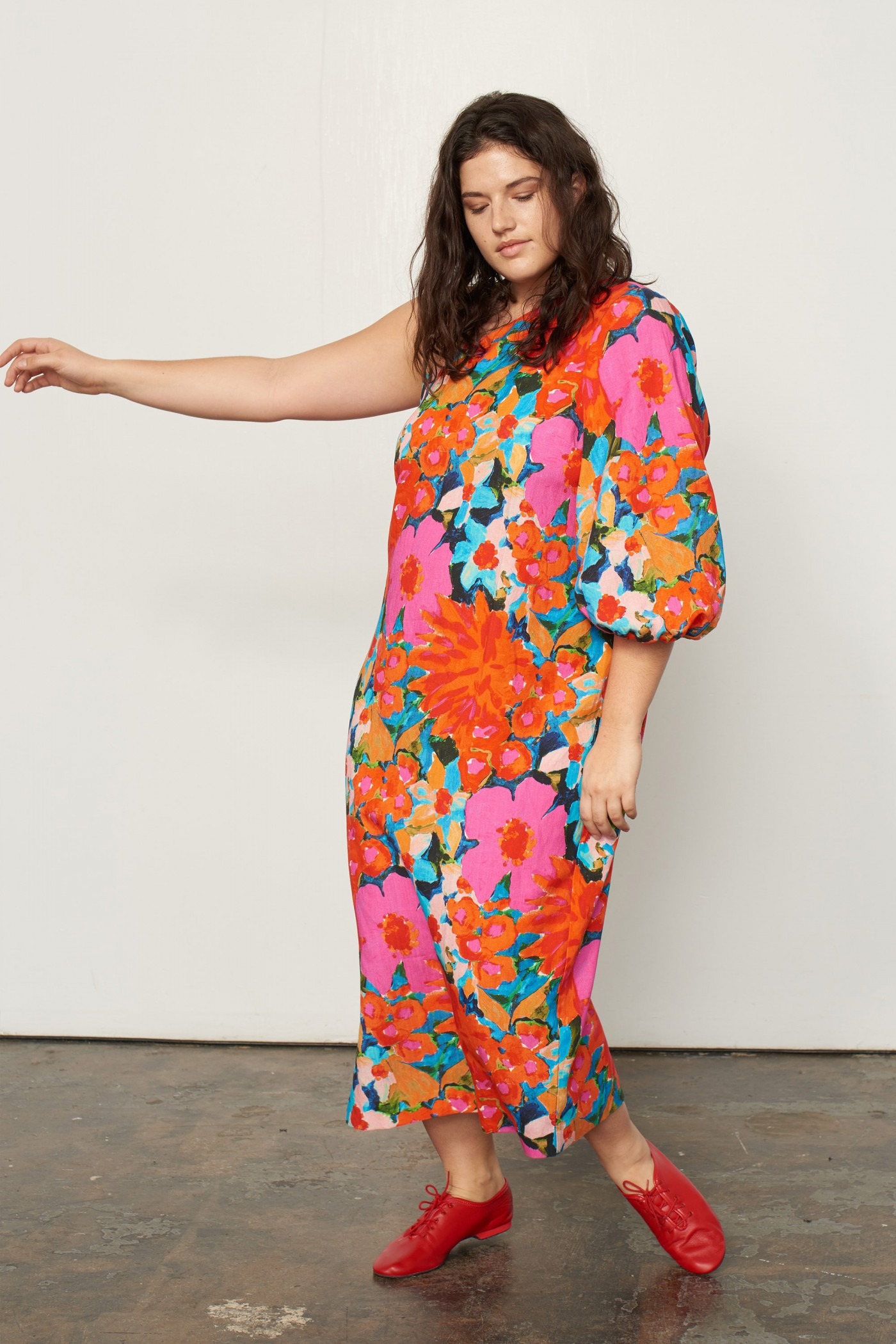 Emilie Dress, MARA HOFFMAN, $495
How do you choose which pieces to offer in larger sizes?
Our first foray into extended sizing was only in a few pieces. The thinking was that if we were going to do it, we were going to do it well and perfect a smaller and more manageable selection — we didn't want women buying a size 20 and having it fit like a 14. For seasons moving forward, we're expanding to better include that new customer.
How do those pieces sell relative to "standard" size pieces?
We have high sell throughs, but they're smaller buys because it's a new shopper for us. I'm excited to see how it progresses as we add more options and better integrate extended sizing with our current selection.
You don't always show during NYFW. Any plans to return to the runway? Why or why not?
When we show, we want it to align, to feel special, and to move the people watching it. We want to take all of the feelings and intentions of a collection and package it up for the audience and if we don't feel like it's right, we don't show. We don't just want to add to the noise. Yes, we plan to return and plan to show up in new ways.
Subscribe to our newsletter and follow us on Facebook to stay up to date on all the latest fashion news and juicy industry gossip.