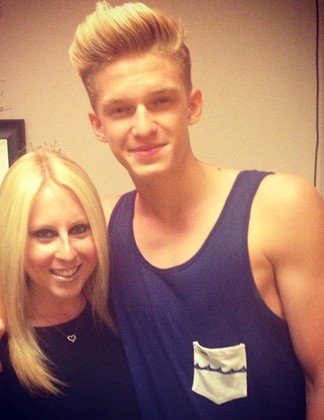 Live From Los Angeles! A Sydney Sadick & Cody Simpson Chat
|
On Friday night, our L.A. correspondent Sydney Sadick caught up with Australian pop singer Cody Simpson backstage pre-performance at Club Nokia while on his summer tour. Out to support? Hundreds of fans, his little sis & singer Alli, a roster of music execs. Plus, a surprise visit by Justin Bieber! OMG! OMG! OMG!
S: Congrats on your tour!
C: Thanks so much! It feels awesome, good times.
S: Where did you get your inspiration for your upcoming album, Surfer's Paradise?
C: It's coming out in July, and I really got inspired by the beach, the ocean and my lifestyle…mixed in with girls and the experiences I've had with them. I've done it in a beachy kind of flavor and the sound is very chill and cool—surfer's paradise kind of stuff!
S: How was collaborating on a track with Ziggy Marley?
C: It was great! He's obviously a legend and a great artist. We have a really cool reggae jam on the album. It's chill.
S: I hear you were a big swimmer.
C: I was! It was basically my whole childhood before I moved over here from Australia. Since then my whole life changed and music became more than just a hobby. I used to swim all of the time though and actually won championships in Australia.
S: Thoughts on sharks?
C: When I'm surfing, I don't think about it. It's all about taking a risk! Luckily I haven't seen one in my life yet!
S: You have 1.6 million Instagram followers and approx 5 million on Twitter—pretty major!
C: My career started because of social media, and now I'm always online chatting with my fans. It's super important for me to stay connected.
S: What are some of your relaxation outlets when on tour?
C: Video games and movies. I've got a really cool crew, so we all like to have fun and relax.
S: What are three things you can't live without while on the road?
C: My family, my phone, and a good pair of Vans!
S: Tell me about your upcoming book, Welcome To Paradise: My Journey.
C: It's coming out in October and I just finished writing it. A lot of people ask me how I can have things to say after doing this for about two years, but a lot has happened in that time.  I like to bring my fans closer to me and I thought this was a good way to do that.