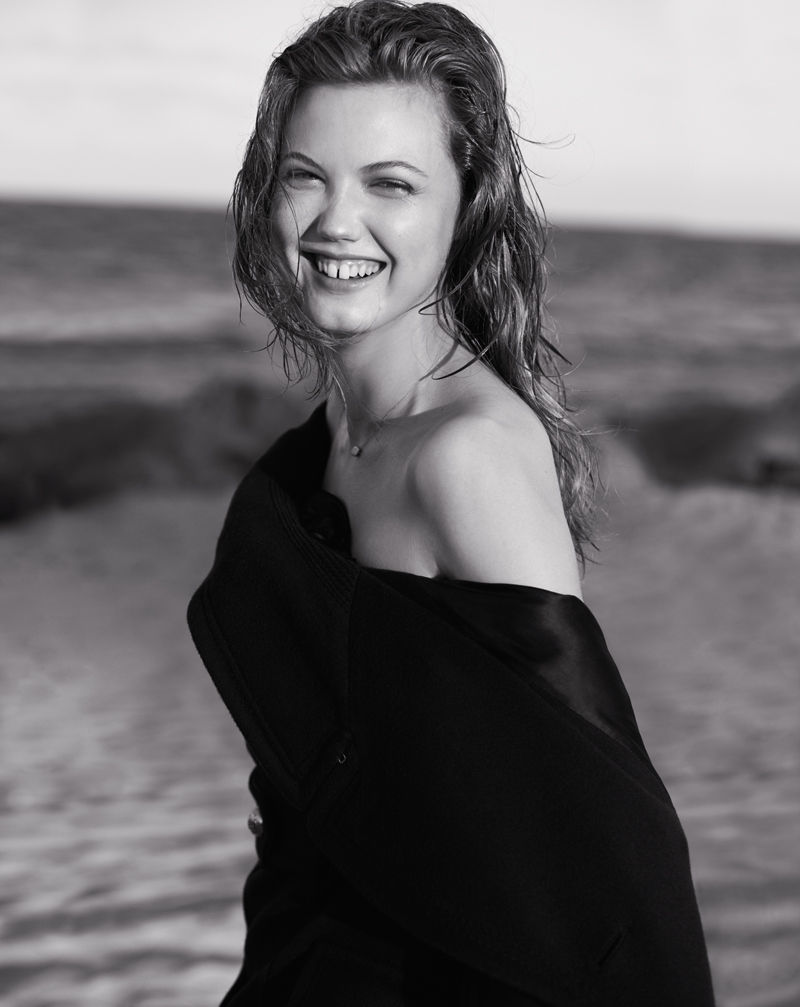 At just 22, Society Management stunner Lindsey Wixson has been at the top of her game for years. But there's something new now. Something freer and sexier and deliberate about the choices she's making and the life she's living. And it shows.

Where did you and Sebastian first meet?
I met him shooting a story for V Magazine about three or four years ago. He featured me with Naomi Campbell in a hotel in stereotypically American situations like watching TV, drinking milk. I found him funny and creative.
What was this shoot for us like?
We shot in Miami for one day, and it was really laid-back. It was basically getting the character that Sebastian wanted me to portray. He wanted this wild woman who was sassy. I was fully revealing myself because I was so proud of my sexiness.
How did you get into character?
It's really easy because you have full hair and makeup, and then people are slathering you in sunscreen, so you're just glistening. Sebastian is really quick and knows what to do with the camera. He gets passionate.
You walked in the Chanel Resort show in Cuba right after this shoot. Tell us about that!
It was hot. There were also lots of old cars, so the smell of diesel was everywhere. The buildings were beautiful but falling apart. It reminded me a little of Portugal with this otherworldly charm. The people's reaction to the show is what I enjoyed the most. The locals came out in the streets. It's such a glamorous time that's happening with Karl [Lagerfeld] and his whole legacy. It's really fascinating to me, and I feel honored to have had the privilege to be a part of it.
Nobody does it like Chanel.
Seriously.
How's the rest of your summer been?
I've spent a lot of time in L.A. I have a place in Pacific Palisades. I went surfing with my carpenter once, but I didn't catch any waves.
Your carpenter?
He's pretty young and a great surfer.
What do you enjoy about life in L.A.?
I love how free-spirited and easygoing it is.
Were you over New York?
I don't have the same opportunities to be outside and visit the ocean there. There's not a lot of options as far as, like, no eggs.
Eggs?
I have an egg allergy. I tended to eat more vegan when I was visiting L.A., and I felt like it was doing a lot of good things for my body. There are a lot of nutritionists and people I know in the vegan community who I enjoy learning from. I didn't really experience that in New York. I don't want to go to clubs or do that whole scene. I've done that. I know I'm only 22, but I'm just over it. I like to be more Zen and chill.
How long have you been vegan?
I'm not a vegan. I enjoy vegan food, but I can't say I'm completely vegan because I eat things like goat cheese.
You once told W that you couldn't live without milk. Is that still the case?
No. I don't drink cow's milk anymore. Occasionally I'll drink goat's milk. I absolutely adore almond milk; there's a lot of stores in California that carry it. I haven't successfully made almond milk, but I hope, with time, I'll gain some experience in that area. I love milk; just not cow's milk.
Glad we set the record straight. Are you still planning to eventually become a pilot?
I was flirting with the idea of taking private courses, but unfortunately I haven't been back to [my home state of] Kansas because I've been working so much. I still tinker with the idea, but I don't think it will happen any time soon. I've already logged probably 300,000-plus miles of just being a passenger. Having to redo that as a pilot to train would be the least favorite thing I put myself into. The climate on the airplane also makes my skin super dry.
What are you reading this summer?
Franny and Zooey.
How'd you like it?
I've read the last third of it like four times, and every time I read something different. It's a great book, which is why I can't let myself finish it. I get so attached to books that I don't want to let them go and end the character forever. I want the character to live on in my imagination.
The gap in your teeth has made you stand out in the industry. How did kids react to that growing up?
Honestly, it was an absolute nightmare. Kids are very cruel at such a young age. Luckily my sister was very supportive of my gap. She told me, "It's high fashion! Someday you're going to walk in couture shows, and designers are going to love your teeth, because it's so unique." I used what my sister told me and that gave me confidence and self-esteem. Now it's my prized possession.
Did you look up to other famous women who had gaps in their teeth?
Absolutely! Amelia Earhart also had a gap, and she was also from Kansas.
You've been a frequent visitor to the Hamptons over the years.
It's like Disneyland. It's perfect. I feel really calm and at ease next to the ocean. It was a very unique experience coming from Wichita, Kansas.
How do you want to be remembered in 50 years?
As sexy and sassy. Vixen Wixson.
Styling: Sofia Achaval de montaigu
Hair: Teddy Charles
Makeup: Ayami Nishimura
Fashion Editor: Paige Reddinger
Producers: Helena Seward & Marcos Fecchino
Retouching: Justine Foord for Silhouette Studio.
Shot on location at The Faena Hotel MIAMI beach

See the full issue HERE.