Read today's dose of chic intel right here…
Vanity Fair Lays Off More Editors and Contributors (WWD)
Vanity Fair EIC Radhika Jones continues to cut staff at the magazine. The latest round of layoffs included SunHee Grinnell, who started at VF in 1991, under Tina Brown, and remained throughout Graydon Carter's tenure, becoming beauty director in 2008. The publication also laid off their two-person photo research team and fashion editor Ryan Young. Writer Bob Colacello, a special correspondent since 1993, is also off the masthead, as is contributing editor Michael Lewis, who worked with the magazine for a decade.
Uniqlo Owner Takes Minority Stake in Lemaire (Hypebeast)
Fast Retailing, which owns Helmut Lang and Uniqlo, has acquired a minority stake in Lemaire. Although exact details of the deal remain unknown, Fast Retailing's CEO, Tadashi Yanai, said in a statement to Business of Fashion that he hopes "our new level of involvement will help to facilitate further growth and development of the brand Lemaire." At the same time, Fast Retailing has also renewed their contract with designer Christophe Lemaire as artistic director of Uniqlo's R&D Center in Paris, Uniqlo U., for another five years.
Biopic About the Late Matthew Mellon in the Works (Page Six)
The late banking heir and cryptocurrency billionaire died suddenly in April while in Cancun, on his way to rehab. Mellon was the ex-husband of Jimmy Choo mogul Tamara Mellon, whom he met in 2000 at a Narcotics Anonymous meeting. Sources told Page Six that reactions to the script from those who were close close to Mellon are mixed — some people support the idea, while others are "horrified" at the idea of his story appearing on the screen. Still, another source close to the film says that a biopic was something Mellon himself often talked about "This may be fulfilling a dream of Matthew's. He would have loved this idea . . . He used to say, 'How cool would it be to have a movie about my crazy life?'"
The Real Housewives of New York Are Selling Their Clothes for Charity (The Hollywood Reporter)
RHONY favorites Carole Radziwill, Dorinda Medley, Ramona Singer, and Luann de Lesseps are selling selections from their closets on resale site thredUP. Proceeds from each woman's sale will go to the charity of their choice. Radziwill's sale launches today, Medley's tomorrow, and Singer's on Thursday, with de Lesseps' to launch some time later.
"Summer is always a great time for a detox," said Radziwell. "Cleaning out my closet and selling my clothes with thredUP feels like the perfect way to kick off a cleansing period. Keeping my home in order gives me a sense of calm. An organized home is an organized mind! It's time for me to let someone else enjoy my clothes while raising money for a good cause."
New Beauty Reuses Old Elle Macpherson Images on Latest Cover (Page Six)
In a move no doubt intended to save the brand money, New Beauty repurposed a 2016 Australian Elle cover and accompanying editorial for their own summer/fall 2018 issue. As Page Six points out, the cover line on New Beauty's issue reads "Elle Macpherson at 54," but, of course, since the shoot took place in 2016, it would be more accurate to say "Elle Macpherson at 52."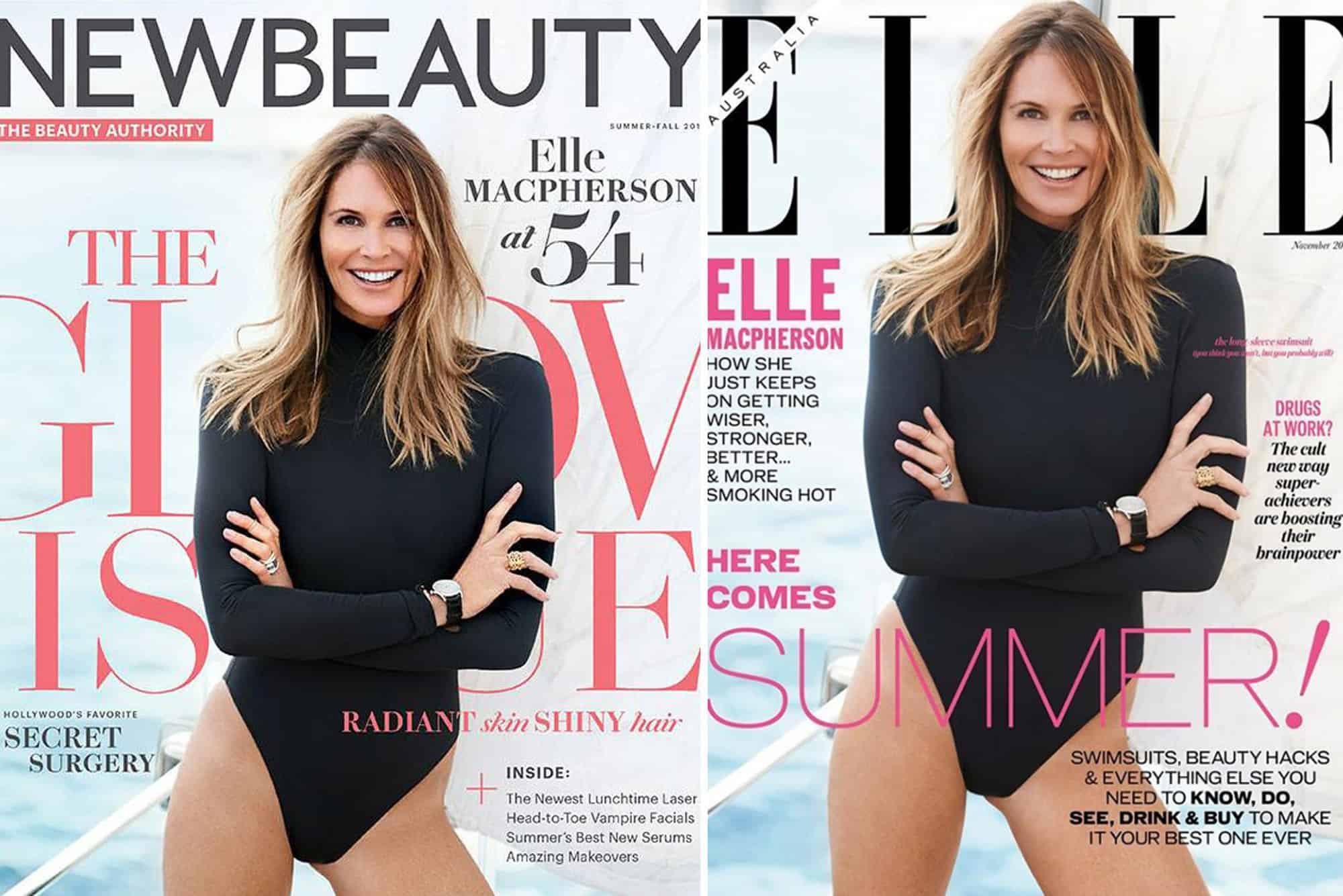 Subscribe to our newsletter and follow us on Facebook to stay up to date on all the latest fashion news and juicy industry gossip.