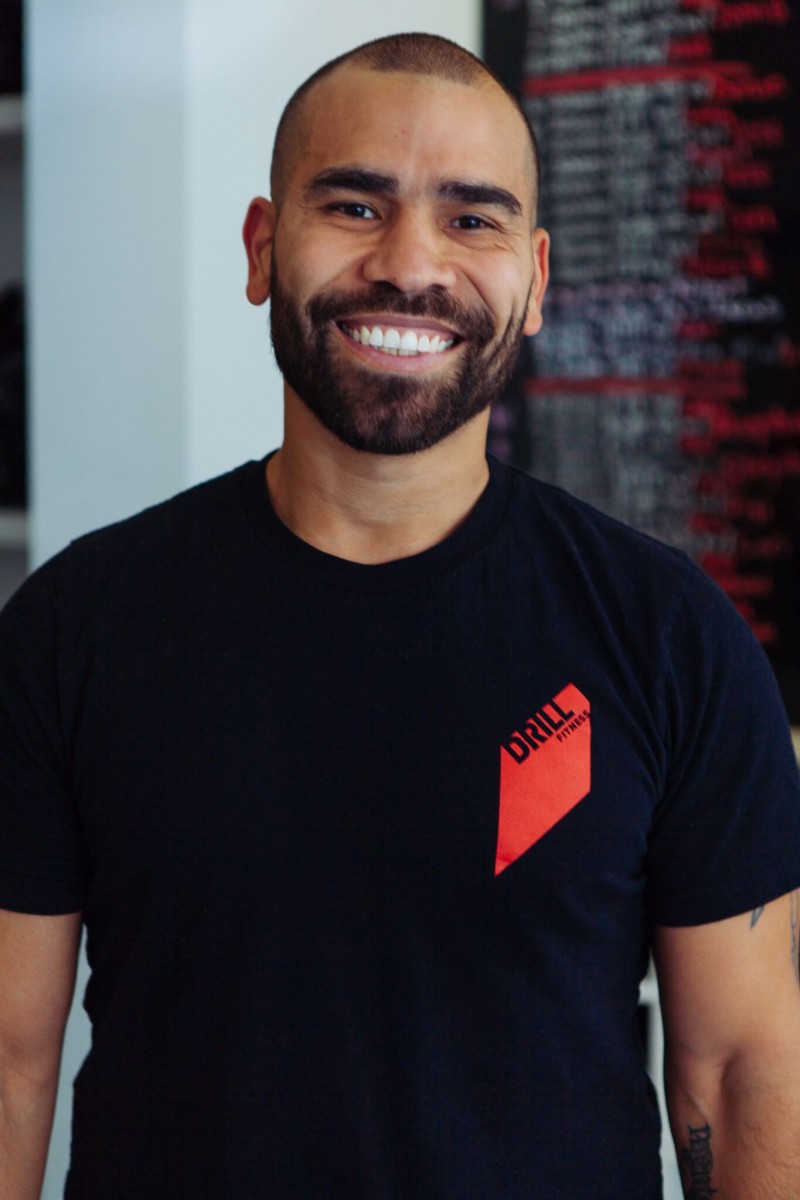 Ready for the latest installment of our Fitness Dossiers, those endorphin-addled explorations of all those super-chicly branded, sometimes quizzically named boutique fitness haute spots around town? We headed down to Tribeca for HIIT classes at Drill Fitness, where you don a heart monitor while sweating it out during hardcore Tabata intervals with thumping music and a disco ball swirling overhead, or hit up "bootcamp-style" spin classes. Drill Fitness' lead instructor, Angel Santiago, explained it all…
BY ALEXANDRA ILYASHOV
Drill Fitness in three words:  Intensity is addictive.

Before Drill Fitness… I was a program coach for an international group fitness company. I was responsible for training/up-skilling 40+ trainers throughout the U.S. and traveling internationally presenting group fitness experiences.
The hard sell: There are many things that make Drill Fitness workouts unique. The top three that stand out are: 1) We create programs that are going to challenge people and get results. It's all about hard work and mastery. 2) We use technology (heart rate monitors) to help participants see to their work capacity in real-time. 3) Our "coaching" model helps participants get the most from the exercises to reap the benefits. We guide our participants from instruction to mastery of movement.
Drill Fitness' backstory: Founder Winston Fisher followed his own commitment to a fit lifestyle in 2011; the New York City real estate executive was inspired to create a studio for people who, like him, crave a personal fitness evolution.
Ideal après-class snack: I really love our in-house shakes! Coco Nutz is my favorite. A combination of coconut (milk and flakes), chocolate, and protein to refuel me after a solid workout.
Biggest misconception about Drill Fitness: That we are too intense. It's true that our mantra is "Intensity is Addictive", but we educate people to find their level of intensity. Over time, things they thought impossible become a challenge they look forward too. We tailor all our programs to all exercise levels.
Why Drill Fitness opened up downtown first: Let's just say TriBeCa is just the start. Besides, TriBeCa is a happening part of the city bustling with fitness liked-minded individuals that want a great workout.
Advice for a first-timer: Listen to your body. When it says stop, stop. When it says I'm thirsty, get water. For many first-timers the need to push and go hard can lead to unnecessary set backs. Slow and steady becomes strong and sexy in not time.
Major mistakes newbies make:  Not hydrating enough or choosing the correct resistance are common. However, we educate our participants in both.
Drill Fitness' soundtrack: It's electrifying, full of life, and makes you want to move. Even when your body screams to stop, our music keeps you going on.

What sets Drill Fitness apart from other boot-camp-esque classes out there: We tailor our workouts to our participants. I know many classes out there claim the same, but we really know our members and how to read fitness levels of new participants. We constantly change our coaching to challenge each fitness level, yet keep them safe. This is why you will see a newbie working out right next to an athlete at Drill Fitness.

Earliest fitness memory, ever:  Discovering the gym at 16 years old and wrapping my hands around the steel for the first time. That same year, I discovered martial arts and fall in love with both 'til this day.
Go-to workouts beyond Drill Fitness: If I'm not teaching, then I'm taking a class from a fellow instructor or running through a workout I'll be teaching.

Workout we'll never catch you doing: I'm really open to anything as all fitness experiences inspire me some way or another. However, if I really had to choose, it would be any workout that involved intervals on a treadmill.
Workouts on the horizon next: I'd love to add more flexibility and mobility workouts. We often spend so much time pushing and challenging our bodies, but seldom bring some rejuvenation, length, and flexility exercises into our routines. A component that pays off in the long run.

Classes clocked weekly: Currently, I teach two classes and will take up to five per week.
Frequently-asked fitness questions: The two most common: 1) How can I get a stronger core? 2) What are the best glute exercises?
Drill Fitness' draw for the fashion set: Parts of the fashion crowd has evolved to a 'strong is sexy' mentality, and we love that. We empower both men and women to work hard for the results they want. Sure, our programs can shape and tone your body, but they can make you stronger, leaner, and more athletic, too.
PART II: The Daily weighs in…
Location and logistics: Drill Fitness is located at 136 Church St. in Tribeca. Cancel at least 12 hours prior to the scheduled class sans penalty.

What you'll shell out: A single class is $32, five classes will run you $155, 10 classes go for $300, and 20 classes will cost you $560; a 30 day unlimited goes for $300. 

Stroll-right-into-a-meeting or absolutely-shower-necessitating? Between burpees galore, tons of jumping jacks and other plyometrics thrown in for good measure, and short, intense stints of each activity, expect to be winded and sweaty post-class. Locker rooms with showers are available.
It's worth it if… You sort of just need to be told what to do (and to work harder and faster) sometimes. The disco ball is a little random and you can be seen panting and red-faced  by passerby on Church Street, but the staff is energetic, the facilities are great, and it's certainly a solid sweat sesh.