Welcome to the latest Fitness Dossier, our weekly endorphin-addled explorations of all those super-chicly branded, sometimes quizzically named boutique fitness haute spots and classes around town. We're bouncing around this week at trampoLEAN, a class designed by supertrainer Louis Coraggio, which is conducted almost entirely on a fitness trampoline. The crowd includes everyone from Broadway talents like Courtney Reed (she's currently starring in Aladdin as Jasmine!) to DNA mods (a slew of the leggy gals took a private class). Let's jump right in!

trampoLEAN in three words: Dynamic, engaging, and lively 

Before trampoLEAN…I was providing fitness consulting and private training for another company I own, called Body Architect.

trampoLEAN mantra: Make fitness fun.
The hard sell: It's low-impact, which allows people to move easier and perform more athletically. Trampoline training is the only exercise that provides vertical acceleration and deceleration, which is easy on the joints. This up-and-down motion is believed to be the best detoxifying exercise; it achieves similar benefits as running. A variety of twists, turns, and rotations combined with reactive forces target muscles in a new way. It's an extremely unique training method—and enhances the mind-body connection.
Recommended workout gear: Barefoot training is preferred. For extreme comfort, wear form-fitting pants or loose shorts and a light, quick-drying shirt.
Ideal après-class snack:  I usually make a green smoothie in my Blendtec blender with the following ingredients:
Handful of Kale, Spinach, almonds, ice and blueberries
2 oz filtered water
2 oz goat milk
Scoop of Isagenix Vanilla Protein Powder
2 teaspoon Flaxseed Meal
1/2 banana
Biggest misconception about trampoLEAN: That it's only for females, and that it's not a great workout.
Advice for a first-timer: Don't eat 30 minutes prior to class. Go to the bathroom before class starts. Stay focused and connected to your breathing. Focus on pushing into the trampoline, rather then bouncing up too high.
Major mistakes newbies make: Don't stand up tall. It's important be in a ski position: Push the hips back into a small squat. The goal is to get as many bounces in the class as possible. To achieve this, it's important to stay low to the trampoline and push into the trampoline through the lower body. Beginners tend to have straight legs, which causes them to bounce too high and reduces the amount of accumulated bounces.
First trampoline encounter: I had an outdoor fitness trampoline when I was 19 to 25 years old. I thought it was extremely fun and athletic. I then was reintroduced to it when working with Tracy Anderson in 2005. Years later JumpSport, a trampoline company certified me and I developed trampoLEAN for Sports Club at Chelsea Piers. September 2015 trampoLEAN became incorporated and is operating at exclusive fitness studios.
Earliest fitness memory, ever: Home workouts with Gilad Janklowicz when I was a kid.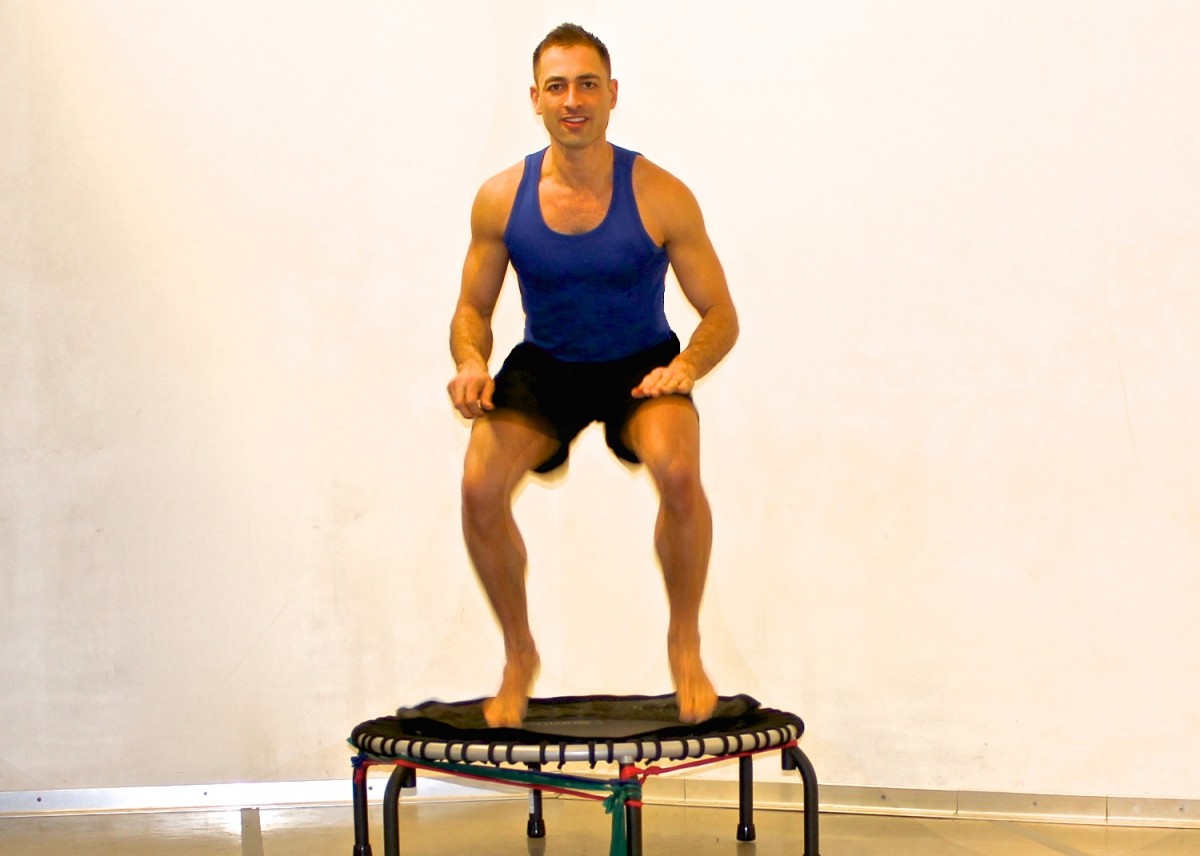 trampoLEAN soundtrack: When the class arrives, a variety of jump-based songs are playing in the background—Madonna's "Jump" and Rihanna's "Fly", for example. Upbeat music is remixed into a 50-minute play list that syncs to interval timers. The tempo of the track increases during high intensity training and decreases during sculpting exercises. Each soundtrack has its own unique choreography and fitness goals.
Go-to workouts beyond trampoLEAN: I practice resitance training at my home gym using dumbbells, barbells, cable machines, kettlebells, and pull-up bars, and I use trx and elastics when I travel.
How often people fall off the trampoline: Rarely! I've never seen anyone get injured. When people fall off, they usually land on their feet and get right back on.
How much laughter do you expect: Yes, sometime I get a laugh, and I always see a lot smiling faces. I say, "You control the trampoline, the trampoline doesn't control you." If people laugh too much, they really aren't in control. I prefer to seeing smiles over repetitive
Tricks to attracting a coed crowd: Having different speciality classes attracts different genders. trampoLEAN + BootCamp, Athletic Boost and Hiit & Abs day attract both genders. However, the trampoLEAN + Barre, Dance, and Legs & Butt tends to attract more females.
Workout we'll never catch you doing: Spinning. I ride my bike everywhere in NYC. I don't see the point on going to a spin studio to cycle more than I already do!
Classes clocked weekly: I currently teach trampoLEAN seven days a week, and have two guest instructors assisting.
Greatest feedback: A few compliments that have made me smile— A female said, "trampoLEAN inspired me to get back to the gym and work on having a beach body." A male said, "Don't knock it until you try it." Many women have told me trampoLEAN was their first time back to the exercise in a long time—they loved that they could go at their own pace. I've also heard, "It keeps you from counting the minutes like with most work out classes do, instead you're having fun because every minute is different."
trampoLEAN's next frontier: Opening an NYC-based trampoLEAN studio. I'd also like to start streaming at-home trampoLEAN programs soon.
trampoLEAN's draw for the fashion set: The results include a long, lean physique. Trampoline training is also great for the skin: Bouncing helps improve skin elasticity. While the detoxifying benefits improves skin complexion.
PART II: The Daily weighs in…
Location and logistics: trampoLEAN classes are held at Dany Studios, 305 W. 38th St; check out the schedule HERE. Plus! Check out trampoLEAN's summer pop-up in the Hamptons at Neighborhood House, 92 Three Mile Harbor Rd.
What you'll shell out: First-timers get 50 percent off the $33 single-class price; five-class packs will run you $155, 10-class packs are $300, and if you want to be bouncing on the reg, nab a one-week pass for $145 or a two-week pass for $250.
Stroll-right-into-a-meeting or absolutely-shower-necessitating? You might get surprisingly sweaty, like your Daily, but most trampoLEAN-ers look semi-presentable post-class. Regardless, you're going to work hard, despite the fun factor of all that bouncing—the HIIT segments in some classes are no cakewalk (in a good way!).
It's worth it if… You haven't hopped on a trampoline in years and get excited about the prospect of doing so! Equally as appealing if you're fatigued from your current workout routine and need something to shake up that spin addiction, barre kick, or boot camp overload. Also an excellent workout if you need to give your knees a break. The supposed skin elasticity-boosting side effects aren't too shabby, either…