A new year, a new series of buzzworthy covers! Our favorites so far:
1. Jennifer Lawrence on Glamour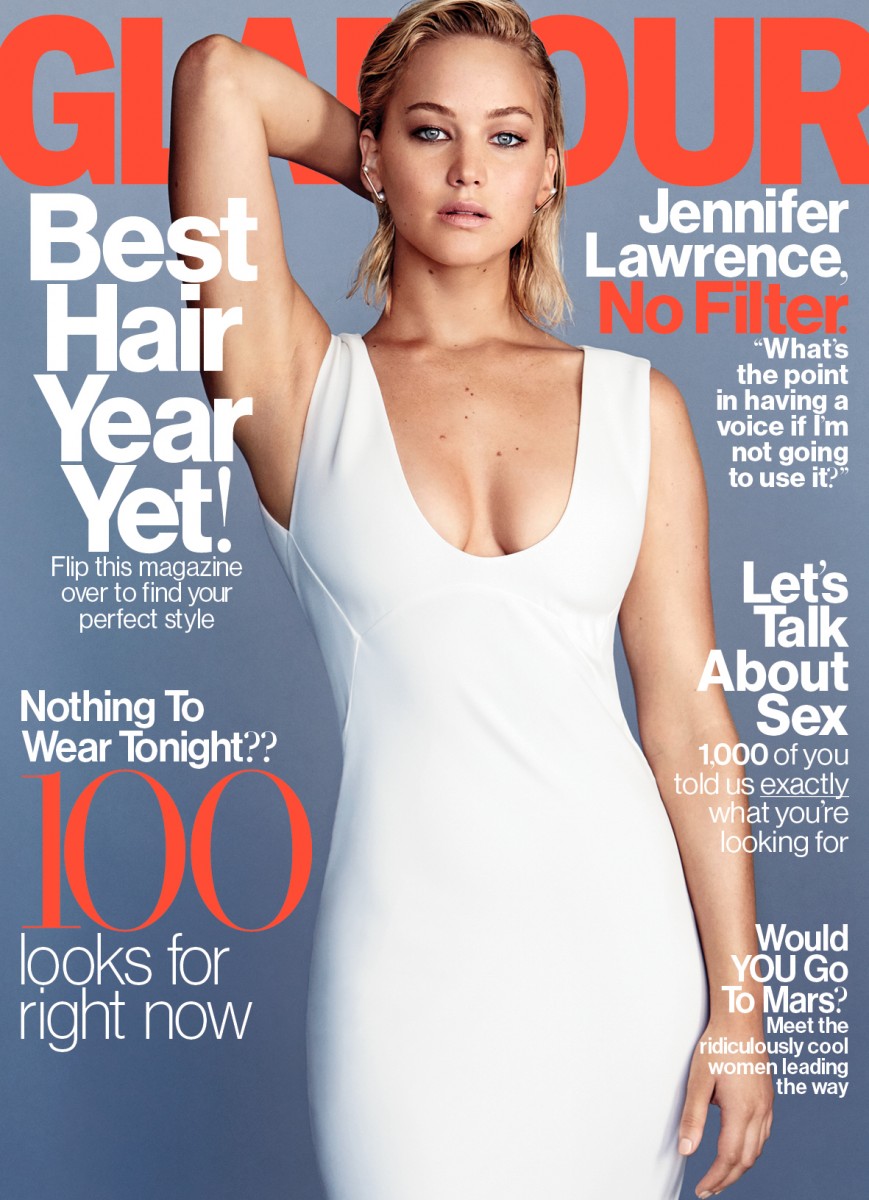 The actress, adored for her candor, stuns in Dior and doesn't disappoint with her interview with EIC Cindi Leive, which reaches newsstands January 12. She talks about her sense of style ("slutty power lesbian"); her medley of BFFs (Amy Schumer, Emma Stone, and Adele); and fame ("I think that we should be allowed time off [from being famous]"). Below, more JLaw-isms to devour…
On acting…
"I'm addicted to work. And acting.… Developing a character is the only thing in the world I feel 100 percent confident in, that I understand. I still have that feeling from being a teenager: 'I'm good at this, and I like this.' So I want to keep doing it, because it makes me feel good about myself."
On dating…
"I don't, like, date a lot. I don't meet a lot of guys who I want to go on a date with. I'll find a guy attractive maybe once a year. But I'm not a lonely person. Me not dating someone is not a lack of anything in any way. I feel completely fulfilled. Yes, when I spark with someone, it's exciting, but I definitely don't need that.…"
On her aversion to social media…
"Because then that's more exposure—that's just more me. I want less me. I want people to have less me."

2. Lily-Rose Depp on LOVE Magazine
The starlet and 16-year-old daughter of Johnny Depp and Vanessa Paradis just landed her first-ever magazine cover, fronting Katie Grand's biannual glossy in major pops of color. (FYI: Yellow ruff by Undercover and earring by Chanel.) The fashion set first laid eyes on Depp when she walked Chanel's casino-themed Fall 2015 show with Lily Collins, and she later became the Chanel eyewear campaign star. In the cover feature, the model/actress confesses she landed on her career choice two years ago on the set of Tusk. Her favorite movie? The Wizard of Oz. Her dream director? Quentin Tarantino. Read more about the beaut when the issue is released on February 8.
3. W's The Movie Issue: Alicia Vikander, Brie Larson, Carey Mulligan, Eddie Redmayne, Rooney Mara, and Saoirse Ronan
Talk about power set! Warming up for awards show season (and fueling the buzz about potential winners), W magazine handed out its own prize of sorts, putting six major faces in Hollywood on its February covers. Inside: featurettes with the cover stars and 25 other power players in film (Amy Schumer, Charlize Theron, Margot Robbie, et al). Each one, (handpicked by editor at large Lynn Hirschberg), was shot by Peter Lindbergh and styled by Edward Enninful. Here, a few snippets to tide you over until the issue comes out January 12…
Margot Robbie: "If I ever need to cry in a scene, I think of Leonardo DiCaprio as Jack dying in Titanic. I would never tell Leo that. I'll kill myself if he ever reads this." 
Jane Fonda: "On my 75th birthday—which was my favorite birthday—I had 150 people to my house, including several ex-husbands. It was December 21, 2012, which was, according to the Mayan calendar, the day there would be a major shift to a new paradigm and the world would change. I can't say that I experienced any sort of turning point, but I had a good time. And the ex-husbands all got along." 
Jake Gyllenhaal: "I had no idea how to box before Southpaw. In an early sparring session, I got hit in the face and then in the body, and that first body shot dropped me. In my work, I try to get into the real space of my characters, but at that moment, I thought, What the hell am I doing this for?"