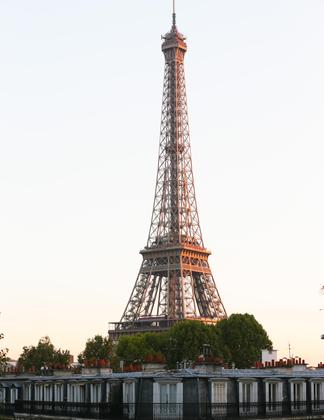 Farewell, Paris! A Dossier Of This Season's Musts
|
Before we depart on our Delta flight home from Paris and finally say farewell to fashion month, we wanted to break down where everybody stayed, ate, and played in the city of lights this season. Keep this in your back pocket for next time…
Haute Hotels: If your expense account is fairly limitless, you'll be staying at The Four Seasons or the more central Le Meurice across from the Tuileries. But we've talked to plenty of editors who've taken residence at the Hotel Lotti this season on Rue de Castiglione. For the rest, it's an array of boutique hotels…and even apartment rentals.
Buzziest Bars: While The Ritz is still closed for renovation, many a late night apertif was consumed at the bar at Le Meurice. We spotted everyone from the MADE crew, Maiyet designer Danielle Sherman, Louis Vuitton PRs, Craig McDean, and Cara Delevingne, to name a few. The latter strolled into the tony establishment in her signature beanie hat, sneaks, and a backpack for a late night cocktail with friends. And there's the Costes hotel bar on the rue Saint-Honoré, which was another see and be seen spot. Although, as fashion insiders are inclined to proclaim, we heard some editors tell us they were "so over" this spot. Le sigh. For those planning to party all night long, André Saraiva's La Régine was the place to be and tout le monde showed up for the "New York, New York" bash there on Sunday, thrown by nightlife impresario Tommy Saleh, creative director of New York's Soho Grand and Tribeca Grand.
Resto Go-Tos: We had the immense pleasure of dining at Jamie Oliver and Gregory Marchand's Frenchie. It's considered the "foodie's paradise" and serves up unusual combinations like buratta served with peaches, which was heaven sent. Anahi is another charming restaurant on 49 rue Volta that delivers delicious Argentinian fare. We recommend avoiding it if you happen to be vegetarian, though! The meaty menu is cooked up in a former butcher's shop. When we dined there, nearly the entire restaurant was filled with the fashion flock. The Costes is still a popular place to dine more to be seen than for the food. As one editor put it, "the food is only OK, but I go there to eat to see who's there." And for the truly fabulous, Caviar Kaspia in the 8th is the place to be. Yes, the menu is comprised only of caviar dishes, how luxe! We heard one PR rung up a $1,500 bill entertaining editors there and you're likely to spot the likes of Mario Testino breaking bread there.