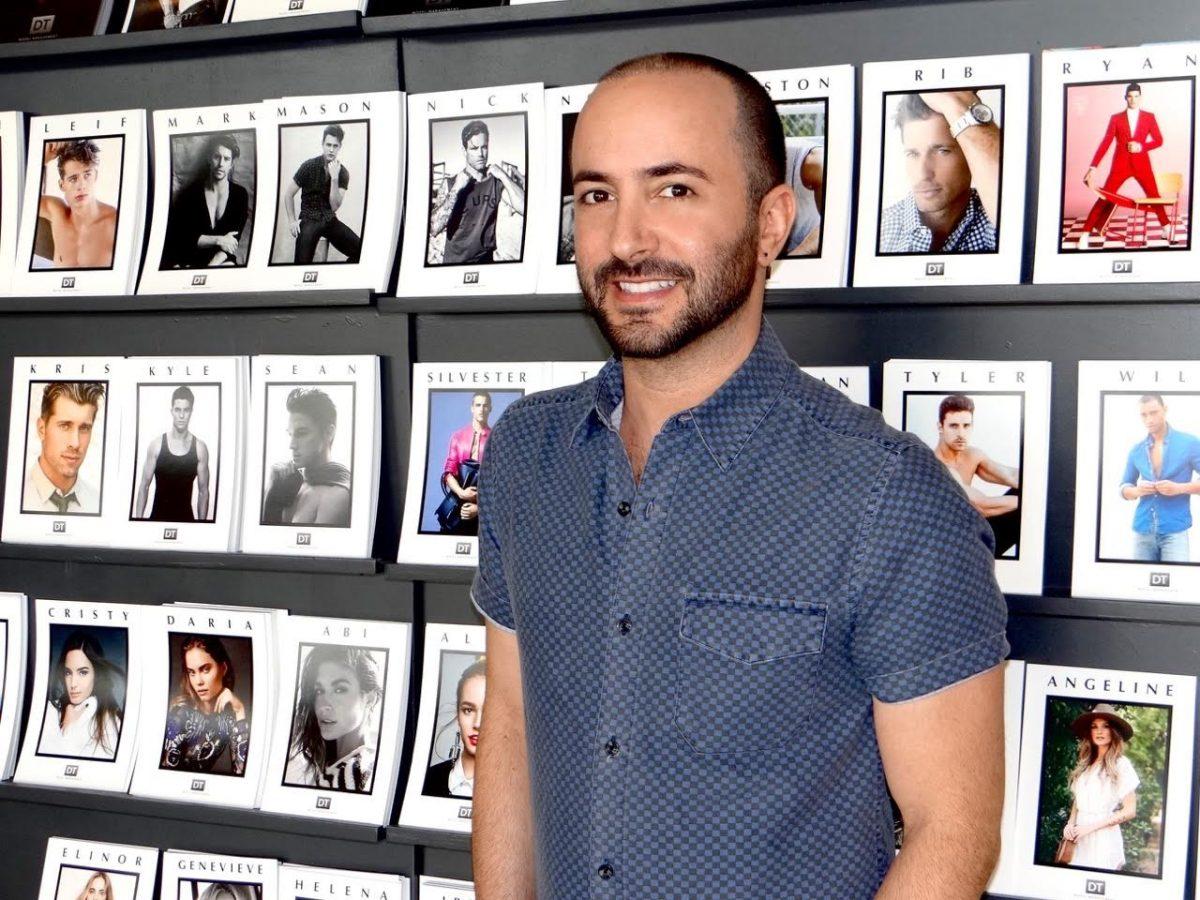 Next month marks the 5 year anniversary of Los Angeles-based men's and women's boutique agency DT Model Management, founded by industry vet David Todd. The Daily chatted with the West Coast's Mr. Nice Guy to unearth his roots, talk about his roster, and find out the advice he gives newbies in the biz. 
Tell us about your background!
I grew up in Sherman Oaks, California, which is called Valley Glen now. My family still lives there and my parents are still married. I came from a really nice upbringing. My parents always believed in my sister and I and supported us in everything that we did. I really started out by wanting to get out of high school. I was bullied and considered different. One of my girlfriends from school was a model and she took me to her agency one day, and I started doing commercial print jobs and different commercials. It became an outlet for me at first to get away from school and also it let me be more creative and see what goes on at a photo shoot behind the scenes.
So you started out as a model…
I was modeling, but I wasn't a fashion model. I was shooting for Doritos and J.C. Penney and stuff like that. I was only fourteen. I'm short, so I knew there wasn't a career as a fashion model for me. I was never thinking that. It was more that I could make extra money and get out of school early and it was cool. I did that for a while and once 11th grade came around, I started noticing I wasn't interested in being an actor or being in front of the camera anymore. I had saved money to buy my first car. I had met an agent who worked at [the agency] Omar's Men when I first kind of started going out in West Hollywood when I was still in high school. He told me I should work at the agency as an intern and get school credit. I asked my school and I started going every day after 12 p.m. to Hollywood to work there. My dad would drop me off!
What was that like?
It was amazing. At that point, in the '90s, the modeling business was so different. I heard calls coming in from Vogue booking Stephanie Seymour. They really had some of the biggest girls of the moment at that time and they were booking the girls out of L.A., which really interested me. Omar [Albertto] introduced me to Mario Testino and Bruce Weber and I still have those relationships today. I'm very grateful for that experience.
What was next?
I interned there for about six months, but then Omar joined with Prima and it became United Prima and I worked there for about a year and a half before Wilhelmina came along. They knew who I was and were like, "Who is this kid that is scouting all these great models?" They offered me a position and I was there for 10 years.
What made you so good at scouting?
My mom is a really creative person—she's the artistic one of the family. I got that side from her. I always remember looking out the window of my car, or walking at Disneyland with my friends and being like, "Oh my god! She's a model." Like, "She could be a model," or "He could be a model." It was something that I always had. I was also on sets at a very young age. You can't train someone to look for models. They just kind of have to have that eye. I can see through someone who maybe needs to lose some weight or needs to change their skin or cut their hair. That is what makes a good agent: the ability to see models, not only the way they are made up when they're on a shoot, but the way that they may come…before you groom them.
Let's talk about your own agency, DT Models. What made you decide to give it a go on your own?
I was in my late thirties and itching to do something different. I'm just a creative type, and I'm always searching for what I can do best. So much time went by and I was really complacent in my situation. I met Bill Silva, who is my business partner and a huge mentor to me. We really connected and came up with this amazing plan to open the agency and combine fashion and music. It was really scary because I was stepping out on my own. I also had my name involved in it this time. My feeling was, "God, I really have to do this because I have a lot to prove to myself that I can  make this work." I have so much respect for anyone that has their own business, because it really takes so much time, dedication, and hard work. Once you put that hard work into it, great things can come. We have been really blessed that has been the situation.
How do you guys differentiate yourself from other agencies?
I never wanted to be the cookie cutter type of agency that just has a men's division, a women's division, and plus. We all work together as a team here. We talk about every model. We all work with different clients, so we are pitching the girls or the guys to our clients. We individualize their digital, their video, the way that they are presenting their books depending on who we are sending them to. We have always said quality versus quantity here. We aren't taking on thousands of models. It is a very tight-knit group of great talent here. Casting directors are keen on calling models in from us because they know when they call for a blonde girl, they are not going to get 100 girls. They are going to get 10 or 12 amazing girls in that package. Right now I think we are oversaturated with so many agencies and so many models that clients are getting tired of getting packages with the same looking models over and over. When we're signing models, we are looking for diversity. We are looking for a unique, different type of model.
Is every model also an actor in L.A.?
No, actually not. Being in Hollywood, we do have models that definitely want to act. Over the years, I have represented a lot of models hat have segued into big careers. I represented Djimon Hounsou, Josh Pence, and Ian Somerhalder. There are so many great stories. one after the other. These stories of models moving to L.A. and then becoming superstars, it definitely happens. I have seen it before my eyes. If you're here and studying and taking it seriously, it can definitely happen for you.
How do you find models these days?
We are really big on scouting. We scout on Instagram. We also have a street scouter that is basically scouting all day for us. I'm actually in the middle of looking for two more right now because I really want to have our own group of models that we are mother agency to.
Who are some of the most successful models on your board?
Male-wise, if we are speaking campaigns or money, Nick Youngquest is having an amazing career with his Paco Rabanne and Invictus campaigns. Silvester Ruck starred in the Dsquared2 campaign with Mert & Marcus, and from that we went on to book him for the Wild campaign for the Dsquared2 fragrance with Steven Klein. We love Steven and he's a big supporter of us. Lydia Hearst and her Equinox campaign from last year is a great one that was seen all over the world. She has a Ray-Ban campaign out with Steven that we're really excited about. Ireland Baldwin had a really great 2016 and this year, she's already shot covers for L'Officiel Ukraine with Davis Factor, ELLE Bulgaria, and Marie Claire. She has a campaign for Too Faced Cosmetics, Wet n Wild, and she just signed a major jeans campaign, which comes out soon.
Jason Mraz is in your special bookings area. Who else is on that board?
Our specialty girls like Ireland, Lydia, Paris Hilton, and Brooke Candy. Brooke's an emerging artist on RCA that my business partner manages. We just signed Ava Dash, who is the daughter of Rachel Roy and Damon Dash. We're really excited about her! In that division, we are always looking for girls that have something else to say other than just, "I'm a model."
Is it hard getting industry cred, being based in L.A.?
When I was starting Dylan Penn, I kept pitching her to Vogue at the beginning and we had a rough time, but I kept thinking, "They are not going to react to us. We are in L.A." But then as we started building her brand and she started becoming well known and shooting for numerous high-fashion magazine covers and working with big photographers and big brands, they finally emailed me and said, "We would love to do a story with her." So it definitely can happen. Timing is so important. You might get "no" a lot, but I never take "no" for an answer. If I think a girl is right for a brand or for a magazine, I'm jut going to keep pushing her and you might get "no" a couple times. I tell my team, "Keep pushing her. Let's send new digitals. Let's send her new cover." And it will happen eventually.
What advice do you give to models on your board or newbies? I'm sure you have it down by now.
I always sit them down when I sign them and say, "You are new to this town. You need to come into it with calm energy and you can't take it too seriously. Yes, it is a business and you have to be professional and on time and courteous, and treat everyone with kindness and respect, but at the same time you cannot compare yourself to other models and have conversations about the modeling business 24/7 when you are in the casting room and ask other models what they're doing and who they have met. Everyone is different and everyone is unique and everyone is their own brand. Models are always going to have different castings, different bookings, different meetings, and the second you start comparing is when the tornado happens and you start questioning yourself and start questioning your agent…" I know that my team and I certainly start losing faith in the models when we start getting questions and badgered all the time about, "Why aren't I doing this?" We are all for having a productive meeting and talking through things. Come to the agency with a good attitude and be happy that you are working and take direction well because that is what you have agents for. All of us are experienced agents here and we want you to succeed and we want our models to have lucrative careers.
How do you deal with aging models?
It can be a difficult situation because we do have a few models who we have represented for years that we still love and adore and they're gorgeous and they're in great shape, but you know this is such a young industry…Hollywood here can be really tough. The clients here want young fresh faces. They just do. And it's tough because those models that have grown up that aren't in the early stages of modeling anymore…there aren't too many opportunities for them as there once was 10 years ago. This millennial stage is happening right now and we have all these young brands popping up and they want new faces. That's where the team here has to sit down and say, "Okay, well what can we get for this model? Who can we go after?" Cause we still believe in them, but it's a different marketplace now. Now we actually have to go after these brands because the casting we get day by day, a majority of them are clients looking for young models, so it's tough. You can continue being a model, but you have to have something else you're doing. One of our girls is an interior designer. I've seen many transcend into other jobs or do other things on the side.
The rates have also gone down for models. Will that change?
I've definitely seen a big change in rates, for sure. When I hear clients offering $500 for models, it's absolutely ridiculous and we turn it down. The modeling agencies don't have a union, so we all have to stick together and say no to those jobs, or else that client is just going to go to the next agency where they can get the girl for the lower rate. Obviously, $1,000 for e-comm is cool for certain girls and then there are going to be other girls it is just not right for. Sometimes you have to say no to things, and God knows I have said no to a ton of jobs. Especially for the bigger girls for brands, if I was surprised at the rates they offered for their campaigns or social media posts, you just gotta say no and something better will come in. I have high hopes that it will change.
What's your professional motto?
"Be the energy you want to attract." I always say that here, because in our business we have to deal with a lot of different personalities and egos. We have to deal with bullying. We have to deal with rejection. Teamwork here is so important. If we all work together, we'll be successful. I have worked in so many situations that were unhappy and everyone was working for themselves and there was no camaraderie. I am really happy with my team here and I get to come to work every day and enjoy the time we have together. We have stuck together and have accomplished a lot, so I'm really proud of everything we have done. We have stuck to our motto, because it's nice to be important, but important to be nice.