If you're a follower of Derek Blasberg, you know that he's usually on a plane traveling across the globe these days—just check out his Instagram or Snapchat!—thanks in large part to his CNN Style's monthly show, which he began hosting last April. In his most recent episode, "Tokyo's Cutting-Edge Creativity," Blasberg says Kon'nichiwa to Japan and goes on an eight-day journey to Tokyo to explore the the city's art, design, and fashion scenes in perfect timing with the Costume Institute's new Comme des Garçons exhibit at the Met. Blasberg brings us into the city of bright lights and iconic fashion galore and breaks down his latest project to us. 
Derek, why was Tokyo an appealing subject for you? 
I've been fascinated by Japanese culture for years. The influence of Japanese designers has been remarkable, really since Rei Kawakubo. When it was announced that she would be the subject of this year's Costume Institute exhibition, we were like, Oh, wow. The timing is right. When I went to Tokyo, I met with Chitose Abe, who's the creative director of Sacai. She used to work with Rei, who was a major influence on her work. It was fascinating to go through Tokyo and see how well Rei has suggested that country's influences into her career and style.
Have you met Rei before?
I met her for the first time at the Met Gala. It was sort of surreal. On the corner of 77th street and Madison Avenue is where the Carlyle Hotel and the Mark Hotel are located—a lot of people get dressed there before the Met since it's so close. There were all these fans and paparazzi outside—lots of commotion with traffic and crowds and screams and cheers and flashes! At one point, a friend and I saw Rei leave, and no one recognized her. She sort of slid through the crowd unnoticed into her car and went up to the Met. It was this fascinating moment because it perfectly encapsulated what a silent and discrete and subversive powerhouse she is. So when I met her at the Met, I just experienced that. I just watched that happen and she was a quiet, subversive powerhouse even when she was walking around an exhibit that was completely dedicated to her entire life and career.
Who else did you interview for the episode?
I spoke to Hidetoshi Nakata, who's a former football star—kind of like the David Beckham of Japan who loved the sport and dedicated himself to promoting Japanese craftsmanship internationally. I always tease him that he goes to more fashion shows than I do. He's really good friends with Nicolas Ghesquière and Domenico Dolce and Stefano Gabbana. We also went to Takashi Murakami's studio just outside Tokyo. He has a collaboration with Louis Vuitton that still exists. It started when Marc Jacobs was the creative director there.
You also talked to Nicola Formichetti.
Yes, we actually worked to together on a few things more years ago than I'd like to mention. Our careers sort of started at the same time, when I was working with Stephen Gan at V Magazine, so we have known each other for a long time. He took me to a shop called Dog, which is in the middle of Harajuku. It had outrageous stuff—all one-of-a-kind and personalized…studded, shredded, tied, you name it….masks, mini skirts, latex leather. The more outrageous the better! The first time Lady Gaga came with him to Tokyo, he brought her to that shop and she was like, I'll take it all! It was all super insane, bonkers stuff. It was a very cool shop.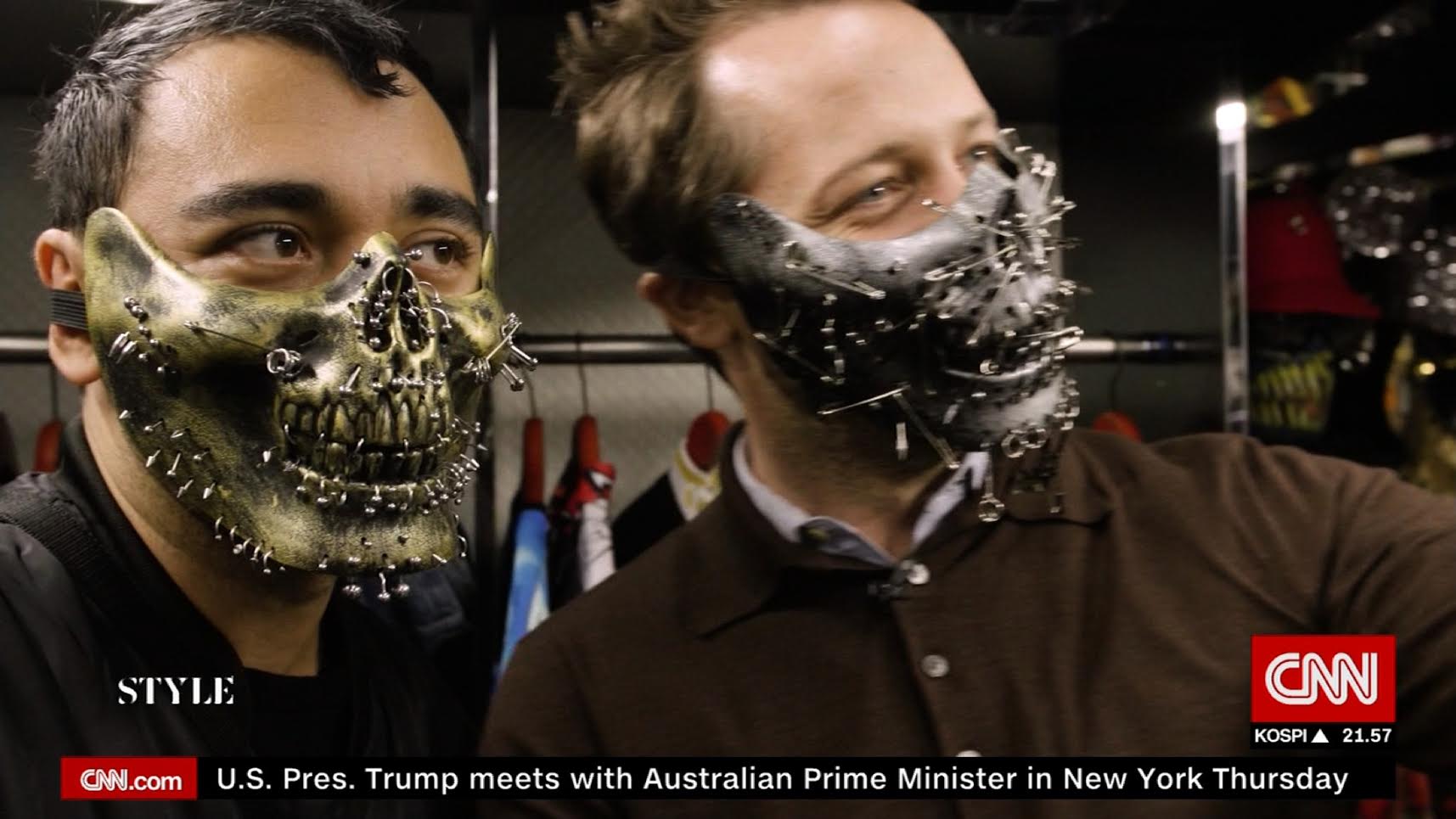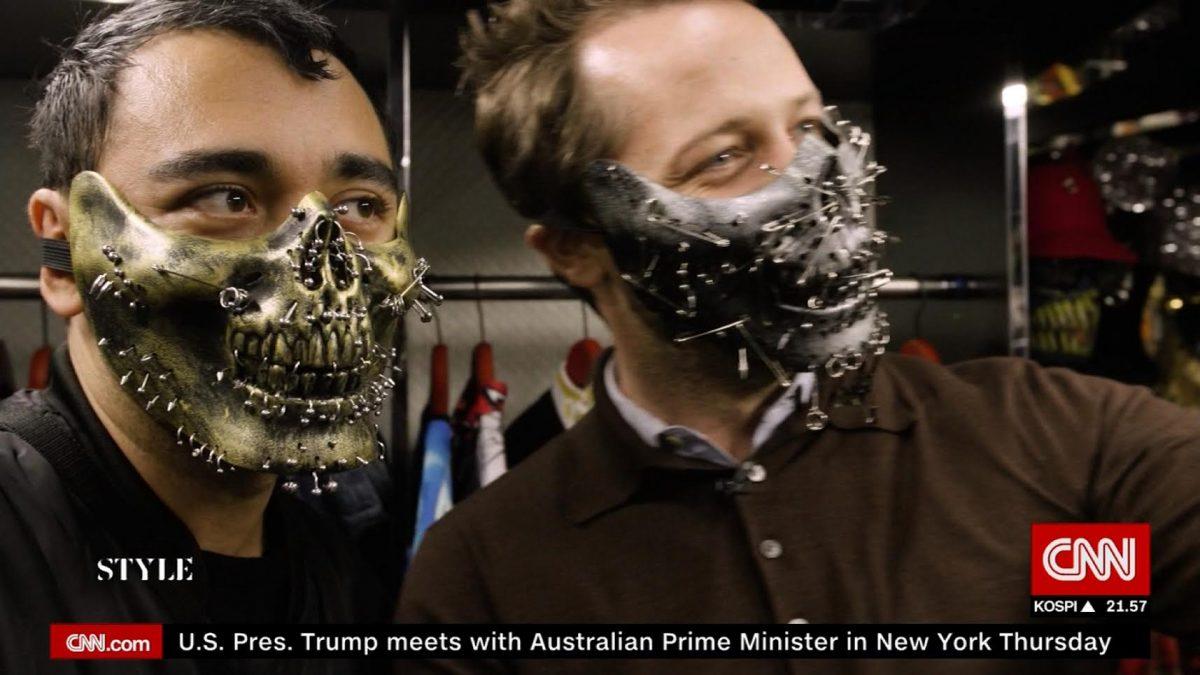 Why do you think Japan is such an inspiration on fashion?
The real take away I had when I went to Japan is that it's really this island that's incubated its own culture, which is why you get this very specific, extremely dedicated style. But they're also obsessed with what happens outside their island.
Have you been to Tokyo before?
I went six or seven years ago, but this was my first time delving into their culture. What was really remarkable about this trip was that unintentionally we wanted this to be the May episode, which meant we had to film in April. As luck would have it, we were there the week the Cherry Blossoms came out. I think they may have been a little more delayed, so we were anticipating missing it. But we were there, and it was the most hypnotizing and sensational and outrageous good fortune to see Japan blooming. Mario Testino had come to photograph them. It was this outrageous time. One of the most beautiful things I'd ever seen.
You're from St. Louis. Are there any similarities between where you grew up and Tokyo?
Zero. Actually, that's not true. My mom had a cherry blossom tree in the backyard. I think apart from that, there weren't too many parallels between the two cities.
Who's on your bucket list to interview for future CNN Style episodes?
We're doing a sports themed episode, so I interviewed Roger Federer, who for me is a sports icon, but also such a smooth, suave guy. I'd love to take the show to other far-off places. I feel like with Tokyo we were scratching the surface on the influence of international culture. I'd love to go to India. I'd love to look at some of the African influences. The list is so long, but I wouldn't call it a bucket list. It's more like an inflatable pool list with a bunch of stuff that I'd like to do. Hopefully, we will get to them. We are dong a sustainability episode which will I think not only be an interesting one, but an important one. We will talk about how some fashion brands are inventing and researching and applying more ethically responsible production and distribution. That will be a good one.
Any other projects you're working on?
I just did a video for Vanity Fair called "Eat Like a Midwesterner" with Karlie Kloss. It had such non-sustainable dietary tips, like everything tastes better when covered in ranch dressing. Maybe we [Karlie and I] should do a travel show together.
You should!
Right? But right now I'm pretty busy between Vanity Fair, CNN, and Gagosian Gallery. My hands are full!
Click HERE to watch the full episode.