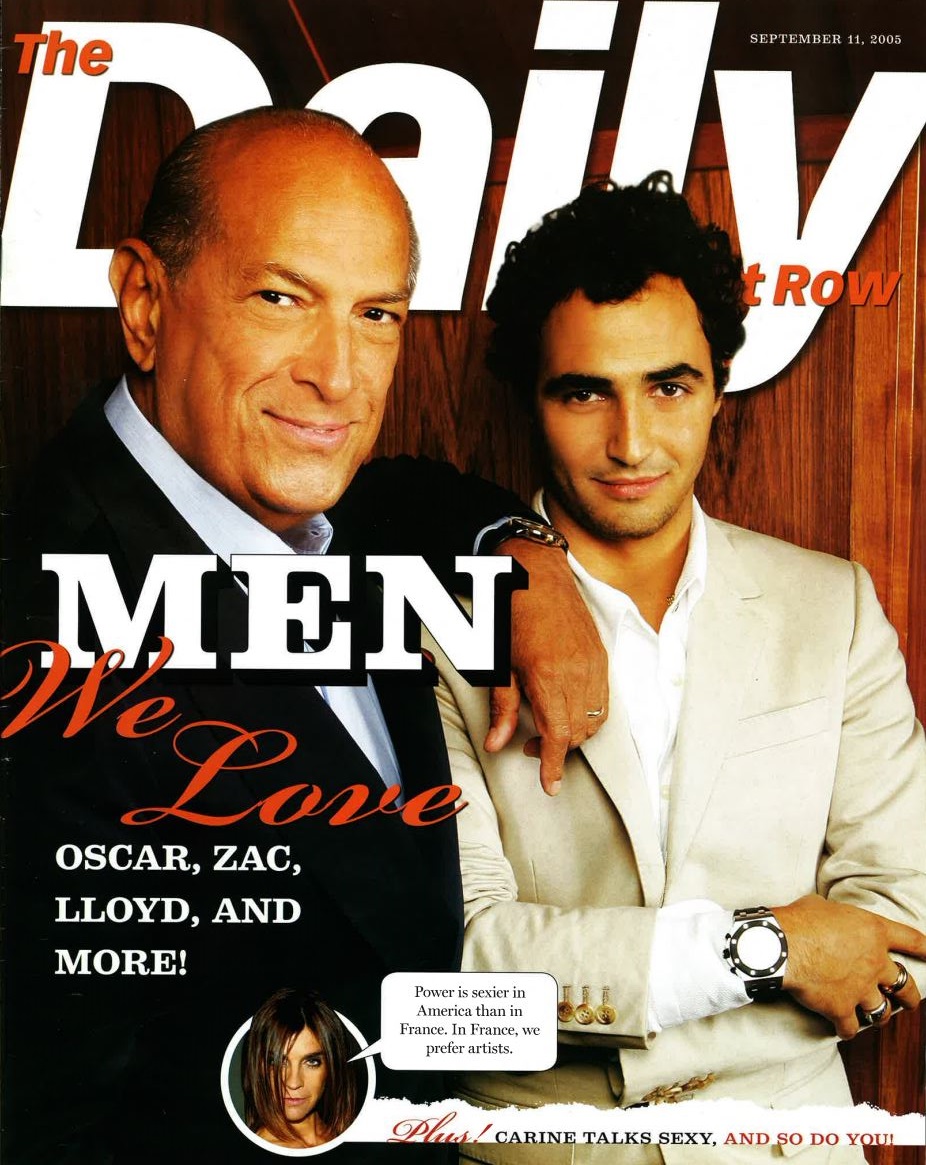 After yesterday's heartbreaking news about the loss of Oscar de la Renta, we dove into the Daily archives to revisit this lovely cover story moment with the designer from September 2005…

We asked Zac Posen and Oscar de la Renta to lunch—15 days before Fashion Week. They're so Daily that they said yes, and showed up looking tan and handsome in their sleek summer suits.
BY MALERIE WILLENS
WHY WE LOVE ZAC AND OSCAR
1. They're gorgeous.
2. They revere the art of dressmaking like few other American designers do.
3. Their dresses are never trendy.
4. They understand women's bodies (and minds).
5. They're gorgeous.
We listened as the Bold Young Turk and the Elegant Icon chatted about ruffling the feathers of Madame Lanvin, the bittersweet afterglow of the runway, and a very special papaya. Then we asked them to fill in the blanks.
ON DRESSING A WOMAN
OSCAR: After I left Balenciaga, when I was working as an assistant to Antonio Castillo at Lanvin—at that time Lanvin was only making haute couture—they called me downstairs to the salon very close to my lunchtime. There was one customer who wanted to order some clothes, but she wanted to change some of them first. So, I was there sketching and sketching. She wanted it to be this way, that way, and she went on and on. I was very young, very inexperienced, and finally, after way past my lunch hour, when I was on my 50th sketch or so, I told her, 'Listen, lady, if you don't like it, you should go somewhere else!' The saleslady apologized and said what a rude young man I was. Then I was called up to Madame Lanvin, who told me, 'Remember one thing: The customer's always right.'
ZAC: You have to keep enhancing your clients imagination, their desire, and their fantasy. When somebody wears a dress or a gown, it's a form of celebration. It's a dream.
ON PIE
OSCAR: I had something with PETA. It happened so unbelievably fast in both instances. I was doing promotions on the ground floor of a store, once in Dallas and another time in Portland, Oregon. I got a huge lemon meringue pie in my face. The first time I didn't press charges because I said, 'This is a desperate woman. But next time, please try another flavor.'
ON THE POST-SHOW GLOW
ZAC: Right after my show, I try to take a moment alone, as a reflection on the intense energy I put into the production. And then I have to start buying my fabrics right away for the next one. It goes by really fast.
OSCAR: As successful as the collection might be, there is always sort of a feeling of being let down at the end of it. Because you have been so emotionally involved for such a long period of time, and then in 20 minutes it is all over. I also have the memory of a mosquito. It's happened to me countless times; a woman will come up to me, out at some event, and say, 'Yesterday I wore your pink dress with the blue ribbon,' and I don't have the slightest idea what she is talking about. Obviously, if I see the dress, I recognize it; otherwise, I just forget it. I'm just thinking of what my next [dress] will be.
ON DRESSES AND PAPAYAS
OSCAR: Gardening has taught me patience. When you make a dress, you can try hard and make it very fast. But you can plant a tree and know that you might never see that tree in your lifetime as a majestic tree, [although] older generations will enjoy that tree. That gives you a sense of continuity.
ZAC: Gardening and cooking are the only two things that relax me at this point in my life. I remember when I was in high school, there was a story about the Oscar de la Renta mango. Mangoes from the Dominican Republic. I thought it was the chicest thing I'd ever heard of.
OSCAR: It was papayas. In the Dominican Republic, I have a big citrus plantation, and it takes five years for a citrus tree to mature and bear fruit. But papayas—in eight months you have fruit, and I was growing papayas and selling them in U.S. supermarkets. I did it as a business venture. They were called Oscar's Papayas.
ZAC: I remember looking for them. I thought it was a very sexy gesture for a designer—creation goes beyond the designing and the work.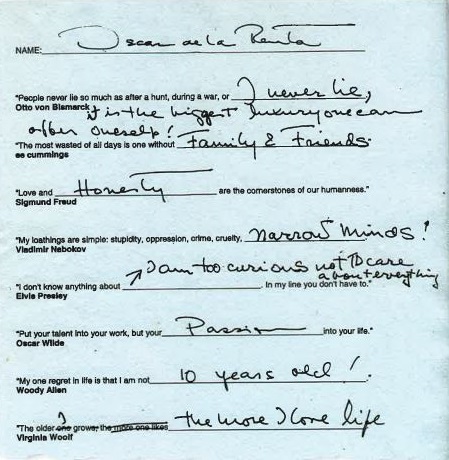 Your Daily quizzed Mr. de la Renta on some famous quotes…