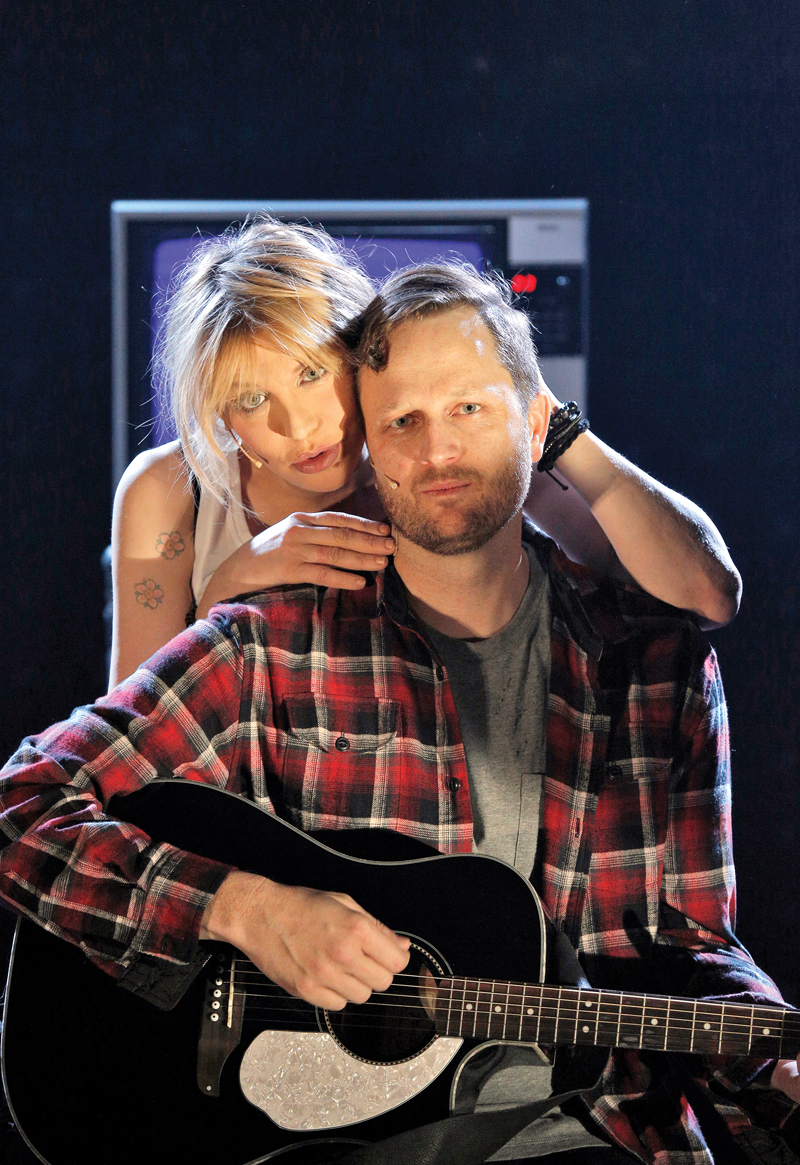 Courtney Love has the ability to shock, awe, and move seamlessly from one art form to another. Thanks to a star turn in Kansas City Choir Boy, a musical created by Todd Almond about a young woman who flees to the big city and leaves a broken heart in her wake, she's added small-scale opera to her résumé. After receiving rave reviews during its New York run, the emotionally wrenching show is coming to Miami's Adrienne Arsht Center from November 30 through December 11. Love and Almond fill us in on their unique collaboration.
Todd, the character of Athena is a muse and long-lost love for your protagonist, a tortured musician. Why was Courtney right for this role?
Todd Almond: Courtney and I had become friends through Mark Subias [Love's agent and Almond's husband], but [director] Kevin [Newbury] and I were talking and we said, "Wouldn't Courtney be the most perfect human being for this role and wouldn't it be such a dream if she said yes?" Because she and I are friendly, I felt comfortable asking her and luckily, she came on board.
Courtney Love: I wasn't doing anything at the time that was more important. I've been trying to write a book for five years, and I was erratically collecting different songs so I can make an album at some point. It was something of a risk, but I thought it would be really cool and I really respected Todd and Kevin and the whole team.
The mood is very intimate. How does that affect your performance?
Love: Well, it's acting. There are a lot of grown-ups who go to theater—sometimes bands come, but not always. There's one song where I really let down my wall, but it's not about me, it's about the character of Athena.
Do you relate to your characters?
Love: I certainly do—I came from a small town and wanted to get to the big city. Tragic things happened, and I'm still here. I didn't leave anyone behind in this kind of way, but I definitely relate to her ambitions and her desires.
Almond: I relate in the sense that I'm always going back to small-town America versus big-city America. I was inspired to write Kansas City Choir Boy by the unfortunate events of a young actress I had worked with at Juilliard. I didn't know her very well, but she was murdered in New York. It was quite devastating. There was a missing girl on the news, and it just made me think about Sarah and about how maybe she was this girl from the Midwest and she had these ambitions and desires. But the musical isn't a narrative—there's no dialogue. It was just these strong images I was responding to, and that's how it formed.
Where are you from, Todd?
Almond: A small town in Nebraska.
How long did it take this project to come together?
Almond: I wrote the music pretty quickly and then sat on it for a while. Kevin and I had been talking about it for a couple of years, and it truly needed to fall into the right hands. I'm grateful that it took a while. I didn't know it would burst into such life.
SAN FRANCISCO, CA – MARCH 07: Todd Almond and Courtney Love perform a song from their latest project, "Kansas City Choir Boy," at the Curran Theatre on March 7, 2016 in San Francisco, California. (Photo by Kelly Sullivan/Getty Images)
CULVER CITY, CA – OCTOBER 18: A general view of atmosphere at the "Kansas City Choir Boy" opening night performance at Kirk Douglas Theatre on October 18, 2015 in Culver City, California. (Photo by Angela Weiss/Getty Images)
We hear you based one scene on a Fleetwood Mac video from the '80s. How so?
Love: I'm a huge Fleetwood Mac fan, and my favorite song of theirs is "The Chain." There's a very operatic YouTube video of Stevie [Nicks] and Lindsey [Buckingham] where they're coked out of their minds and they hate each other's guts. You know, this is all public information, but it's Kabuki opera in a lot of ways. It's a really great clip. And so I showed it to Todd, and we kind of hustled and he altered one song to kind of fit that paradigm.
Did you pull from any other references?
Love: Not really from my end—most of it came from having to learn different kind of phrasing and not the Stones-y, grungy rock that I grew up making. It has some rock in it, but it's also got a Todd Almond stamp of originality. I had to work really hard to learn how to sing like that.
Almond: Courtney is such a brilliant actress and singer that, of course, she brings all this inspiration and life to it. It's something that I never knew that it could be, thanks to her vitality and artistry.
What inspired the decision to bring it to Miami during Art Basel?
Love: I don't know. It's exciting, though. [Laughs]
Almond: [Laughs] I don't know either! There have been a lot of cities that wanted us to come and we can't always work it out, but this seemed exciting to everyone.
Love: I've never been to Art Basel before. My friends would be like, "Are you going?" and I'd be like, "I'm going as an artist or I'm not going." I didn't want to go there just to hang out and go to some Gagosian party and talk to artists. I had a pretty busy schedule, but I was like, "Let's do this during Art Basel." I'm still trying to figure out the neighborhoods, so I can figure out my Airbnb and get to the theater on time and stuff like that.
Courtney, it seems like everyone is referencing the '90s these days. Thoughts?
Love: If there was a real revival of the 90's right now, there would be more of a revival of rock music and there isn't. There's independent, underground, alternative rock music, but nobody's making rent from that. It's unlike the '90s in the sense that the charts are full of rap and pop and not full of rock. Every once in a while, you'll get a Nickelback song [Laughs], but it's good to see bands like Jane's Addiction getting nominated for the Rock & Roll Hall of Fame. On the fashion front, though, I'm doing my second collection with Nasty Gal—and it's going really well!
READ THE ISSUE HERE.