Looking for some early March style inspiration? Meet Alyssa Campanella, former Miss USA winner and beauty and brains behind the blog The A List. The stunning model breaks down her transition from the pageant world to the fashion scene and how her fiancé (actor Torrance Coombs) is the perfect photographer to capture her style and vision. Take it away, Alyssa! 
Why did you start the A List?
I technically started my fashion blog on Instagram in 2012 as Miss USA. Instagram came out about halfway through my reign, and I decided to begin sharing my daily outfits on there. Previous titleholders never had this kind of social media outlet to document their looks for their fans, and I thought it could be fun to take advantage. Fans were excited when I would post my Outfit of the Day and list where I got certain items because they to wanted to dress like Miss USA. When my reign ended, I started a blog on my main modeling website to keep updating fans on looks. I wasn't as dedicated as I could have been because I was focused on modeling, but by the end of 2013 I decided to travel to Canada with my fiancé while he filmed his TV show and I thought fashion blogging would be a great way to pass the time. I closed down my modeling website and opened my first blog, Jumpers & Jasmine, in February 2014. I finally found my passion, a place where I got to document my favorite looks, document my travels, and write! I have been a writer since the moment I first learned to hold a pen, so being able to bring all three together in one place proved to be the best career move. As my blog began to take off, I wasn't happy with the name—I felt it didn't quite represent me the way I wanted it to, so in March 2015 I started The A List, and I think it's a much better fit!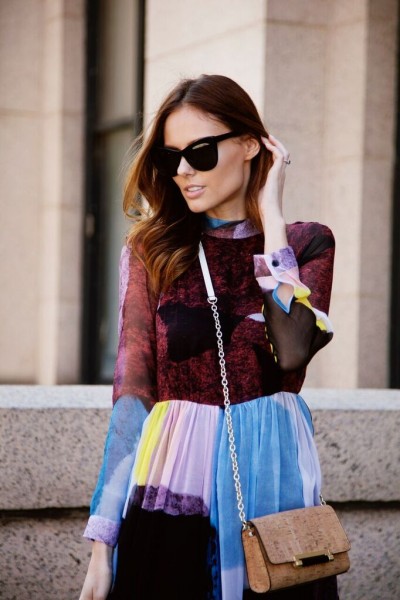 What was it like to transition from the pageant scene to the fashion scene?
To be honest, it was quite an easy transition. I was a model for many years before I was Miss USA, so once my reign was over I went back to what I knew best. The stylist appointed to me as Miss USA knew I wasn't keen on dressing like a pageant girl, so she showed me how to step outside of the box with my fashion choices. The one thing that took time to transition out of was playing it safe. As Miss USA, the outfit is never the focus—you are. Becoming a bit more daring with my looks post-Miss USA took some time.
Your Instagram bio says you're a crazy cat lady…
It's true! In 2012, my fiancé and I rescued two kitten siblings from our friends who found four strays in their shed—a little boy we named Renly and a little girl we named Daenerys…We are major Game of Thrones fans. My fiancé and I treat and spoil them like children. We began to fall in love with cats when his former roommates' cat was pregnant, and she gave birth to five adorable kittens right outside my fiancé's bedroom door. We watched those babies grow, learn to walk, open their eyes, and make their first sounds. I ended up winning Miss USA shortly after that, so we decided as soon as my reign was done we would adopt a cat. Now we are completely and utterly obsessed. We even created an Instagram account for them, @countfluffo.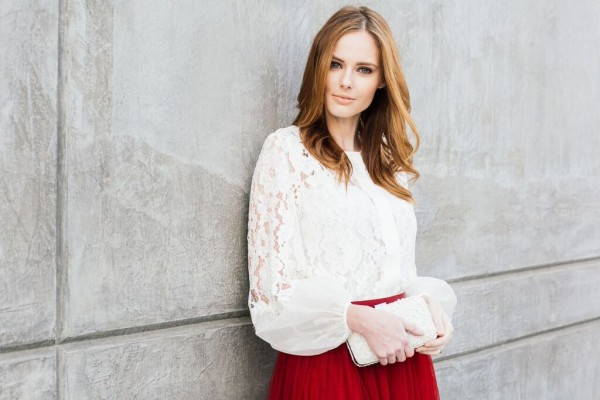 How would you describe your style?
My style is very feminine, classic, and bold. I'm definitely a girly-girl—I own more dresses and skirts than I can count, and only two pairs of shorts.
Your fiancé Torrance takes your blog pictures. Does he play a big role?
My blog would not be where it is today if it wasn't for my fiancé. He knew blogging would be difficult to start on my own, so he offered to take my photos for me. Turns out he has always had a passion for photography! For our first Christmas together as a couple, I got him his own Canon equipped with all the accessories. Fast forward to 2014, my blog made him finally have an excuse to start learning more about photography, and now he's hooked. I would catch him at 3 a.m. in the living room watching tutorials and taking notes—that's how much he cared!
Aw! How did you two meet? 
We met on Twitter in May 2010. He was on a TV show that I loved, and he saw I was a fan so he decided to reach out and say hello. Our first "date" in person was in July 2010.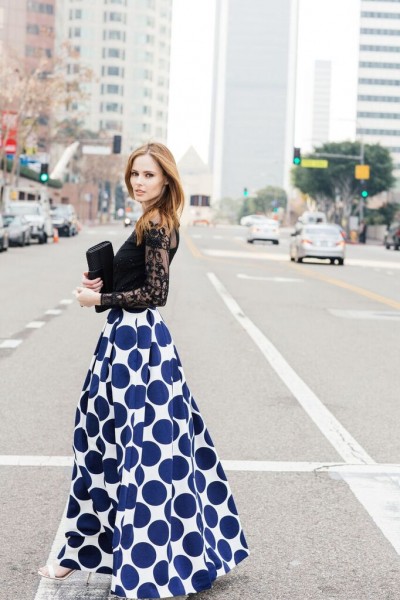 Do you think you'll be a bridezilla?
I've been told by our wedding planners and my bridesmaids that I'm the opposite of a bridezilla, so I guess that's a good thing. My bridesmaids actually complain because I haven't made them do anything and they want to help! I wanted the wedding planning process to be as stress-free and as fun as possible for everyone, and Torrance and I felt being kind and respectful to everyone helping us plan our special day was important to keeping everything smooth even if something went slightly awry. I feel bridezillas accomplish nothing and never enjoy their wedding day.
We saw on Instagram that you were recently in Dublin. How was it? 
My fiancé is an actor on a TV show called "Reign," which primarily films in Canada, but every year they shoot exteriors for the show in Ireland. This is our third year coming to Ireland, and it feels like home now. Our first year we spent a lot of time in Dublin and Tullamore in central Ireland, our second year we spent time on the west coast and stayed at the famous Ashford Castle, and this year we're going back and forth between Dublin and County Wicklow on the east coast.
What are your travel essentials?
A heavy-duty moisturizer, a good book—I currently have with me my favorite Jane Austen novel Sense & Sensibility—a journal to write everything down, adapters for the international traveler, and a camera that's easy to put in your pocket or purse for easy access.
Who are you loving on Instagram these days?
I always love following other bloggers. Maybe it's because I'm a former pageant girl and I'm used to "sisterhoods." I love seeing each blogger's different style, even if it's completely different from mine. Since it's fashion month, I love following the street style photographers who are traveling to each city to document all the looks they see out and about, such as The Styleograph, New York Times Fashion, and Jeff Thibodeau.
Where do you look for inspiration on the fashion front?
I get a lot of my inspiration from UK fashion magazines such as British Vogue, Elle UK, and Harper's Bazaar UK. If there is such a thing as past lives, I was definitely a Brit! Three women in the public eye who I feel nail their looks every time are Alicia Vikander, Amal Clooney, and the Kate Middleton.
PLUS! Alyssa's Five Tips for Aspiring Bloggers:
Find what you're most passionate about and make that your blog's main focus. Once you find your niche, everything will become and feel more natural.
Stay true to yourself and to your readers. You don't have to accept every offer that comes your way. I turn down more offers than I accept because being honest with myself is my number one rule. If you're not honest with yourself, how can you expect your readers to trust you?
Don't compare yourself with other bloggers. Every single blogger is different. They have their own blogs to focus on, and you have yours.
Have patience. Like other professions, you won't become a star overnight. It's best to not overwhelm yourself. Don't let becoming "Instagram famous" be your goal.
Have fun!