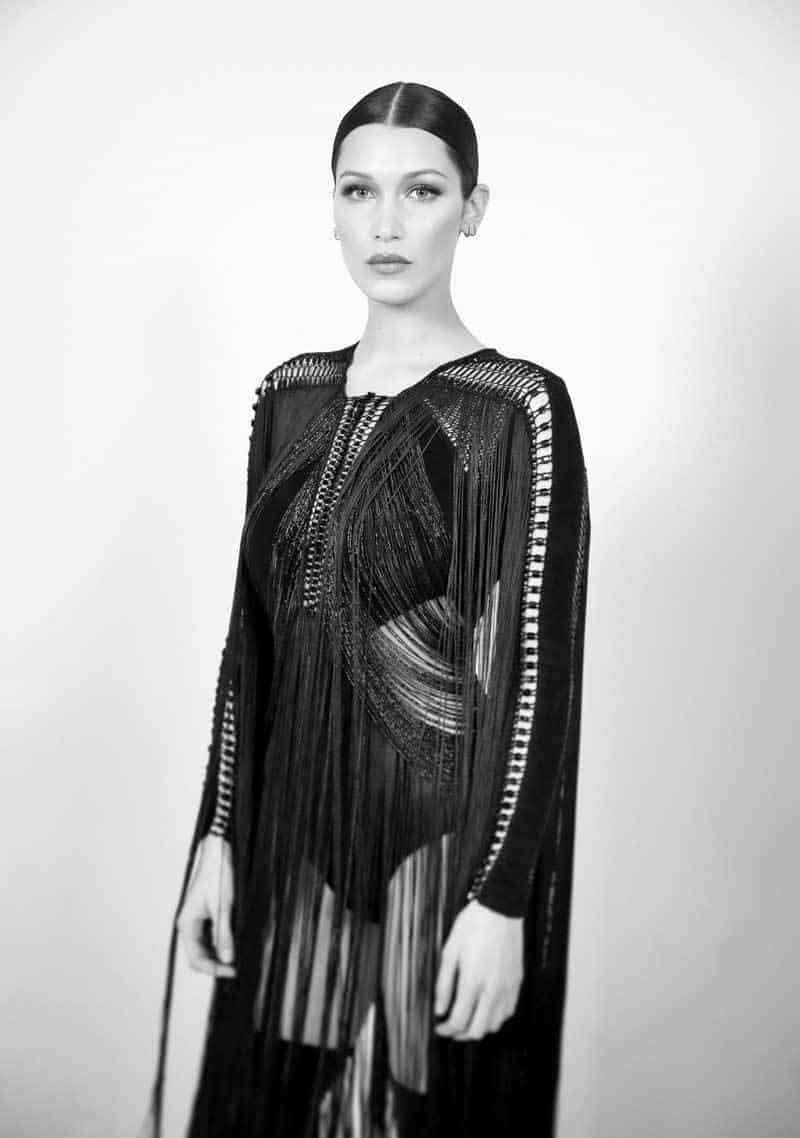 At just 19 years old, Bella Hadid has enjoyed a sensational rookie season—gracing the Chanel runway, covering Seventeen and Allure—and she's sharing it all with her 3 million Instagram followers.
Congrats on being our Model of the Year! Have you ever won anything before?
I rode horses when I was younger so I won awards there, but something like this is really big for me. It's a lot of hard work, and it's nice to know that it's paying off.
What are you going to say in your speech?
I'm so bad at public speaking, so I might laugh or cry. I might have to wing it.
Are you still pursuing an Olympic run as an equestrian?
Not really. Since I started modeling, things veered in this direction. Since I'm winning this award, it shows that I went in the right direction!
No kidding! What were your professional highlights over the past year?
Walking in my first Chanel show was a dream. I was also working a lot with [LOVE editor in chief and stylist] Katie Grand, [photographers] Mert & Marcus, and Riccardo Tisci.
How did you spend Paris Fashion Week?
I was exclusive to Givenchy. Afterward, I also walked in Chanel and Miu Miu.
Who do you tend to hang out with backstage?
My sister [Gigi Hadid], if she's around. Stella Maxwell is a good friend. We always end up together. I love Lexi Boling and Binx Walton. They're all really fun. They've been doing it for awhile, so I follow their lead.
We're honoring Karl Lagerfeld with an Icon award. What's your favorite thing about him?
Working with him was a dream for me. You'd think he's not real, but once you meet him, he's so funny and knows exactly what he's doing. He remembers faces and knows exactly what he wants.
Does modeling still feel new to you?
I've been working the most in these past six or seven months. It's crazy to me how much I've been working, but I feel blessed that I have the opportunity.
What was the most memorable show that you've walked in?
Chanel in Rome was really incredible. We were in a completely different city with only the Chanel girls. My Givenchy exclusive was also a dream of mine. I love Riccardo.
Who have your mentors been in the industry?
Carine Roitfeld was one of the first people to put me in her magazine. To me, she's an icon. She's an angel. Katie Grand has been a great mentor and supporter as well.
Jeremy Scott is presenting your award to you…
I love him to death. The first time I was really around him was probably one of my fittings for my shows. From the outside, you'd think he's all crazy, but he's such a sweetheart and shy. He's just so cute.
Which photographers would you still like to work with?
Steven Meisel and Mario Testino. There's such a long list. I'd love to shoot with all of them!
What did it mean to cover Seventeen magazine?
It was nice because even though I'm 19, I always get portrayed in a sexier way. To be able to giggle and wear pink and red lipstick, it was a fun experience.
What are your other interests?
I got into school at Parsons for photography, which was one of my passions all through high school. Riding horses. I love bacon, eating, and sleeping! Those are my hobbies!
We hear you also bake…
I make a lot of cupcakes, brownies, tiramisu, crepes, maybe that's not baking…that's cooking! I love watching the Food Network. I make whatever
I see.
What do you miss about living in L.A.?
Obviously, my family. I miss driving and being in my car and listening to music. Not having to think about anything. I've worked in L.A. a lot lately, which is nice because I get to go home.
What's your style?
I was just looking at my closet and 95 percent of my closet is full of black clothes. I love leather, Creepers, Doc Martens…edgy things. I pair really random things together, but it turns out cool. I hope!
Do you plan on going back to school?
Totally. I went to Parsons for a year. Right now, I'm more focused on working, but I want to eventually go back. I loved the social aspect and learning things.
Is fashion photography in your future?
Yes. I'm learning so much from the photographers that I'm working with that I'd love to shoot editorials eventually. I have a good eye for it. I feel blessed I can learn while I'm working.
Where would you like to be in 10 years?
I don't even know where I'm going to be tomorrow!
Photography: Getty Images