How did V Magazine sign on Lady Gaga to guest edit its best-selling spring issue? Asking one of the world's busiest women was the easiest part of the process. Editor in chief Stephen Gan tells all.
How did the conversation begin?
About a year ago, I was at a friend's birthday party in Paris. I was chatting with Gaga's manager, Bobby [Campbell], and I said, "We should finally do something." We had been talking about it for years. Gaga was a regular columnist for V, and she always wanted to do more. I said, "Is it time for her to edit a whole issue?" He said, "When?" He felt like early 2016 was going to be quiet, but then she won a Golden Globe, appeared on the Grammy Awards, and performed at the Super Bowl, all within a month.
How did it all come together?
Gaga came into the office a couple of times, and we talked, but we had one really pivotal conversation on the phone. I said, "What are some of your craziest ideas?" and the first thing she said was that she wanted Karl Lagerfeld to shoot Hedi Slimane and Hedi Slimane to shoot Karl Lagerfeld. I said, "That will never happen! What's next on your list?"
Why did you assume it was so hard to pull off?
Karl and Hedi had been very close 10 years ago, but they hadn't kept in touch. I thought they were going to be too busy. Gaga said, "Come on! Give it a try. Make those calls!" I did, and they miraculously both said yes. A month later, I found myself in a studio in Paris with Karl and Hedi, and Gaga on FaceTime.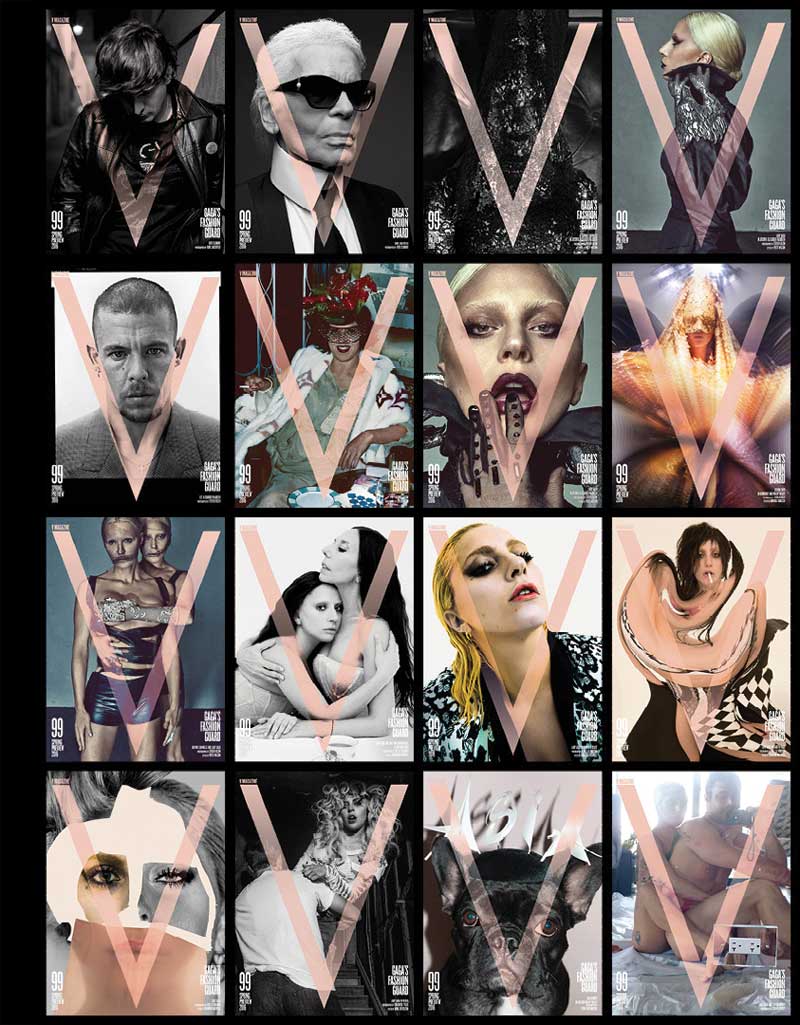 How involved was she?
She did everything. We had to run everything by her. She was right in the thick of filming American Horror Story: Hotel, so the story with all her cast members was really important to her. I didn't even show up, but she art-directed the whole thing and wrote about each and every single person in the cast. She brainstormed with Inez & Vinoodh and Steven Klein, and she was really excited about the fact that Steven and Lee McQueen had been so close. She wanted to give McQueen some kind of tribute, and 90 percent of the clothes we used in the shoot came out of Daphne Guinness's personal collection. It was Gaga's chance to air out her fantasies and play.
Gaga's issue of V had an astounding 16 different covers. How did that come about?
She asked me about the most covers we've ever done in one issue. It was 15, and she said, "We have to do 16!"
Do you have a favorite?
I love them all. The one of Gaga and Inez staring at each other is great—Gaga wanted to look like Inez, and she's wearing a black wig to mimic her hair. When Gaga put on the McQueen, she was crying. She felt like it was an honor to be wearing some of those pieces. And the Karl by Hedi and the Hedi by Karl cover. It's so unlike me to say no—whatever you want, game on—but I thought that was going to be impossible.
Was Gaga afraid of any part of the magazine-making process?
No. She is fearless. She was ballsy, and had a lot of conviction on how things should look. If you read through the issue, she did the majority of it herself, and she put a lot of herself into it. She was so gracious and grateful for having been given the opportunity. We take our jobs for granted and sometimes complain, but she found it fascinating and immersed herself into it. She's so grateful. For me, that was the reward of this venture.
How did you and Gaga meet?
We met seven years ago through a mutual friend over sushi in the East Village in New York one night. That was right before "Paparazzi" was about to hit.
And the rest is history. She comes across as very humble and thankful in the issue.
We're journalists. We come across so many people. Some leave you with a feeling of admiration, and some leave you with a bitter taste in your mouth. She is probably one of the most humble and thoughtful and gracious and grateful people I know. From September through December, before the issue hit, she would text me about covers from L.A. in the middle of the night. She would always ask me how I was feeling. She's so full of heart.
How did the issue perform at newsstand?
We went into our third printing, which has never happened before. It means we sold out twice! For me, it was a real breakthrough and a testament that print isn't dying. You can come up with these ideas that end up selling really, really well.
Is there anybody else you'd want as a guest editor?
That's tough to answer right now. I love collaborations, and I don't want to turn anybody else off, but Gaga is a rare bird. I snooped around one day and talked to her mom, and apparently, she took journalism classes at NYU, so she has magazine blood in her. How often do you find that in anyone?
How did you celebrate the issue?
We had a small party at the Rainbow Room in New York. She was coming to town and wanted to do something. We have a joke—whenever one of us is a little bit down, we text each other late at night and say, "I can't wait to dance again!" And there we were, dancing at the Rainbow Room.
How can people get the issue?
A few hardbound copies are for sale at vmagazine.com. They're collector's items!
How did you follow up this issue?
It's hard to beat Gaga on the cover of V issue 99, and we have Britney Spears on the cover of V issue 100. I'm grateful we've done the past couple of issues with these stars who are so completely different, but Britney is definitely a worthy follow-up.
Photography: BFA.com, Steven Klein