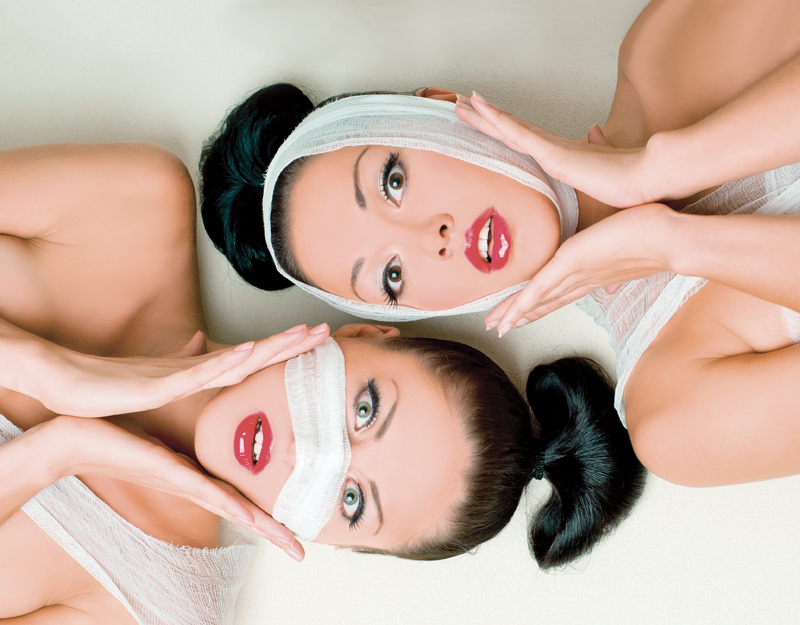 BY MERLE GINSBERG
Remember the month your mother spent wrapped up like a mummy after her "spa vacation?" Yeah, she doesn't want you to remember it either. The newest surgical options—for cheekbones, breasts, even your arm flab—are discreet, natural-looking, and meant to get you back out on the town ASAP, with no one the wiser.
FACIAL SCULPTING
Created by one of Beverly Hills' most in-demand plastic surgeons, Jason Diamond, M.D., this injectable re-contouring can give everyone—men, women, young, old—celeb-level bone structure. "Deep injections augment the bony structures of the face to make you much more photogenic the same day," Dr. Diamond says. "It's natural-looking, fast-healing, and it lasts nine to 12 months." Red carpet fountain-of-youthers (possibly Halle? Angelina?) and Hollywood execs of both sexes are rumored to partake.
THE SECRET SAUCE "I use a combination of fillers to build the proper angles," Dr. Diamond explains. "Calcium, hyaluronic acid, Radiesse, Juvederm, Voluma, Perlane, or Restylane. We do it all along the jawline, for sharper angles, where the jaw turns toward the earlobe. You want that Angelina Jolie jawline to really pop in pictures."
THE DOWNSIDE Possible slight bruising the same day.
THE STRING FACE-LIFT
This minimally invasive "Silhouette Instalift"—which tightens skin to turn back the clock about 10 years—is now FDA-approved in the U.S. after years of popularity in Europe. Using only local anesthesia, doctors lift the face from inside the mouth (!) with special strands made from dissolving glycolic acids and lactic acids. Bev Hills superderm Harold Lancer explains, "Looking cut or pulled is the opposite of desirable now. This is the future of face-lifts."
HOW LONG YOU'LL BE "ON VACATION" One day. The procedure takes less than an hour, and is performed by a dermatologist in his or her office.
EARLY ADOPTERS Two Grammy winners and three Oscar nominees. We'll let you guess which ones.
THE DOWNSIDE Getting an appointment's not easy. Dr. Lancer is one of the few doctors in the country equipped to perform the procedure.
ARM SLIMMING—HALLELUJAH!
Michelle Obama's legacy (arm-acy?) will live on long after 2016, with the chic set now wearing sleeveless gowns year round. But what if your arm flab is tricep-dip-resistant? "The Titan laser decreases arm circumference in just two treatments," says Beverly Hills dermatologist Peter Kopelson, M.D. "You can do it day-of for immediate tightening." To really combat jiggly loose skin, Beverly Hills plastic surgeon Randal Haworth, M.D., recommends a brachioplasty, a surgical arm lift. "With a small incision in the armpit, you can take in the skin all the way to the elbow," he says. Another option is spot liposuction. "Aggressive exercise will help, but not in two weeks. Lipo will do it in two hours," Dr. Haworth adds.
ANY LESS DRASTIC OPTIONS? Sure. "Use lotion with glycolic acid to improve elasticity and texture," Dr. Kopelson says.
THE (NEW) NEW BREAST UPGRADES
Much more discreet than back in the busty days of yore, the new lift and enhancement possibilities are small miracles—and great options for reconstruction patients, too. The "ideal implant" is a one-size-up saline-filled (read: safer) one that feels like silicone, says New York's Sherrell Aston, M.D. Another faster, easier option: fat transfer to the breasts. "What's amazing is, it doesn't require general anesthesia, scars, or cutting," says Beverly Hills plastic surgeon Lawrence Koplin, M.D., one of the first to embrace the method. "You can go up an entire size with one session."
EARLY ADOPTERS Doctors can't name names, and nobody cops to this kind of purposefully discreet work—but rumors are that Rihanna, Kate Hudson, and even Nicole Kidman have had small tweaks.
HOW LONG YOU'LL BE "ON VACATION" With the new implants, says Dr. Aston, "a woman can be in a bikini and on the beach within two or three days. In 21 days, she can play tennis and swim." And for fat injections, says Dr. Koplin, "there is no downtime."
THE DOWNSIDE For the fat graft lift/injections, Dr. Koplin says: "The only problem with a lot of girls in L.A. and Malibu, the Hamptons, and New York is…they don't have enough fat to take out and put back in!"