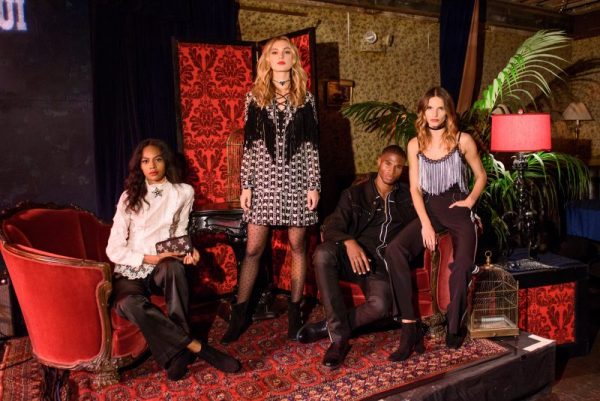 Old friends, new project. Anna Sui and Karen Elson got together for Sui's limited-edition collection for INC International Concepts, with Elson as leading lady. To toast the launch, the designer and model-slash-rockstar hosted a bash at The Heath at the McKittrick, where Elson performed a set before jetting to Belfast to continue her world tour. We catch up!
You've kept in touch with Karen for over 20 years—what is it about her?
Anna: Her first season was my show, and we've been friends since then. She's my ideal type of woman. She loves shopping, she loves flea markets, she loves rock 'n' roll, she's got that red hair, which always goes good with everything. And that personality. Who doesn't want to have a friend like that?
What kind of music were you listening to when you were designing this collection?
I had done an Americana-inspired collection for spring, and a lot of the styles from that collection were adapted for this. I was listening to not only country-western inspired sounds, but also a little bit of psychedelic. In the soundtrack of our fashion show we threw in the song from Tim Burton's Attack from Mars, the song he put on to make the martians' heads blow up [Slim Whitman's "Indian Love Call"].
What's one of your ultimate Western icons?
All the country western stars used to wear Nudie—all the rhinestone cowboy stuff with bright colors and big appliqués. He drove around in this custom made Cadillac that had big longhorns in the front. He wore all cowboy regalia, but completely rhinestoned. Then in the '60s, all the rockstars started wearing it. So the Rolling Stones or Gram Parsons. They started picking up some of his stuff and mixing it in with their rock stuff.Today, people look for it on auction, especially the old '50s stuff. It's so beautifully made, it's like couture.
What was your favorite part of working with INC?
The people—they're such a fantastic team. We had so much fun. There are some old friends, because I had been with Macy's for many many years, and there are new faces. But the people that actually did the executing of the clothes—oh my god, that whole team is amazing. And it's so fast. My first five piece collection was for Macy's. I got fired [from my old job because of that].
What have you been up to lately?
Karen: Touring! I put out my record in April and I've literally not stopped since February. So right after the show tonight me and my band are jumping on a plane and flying to Belfast to tour with Ryan Adams.
How long have you known Anna?
Karen: For 20 plus-years. Her fashion show was one of the first I walked in as a model. She educated me in vintage clothing, textiles. What people underestimate about her is that she's a very, very intelligent woman. She has so many varied interests—she'll go to this literary festival in England every year, she's obsessed with art and textiles, and music has always been a very big part of her makeup. Anyone who goes to an Anna Sui show always knows that there's just the most incredible curated music. She's a real rock 'n' roll fan. Her and I really bonded because I am too [Laughs]. We're like teenage girls at heart when it comes to this stuff.
Do you remember the first time you guys met?
It was at her fitting for her show. I remember going to her showroom and just being transfixed. She let me have some free clothes—it was the first time a designer had given me anything for free. It was a dream come true, honestly. She took me under her wing, she has always looked out for me, and she's the definition of a friend.
What was this experience like?
I got the call to do this in between touring. To be honest, I was so worn out that I was really looking forward to doing a shoot and having a minute to do what I know, which is modeling and fashion. We did it with Ellen von Unwerth. Ellen's got such a unique perspective. She's very good at not making things become too serious. You see the pictures, it's very tongue in cheek, it's a little bit camp, it's a little bit Nashville, and it's also got Anna's stamp as well.
What are you looking forward to this fashion month?
I'm touring the entire time, so the only thing I'll get to see is Paris. I always love Miu Miu. I love Marc Jacobs, love Céline, love Dior, love Valentino. Fingers crossed, in Paris I hope to get to do something fun.
How do you psych yourself up before a performance?
Often I've got so many things to do and to check—that my guitars are in tune, that I know what my set list is. So when you walk onstage it's actually a relief because I can walk onstage and stop thinking and sing and play my music. It's more the lead-up that freaks me out the most. I get stage fright from time to time, but it's all right.
Is stage fright worse before you perform or walk a runway?
I get terrified walking the runway. Terrified. Mainly because I always end up tripping up. I'm always like, I'm gonna fall, I'm gonna fall. There's always a moment where my ankle gives way, I mean, ugh! It's so funny watching from both sides—I know all these people sitting in the front row, so it's sometimes hard to keep a straight face, because I'm like, Hi Grace! Hey Fabien. Hey Anna. Sometimes I feel like it's a beauty pageant. I walk out and I'm like, yeah, I don't know why they brought me here!