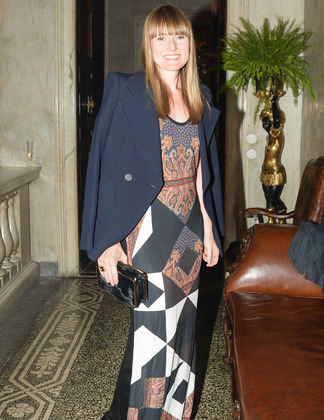 A Moment (In Milan!) With…Teen Vogue's Amy Astley
|
We caught up with Teen Vogue's EIC Amy Astley in Milan this week for her musings on teens, social media, and her haute go-to hotel for MFW (and which fashion legend she spotted there recently…)!
Where are you staying in Milan?
I've been staying in the Four Seasons for years. In the lobby, there's always something happening. There's always a scene at the door about a half hour before every show. Today I saw Karl Lagerfeld!
Speaking of Karl, what did you think of Fendi?
Oh, I loved it! Those lightweight fur pieces were incredible. A long fur coat that works for Spring? Amazing.
Do you ever shoot much fur at Teen Vogue?
We don't have a policy against it, but we don't shoot a ton of it. Sometimes we'll have a piece of vintage or it will be in a collar. We did the Fendi fur mohawk on the Rita Ora cover. The readers communicate with us a lot over social media and we don't actually see a big backlash from [featuring fur].
Do you ever go shopping in Milan?
If I ever get a break, I like to go to Corso Como for inspiration. I rarely buy anything. It's still very expensive. I try to leave Milan empty handed! I usually shop in Paris.
We don't blame you! Do you have a fave restaurant in Milan?
To be honest, I hardly have time to eat here. I don't have to try and avoid carbs, because I don't have any time. I never get to eat lunch. I eat a granola bar in the car everyday, because between appointments and shows all day, there's no time to stop at a restaurant.
Which social media platform is the hottest for teens?
Our readers are super digital. Twitter and Facebook are still the biggest platforms, but Instagram is growing like crazy. Teen Vogue actually has the third biggest following of all magazines on Instagram. It's National Geographic, Vogue, and then us. But we have the biggest Klout score of any magazine.
Very nice. Do your daughters ever give you feedback on the mag?
One is 11 and the other is 14 and they really inspire me, but I think they have better things to do with their time than critique Teen Vogue!
Are they into fashion?
No, not excessively. They like normal stuff. They're really into school right now, thank God. One fashionista in the family is enough. But they unknowingly inspired a lot of stories.
What kind of stories?
Even simple things, like super long hair. My 14-year-old has hair down to her butt like many of her friends so we did a story not too long ago about long hair.
So you don't have to worry about them borrowing your clothes?
No, they're not that interested in clothes. My clothes are a little to weird for my 14-year-old. Plus, she's much taller than me and her feet are bigger! But she does like to get jeans whenever I get sent any. She's more of a normal teenager. She likes Topshop, American Eagle, PacSun, and Brandy Melville.
Do your kids teach you about social media?
Oh yeah, another thing that I learn from them is what they are looking at on YouTube. Teenagers these days really just want to watch their peers doing mundane things.
Really!?
There's a switch away from celebs—and even experts. Kids will watch Michelle Phan do makeup tutorials. Ahough she has become an expert, she's not Pat McGrath and she wasn't trained in any school and she hasn't done runways or editorial. My teenager will watch things like another teenager showing how to do a braid or do the eyeliner or somebody's trip to the mall. I think it has major implications for the industry. But there's room for everything in fashion: the low, the high, the expert, the self made, etc.
Got it. So, what has the vibe been like in Milan this season?
Well everyone is happy after the cold weather in London. I think everyone seems pretty upbeat. Overall there is a real sense of camaraderie this season.