On Sunday, April 8, The Daily Front Row hosted the fourth annual Fashion Los Angeles Awards at the iconic Beverly Hills Hotel. The awards honored a wide range of luminaries and creators in the fashion industry including Jeremy Scott, who was honored as "Creative of the Year," Stuart Vevers of Coach, who received the award for "Designer of the Year," and "Model of the Year" honoree Emily Ratajkowski.
Guests – including Paris Hilton, Frances Bean Cobain, Nicole Richie, and Chrissy Teigen and John Legend – walked the red carpet, before proceeding inside for cocktails and wine provided by Kim Crawford. A giant MCM-branded teddy bear and leather jewelry box-turned-bar offered plenty of chances for playful selfies, as did a flower wall covered in roses and Maybelline SuperStay Matte Ink lip color.
The awards ceremony kicked off at 7:00, with Derek Blasberg on hosting duty.
Check out all the presenters and honorees below.
1. Design Debut of the Year: Jamie Mizrahi for Juicy Couture, presented by Nicole Richie
"Last year, I came to this awards show when Karla Welch and Samantha McMillan won awards for the Stylists of the Year," Jamie Mizrahi said when collecting her award. "I remember thinking to myself, how amazing would that be, to receive that honor. But as you can see, there's a long line of accomplished stylists who deserve to be recognized, which is why I found another way of getting here."
2. Hair Artist of the Year: Jen Atkin, presented by Kris Jenner
"This is such a pinch me moment," Jen Atkin said in her speech. "The fact that I'm getting a Daily Front Row award is insane. When my agent told me I was getting an award, I was hoping it was Model of the Year!"
3. Photographer of the Year: Alexi Lubomirski, presented by Kyle Hagler.
"We have to constantly focus on diversity in our magazines and campaigns…it's a constant question where we have to look at our magazine layouts on the walls before going to print and ask ourselves if we're showing a balanced representation of skin colors, body types, and ethnicities….We can no longer hide behind the glossy pages of a month magazine the way we used to before the digital revolution. The world is watching us every second on social media and we cannot afford to make rash errors."
4. Women's Stylist of the Year: Kate Young, presented by Derek Blasberg
"I really love what I do. I'm really thrilled that I get to work with sparkly dresses and the most prettiest women in the world every day. I'm so grateful," Kate Young said from the dais.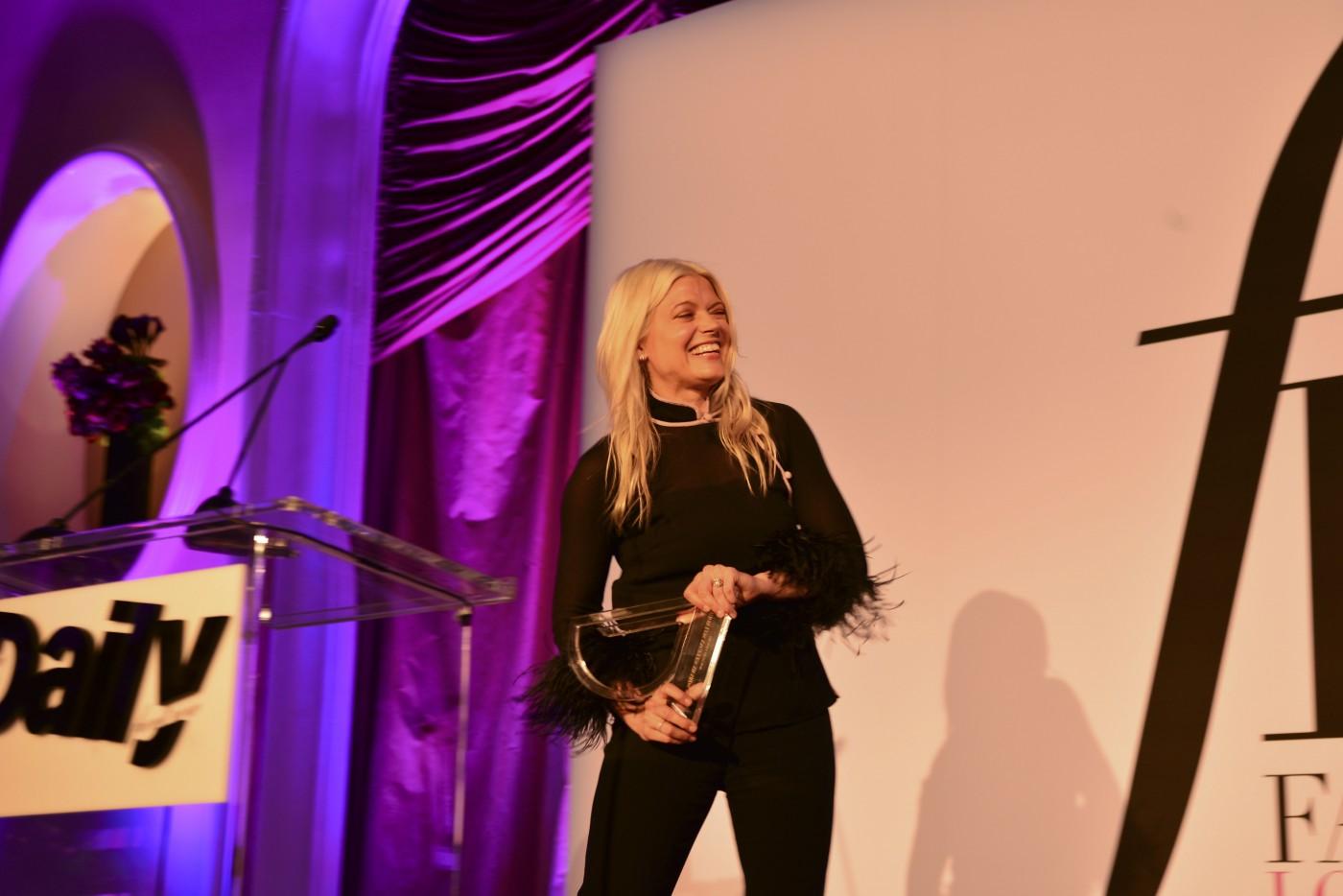 5. Emerging Talent of the Year: Cami Morrone, presented by Sebastian Faena
"Okay so this is my first award ever and I've never spoken publicly so yeah," Cami Morrone said, prefacing her acceptance speech. "By the way I didn't know your heart could travel all the way up to your throat so that's what's happening now."
6. Fashion Rebel of the Year: Philipp Plein, presented by Paris Hilton
"Ciao!" Philip Plein said via video — the designer was stuck overseas. "I'm very, very thankful."
7. Designer of the Year: Stuart Vevers of Coach, presented by Rowan Blanchard
"For me, diversity is modernity in terms of race, gender, and identity. At Coach, I want to be completely inclusive to everyone because that's what I think America does at it's best," Stuart Vevers said accepting his award.
8. Model of the Year: Emily Ratajkowski, presented by Trey Laird
"Beauty as defined by the fashion industry is no longer just one ideal," Ratajkowski said from the stage."It's a multitude of shapes and colors and sizes. And, most amazingly, beauty is now about what makes you different and about what you stand for."
9. Creative of the Year: Jeremy Scott, presented by Paris Jackson
"As somebody a little outside the box, sometimes I feel, well, a little outside the box. But you guys always make me feel at home and loved and cherished," Jeremy Scott said collecting his award.
Check out more fun pics from the event below.
Major thanks to our sponsors Maybelline New York, MCM, LIFEWTR, Moroccanoil, PrettyLittleThing.com and Kim Crawford Wine. 
Subscribe to our newsletter and follow us on Facebook to stay up to date on all the latest fashion news and juicy industry gossip.