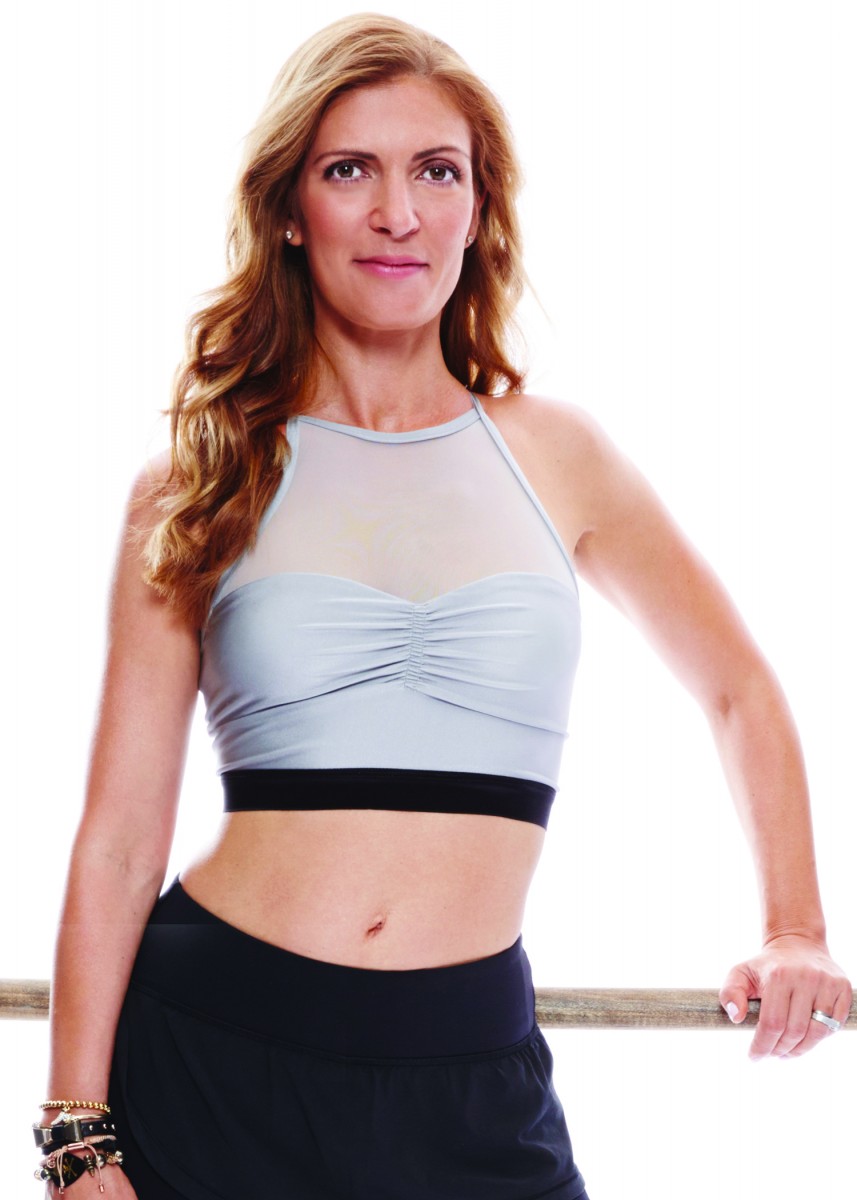 Ready for the latest installment of our Fitness Dossiers, those endorphin-addled explorations of all those super-chicly branded, sometimes quizzically named boutique fitness haute spots around town? Time some thigh-burning barre action avec Physique 57—co-founder Tanya Becker filled us in on those innocuously tiny movements that'll make you quiver (results, baby!).
BY ALEXANDRA ILYASHOV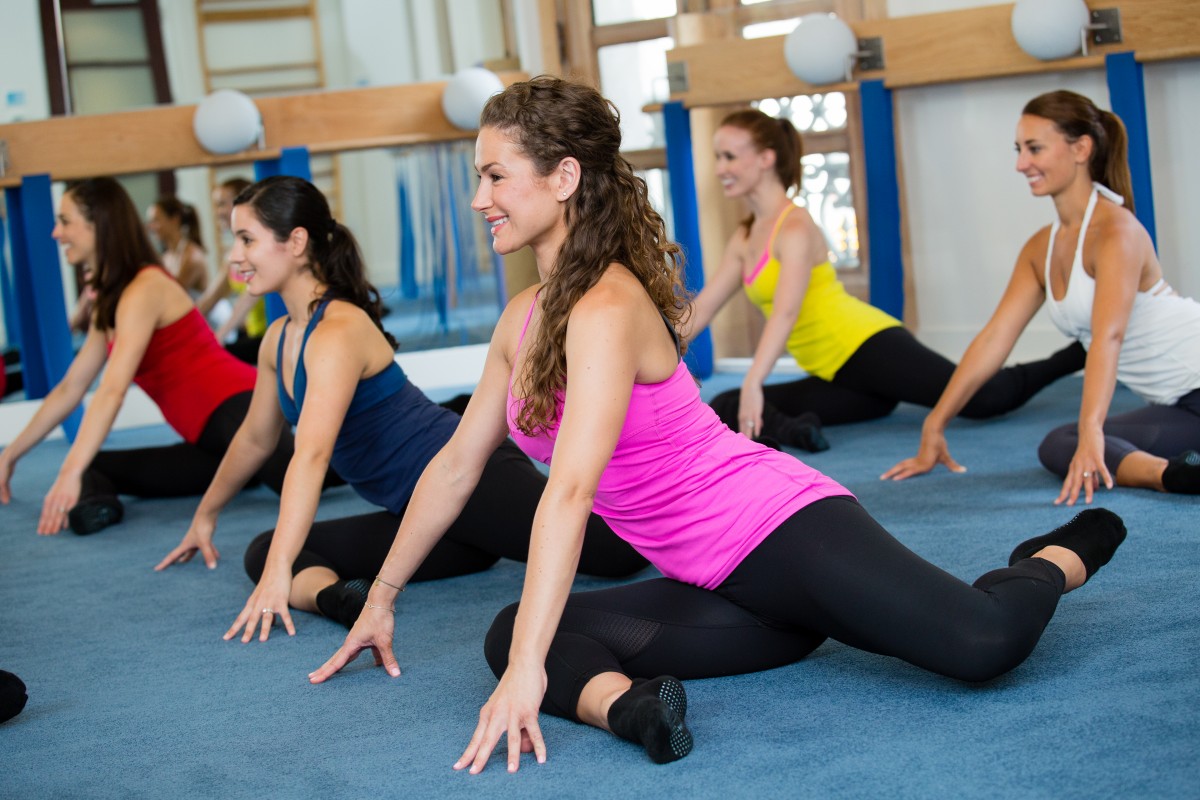 Physique 57 in three words: Empowering, results, fun.

Before Physique 57… I was a professional dancer and choreographer before I started teaching fitness and co-founded Physique 57.

Physique 57 mantra: We don't have an official mantra, but "Your potential is unlimited" is something I say a lot while teaching.
The hard sell: Results. It's a one-stop-shop as a full body workout. Physique 57 is a blend of cardio, strength training, and stretching and no two classes are the same so you never plateau. You're getting everything in 57 minutes and bodies actually change. We see visible results in clients in as few as eight workouts. Plus, over 80 percent of the class uses the core muscles so you will rock your swimsuit this season!
What sets Physique 57 apart from other barre studios: Our instructors and our training program. All our instructors are professional dancers that get months' worth of training and actually correct your form. You're getting over 100 percent out of each class. We make sure you do all the positions and exercises correctly and prevent injuries. Not to mention, we make sure you give each class your best. It's like getting a personal training session while in a group setting.

Physique 57 soundtrack: Fun, motivating, inspiring beats. All of our instructors go through vigorous music training. Each section of class is designed with specific BPM's in mind to help drive our exercises and our clients to work to the point of overload, when the body transforms.

How those specialty classes, like Formula 57 and Physique F.I.T., came about: While every Physique 57 class is a total body workout there are definitely specific body parts that may need a bit of attention, our F.I.T. class focuses on arms and glutes, and effective training elements like cardio, the focus of our Physique Cardio class, that I wanted to make sure clients could have access to and not feel the need to go elsewhere. Plus, most of our training team members and I are choreographers, so these specialty classes are a great way for us to channel our creativity while keeping our clients satisfied. No boredom or hitting plateaus!
If Physique 57 was a fashion house, it would be… Chanel. Our techniques are timeless!
Ideal après-class snack: NuGo Slim Crunchy Peanut Butter bar. It's vegan with 17 grams of protein and only 3 grams of sugar. It tastes amazing and it's so satisfying.
Biggest misconception about Physique 57: The biggest misconception is that it's only for certain types of people. We welcome people of all fitness levels and ages.
Advice for a first-timer: Stay committed. That's why we offer the second class free for all first timers. We know the first one can be daunting – it was for all of us, even me – but just give it another class and we promise you will love it, for both the way you look and feel.
Major mistakes newbies make:  Taking weights that are too light (unless you are working with a neck or shoulder injury). There's a huge misconception that many women have about heavy weights bulking you up. It's just not true. You will sculpt and tone your arms faster with the extra benefit of having more strength!

Earliest fitness memory, ever:  I was the letter "E" for exercise in kindergarten. I made my own weights out of tin foil.

Recommended workout gear: Definitely our grippy socks, to keep you from sliding on our carpet. Other than that, anything that makes you feel confident and happy.

Chic styles spotted in class: Teeki, EEKI, Heroine Sport, Michi, Vimmia. Lots of mesh and color blocking and fun bright prints.
Will we see professional dancers in class? Yes! We have many Rockettes and Broadway babes that take our classes. They credit Physique 57 for keeping them injury free while performing and giving them the strength and endurance they need for eight shows a week.
Go-to workouts beyond Physique 57: My 3-year-old twins are my workout outside of Physique 57.

Workout we'll never catch you doing: Running. It just doesn't agree with my body.

Classes clocked weekly: I teach six to nine classes and take three to four classes per week.

Physique 57 's draw for the fashion set: It's so efficient and effective. It's an all in one with fast results and you're in and out in under an hour. No sneakers are needed so you can just pop in and out and not need to carry a while other bag filled with gear. Also you don't get too sweaty so you can do it and then continue on your life afterwards without a full hair/body wash and blow-dry.
Expansion plans: Well, we love NYC! We were also the first barre studio in Bangkok; we hope to be able to say that about other world-class international cities in the near feature as well.

PART II: The Daily weighs in…
Location and logistics: There's the namesake original location at 24 W. 57th St., Ste. 805; a Soho location at 161 Ave. of the Americas; and an Upper West Side location at 2109 Broadway, #206; there are also outposts in Beverly Hills and Dubai. Cancel sans penalty up to six hours before a class after 11 a.m., or up to 12 hours before a class scheduled earlier than 11 a.m.
What you'll shell out: It's $36 for a single class, $180 for five classes, $320 for 10 classes, $620 for 20 classes, $375 for one unlimited month (or $325 per month for three unlimited months), or $4,000 for an annual unlimited membership.
Stroll-right-into-a-meeting or absolutely-shower-necessitating? As Becker mentions above, you can definitely put yourself together sans shower in the well-stocked, spa-esque changing rooms, which have showers as well.
It's worth it if…You want a really topnotch barre experience, and very precise instruction (plus ample corrections). The instructors are clearly knowledgeable and very peppy; it's the closest thing you'll get to ballet/dance studio vibe for those of us who did not dabble in ballet during childhood.