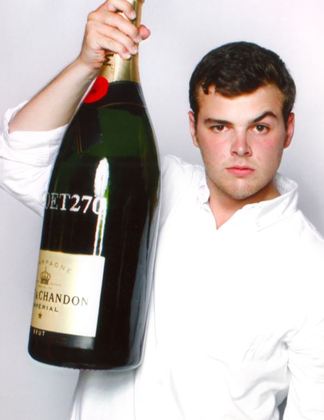 Zachary Weiss: A Fresh Face On The SCENE
|
You can spot him at any given fashion fête most Friday and Saturday nights, but SCENE's new social editor Zachary Weiss doesn't even reside in New York City. In fact, he hasn't even graduated college yet, but that hasn't stopped him from breaking his way into both the editorial and public relations spheres, simultaneously. He may still be cramming for undergraduate exams at college, but he's already landing gigs his peers are still dreaming about. BY DENA SILVER

Congrats on the new title! What exactly does a social editor do?
My primary role is to provide a monthly column called Fêteration, which we debuted in the October issue of SCENE. I also write sporadic features about anything that interests me like an interview with Jordan Belfort, the real 'Wolf of Wall Street' [on which the movie was based] that will be coming out in December. I got to know SCENE's Editor-in-Chief, Peter Davis, when I was getting started in PR. We crossed paths enough at parties that he sort of plucked me from obscurity.
What did you do previously?
I'm 21 so there's not much 'previously' to speak of! I'm finishing up my senior year at Syracuse University, which means lots of travel from school to Manhattan for parties. I also have my own PR firm, Z Weiss Public Relations.
How did you get started in the PR world?
I got my first PR gig from a tweet I sent to Tucker Blair, a small needlepoint belt company out of D.C., who I partnered with Opening Ceremony on two capsule collections. It sort of took off from there.
And you never have to skip classes?
It's my last year at Syracuse, so my school schedule is winding down. However, I've had to write some persuasive emails to professors about leaving class early to get to a party on time. They're usually cool with it, as long as I get the work done.
How social do you really have to be in this job?
I think it's a combination of being both social and well-placed, which can just come down to luck. I usually try to avoid getting parked on the red carpet press line, since it's so controlled. I've found that half the fun is teaming up with Patrick McMullan inside the party to search for the right guests!
What are some of your favorite events?
I love all of the polo-centric events. The Veuve Clicquot Polo Classic is always awesome. The view at Liberty State Park is insane, there's the Manhattan skyline and the Statue of Liberty with a polo field in between. The Sentebale Polo Cup at the Brant Estate in Greenwich was also pretty surreal. Prince Harry scored the winning goal, of course.
Who are your favorite interviews so far?
I had a brief chat with the Dali Lama about his favorite music and my interview with Jeff Koons at the Dom Perignon party during fashion week was also spectacularly weird. He had just finished talking to LeBron James about his art collection, then dove right into talking to me about "the continuation of life energy".
Which editor in chief's chair would you like to sit in someday?
I think I'm after Graydon Carter's seat. He's a jack of all trades and keeps Vanity Fair edgy. Of course, the two assistants and a private plane can't hurt either.