FN Platform—the ultimate trade show devoted to shoes, within MAGIC in Las Vegas—launched in 2010, and now boasts more than 1,000 exhibitors. The Daily Summer tracked down UBM's Leslie Gallin to get the scoop before this month's big show.
What's new this season?
We are seeing women's heels making a comeback,  and booties are hot, as are any form of athleisure styles. For men, dress shoes are also making a comeback, but this time utilizing state-of-the-art technology for materials and construction. This is making the shoes softer and lighter.
Tell us about the various panels at FN Platform's show this season.
We've brought the panels onto the show floor. We believe both sides of the aisle want to take advantage of the value-added learning experience. We'll cover all the important bloggers and how to work with them on a panel titled "I Gave a Blogger a Pair of Shoes and Now What?" We'll also talk about trends, sustainability, and diversity. And it wouldn't be an FN Platform without a celebrity appearance, so Nicky Hilton will do 20 questions with Footwear News.
The Daily Summer will be moderating a panel with you at the show with influencers, too.
We believe knowledge is power. As a steward for the footwear industry, the timing of the show twice a year offers us the opportunity to offer up-trending industry information and to start conversations. The influencer panel is our way of putting those on the pulse in front of those brands and businesses who can benefit from the feedback.
How have influencers changed the footwear industry?
The Internet has opened up a new platform for those who love fashion to have a voice. The audience that is reachable today is far greater than when the fashion industry was solely reliant on print media. Today, influencers are digital—those who are pure and unpaid will gain greater followers. People don't want to hear an infomercial or an advertisement. The folks who have an eye for style and trends have always been at the apex of fashion. The field has broadened to include young, international voices, in real time. Today's influencers also offer the consumer a voice in what trends they will embrace and pay for.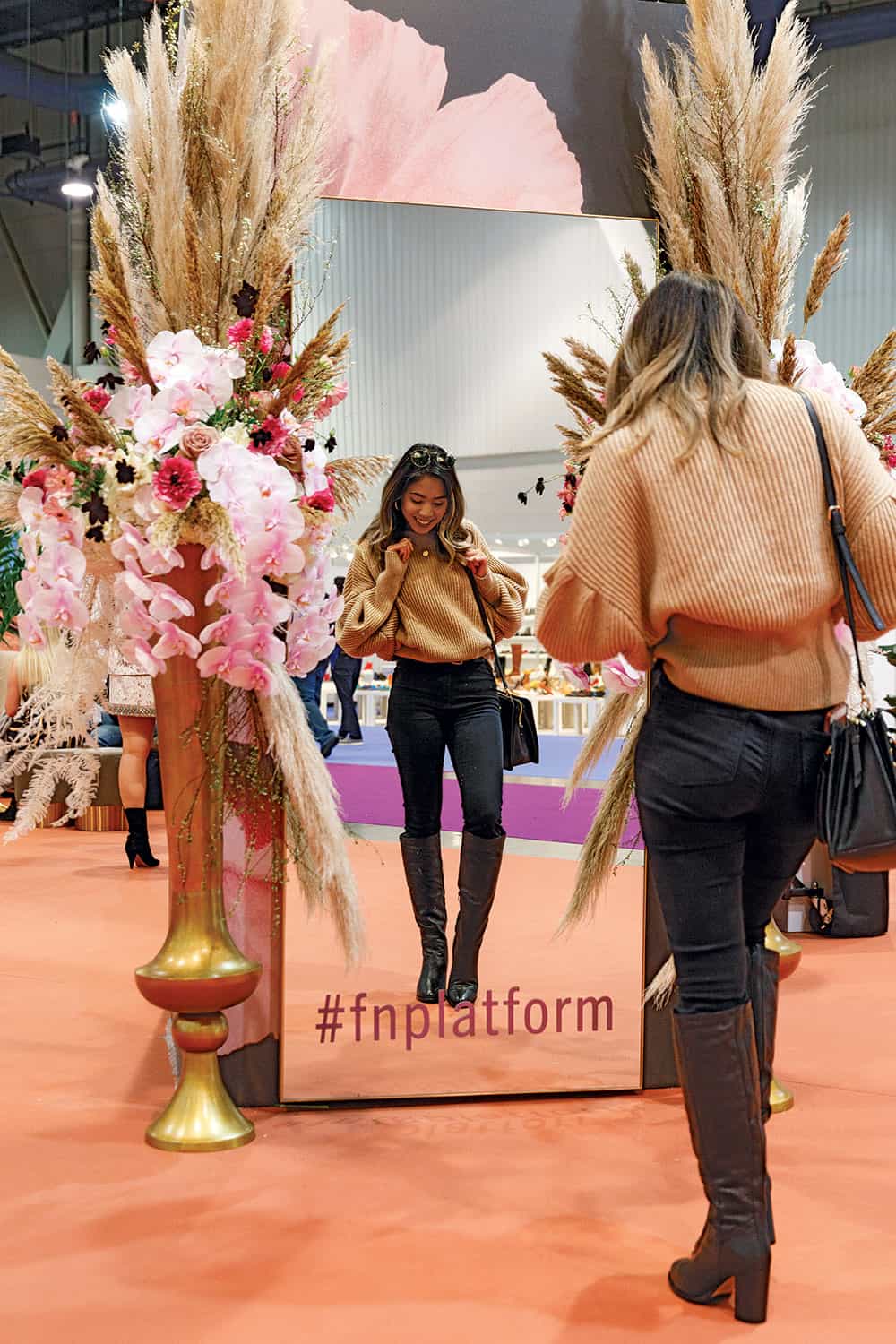 How has social media changed the business of designing and selling shoes?
It's changed the speed to market. It's the ability to see what people are wearing in Japan right now and next week have it available in L.A. It's a democratization of fashion. Now, everyone can play editor.
Have you seen any emerging trends?
In terms of emerging colors, we're seeing deep jewel tones. There's also a use of technology to address sustainability, but the most interesting is seeing the additional attention to design. Plus, shoes that are fun and whimsical are attractive right now.
What brands should people be paying special attention to?
Brands made in Europe and Brazil have unique styling and quality construction. Tariffs are not an issue at the moment either. They're the ones offering newness for the consumer and greater margins for the retailers, as they're not competing with the retailer online. It's a social experience to shop in the store. You need to provide products other than what consumers find at major brands, so the consumer feels good about making the effort to shop in-store and find products they can only get there, not online.
Given where FN Platform takes place, do you have any Sin City recommendations?
Las Vegas has something for everyone! My recent favorite was visiting the Mob Museum. It's quite well done and offers interactive experiences; I highly recommend the Crime Lab Experience, the Feds Fight Back exhibition, and, of course, The Speakeasy!
Do you ever go out to the Hamptons?
I miss the Hamptons. I haven't spent much time there since moving to L.A. My favorite time is in the fall. I need to plan a trip!
Are you planning to attend FN Platform? The Daily Front Row will be moderating a panel, "I Sent a Blogger a Pair of Shoes…Now what? The art of Influencer Collaborations" on Monday, August 12th at 2:00pm at FN Platform in Las Vegas. The panel will include Julia Lang, Kristen Turner, and A Fashion Nerd's Amy Roiland. The panel will be held at the Las Vegas Convention Center, North Hall, Level 1, in the Women's Footwear Lounge. 
Subscribe to our newsletter and follow us on Facebook and Instagram to stay up to date on all the latest fashion news and juicy industry gossip.