"I don't think anybody in the world thinks more of her than I do," Marc Jacobs said of his longtime collaborator, Katie Grand, at The Daily Front Row's second-annual Fashion Media Awards at the new Park Hyatt Hotel Friday night. "Well, maybe her husband, Steve, does!" It was a lovefest all around, as le tout fashion came out en force to celebrate 2014's most brilliant culture makers. Co-hosted by Gigi Hadid (resplendent in Tom Ford) and Yahoo Style editor in chief Joe Zee, it was a gathering for the record books, with old friends, colleagues, and even competitors from around the world rallying together under one roof to toast our industry's best and brightest. The full FMA recap is in today's splendid print issue, out at the shows right now. Not in the front row at the moment? Check out the digital version HERE!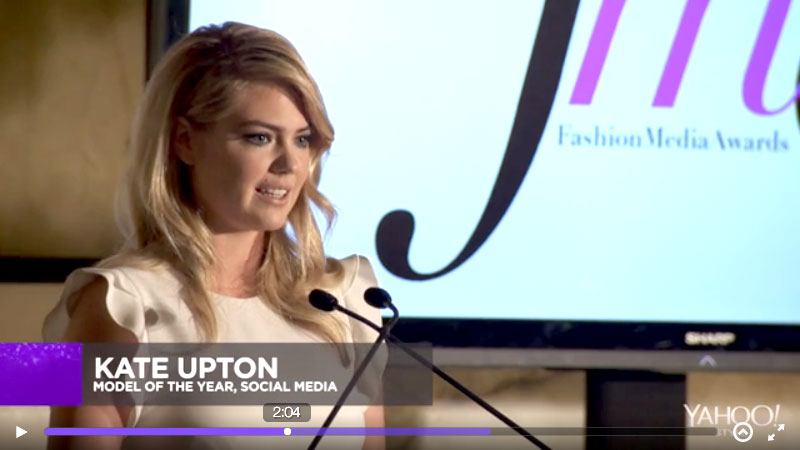 Tom Ford, presenter
"I landed at 3:30 p.m., and after this I'm walking out the door and getting back on a plane. There are only about five people in the world that I would do that for. Carine Roitfeld is one of them. Sometimes from the outside, people don't realize that in the fashion world, it's possible to make true friendships. We all know Carine is beautiful, is stylish, is chic, has impeccable taste. One of the things I don't know if everyone knows about Carine is that she's one of the most loyal, true friends that anyone could have. In fact, it's her honesty and loyalty that make her so good at what she does. She makes everyone she works with better—whether you're a photographer, designer—she makes you better because she tells you the truth. Sometimes you might not want to hear it, but she tells it. That's what makes Carine, Carine. So to my dear friend Carine Roitfeld, I present this award. Caaaaarine!"
Carine Roitfeld, Fashion Creative of the Year
"In life, and especially in fashion, there are few people with great talent, and you feel blessed when you meet them. To work in this world, you need to be surrounded by people who trust you and believe in you. Tom, thank you for flying over just for me! Thank you for all these years of collaboration—you being here tonight means a lot to me…. You are my best English teacher! I want to thank Jonathan Newhouse, who was the first to give me the editor-in-chief position. I learned a lot from you. Thank you, David Carey and Duncan Edwards for the crazy opportunity—for giving me the chance to show my work in 30 Harper's Bazaars all over the world…. And a special thanks to Stephen Gan, my partner  in CR Fashion Book. Fashion is about dreaming, and my dream 20 years ago was to do a magazine with you."
Kendall Jenner, Presenter
"The first time I discovered LOVE, I realized the editor in chief, Katie Grand, had a fantastic, cool way of showing fashion. Fast-forward to my very first time doing NY Fashion Week—my agency called to say that I'd be meeting her for the Marc Jacobs show. I was so nervous, kind of like I am right now. Lucky for me, Katie was super nice and she booked me for the show. Since then we've shared many adventures, including my very own cover of LOVE. Her contributions to the fashion industry are a constant source of new ideas that are a beautiful reminder to all of us that this business was always meant to be a celebration of creativity."
Katie Grand, International Fashion Magazine of the Year, LOVE
"I want to thank Jonathan Newhouse for letting us do the magazine we want to do and for supporting us for six years. It's been everything an editor can hope for. My publisher, Catherine Russell, makes it work financially—she's brilliant. Marc Jacobs, thank you for inspiring me every day I work with you. I love you so much! All my friends here tonight—Luella, Katie Hillier, Tabitha, Kevin—and especially my very handsome, very patient husband, Steve."
Inez van Lamsweerde and Vinoodh Matadin, Fashion Photographers of the Year
"We love our jobs so much, for so many reasons. We love putting designers' and editors' ideas into the context of the life of a woman to show her dreams, environment, and significance…. We love nothing more than the exquisite human beings who come across our lens. If at the end of our workday, the models leave the set happier and more fulfilled than when they walked in, we feel our shoot has already succeeded. We'd especially like to thank our dear friend Stephen Gan for taking care of us since 1994, and introducing us to literally everyone in New York City. Our gratitude goes to everyone who was ever in front, or behind, our lens. Specifically to our great and loyal teams…. Last but not least, to the beautiful boy who is so endlessly inspiring and hopefully a future collaborator, our son, Charles Star Matadin."—Inez van Lamsweerde
Christy Turlington Burns, presenter
"It is my absolute honor to talk about these people. Inez and Vinoodh—they need no last names. They have them but don't need them. They're an incredible team…. What's unique is that they were just starting, and I was sort of perceiving my own career as being sort of over. We kind of crossed each other…they've continued to pull me out of my rabbit holes, and every time I'm grateful. They have a unique talent for making the subject feel like there's nobody else in the room. I can count on one hand the photographers who I've had that connection with in my decades-long career, and that number is even smaller in terms of who I can count on as friends." 
Edward Enninful, presenter
"It's an honor for me to be here this evening to present this award to—I'll say my sister—Naomi Campbell. The first time I met Naomi was 23 years ago. We were on a cover shoot for i-D magazine. I was a very young stylist, and to me, she was unquestionably the most beautiful woman I'd ever seen, and she still is. On the day of the shoot, I remember being taken aback—not only by her beauty, but also by her personality…. Naomi Campbell is a force of nature, as most people know. There's no one else like her. She is powerful and girlish, all at the same time. She captivates the world so much in the process. In short, she's a true star. Richard Avedon, Michael Jackson, Herb Ritts, Gianni Versace, Saint Laurent, Steven Meisel, Azzedine Alaïa, and Nelson Mandela—throughout her 27-year career, she's worked with every major figure in every walk of life…. As many mothers have reassured their children, beauty is only skin-deep. Personality is what really matters. Naomi is a blueprint for what happens when you're blessed with both." 
Naomi Campbell,Television Personality of the Year
"The thing that's provided me with the most fun is being able to mentor aspiring young models. Since the show, many of the girls have gone on to do major campaigns. I'm extremely proud. I know you'll see them in many future things. Everyone in this room is passionate about this industry, and we all want it to continue on and thrive. What I ask all of you to do is do our part to make sure we mentor the next designers, photographers, stylists, and editors by sharing our experience in the industry and make it stronger and benefit each other."
Claire Danes, presenter
"I realized today that W Magazine is a lot like Carrie Mathison. It's intriguing, mysterious, and also a little crazy, in the best possible way. Stefano Tonchi, editor of W, has created a brilliant, fascinating world that's always surprising. When I open an issue of W, I know that it will enthrall, engage, and yes, sometimes shock by what's inside. Boo! So it's with great pleasure that I present Stefano Tonchi and W Magazine with the Magazine of the Year award."
Stefano Tonchi, Magazine of the Year, W
"Magazines, like movies, are the work of a lot of people. Behind every cover, every word, and every image, there is so much work…. So I accept this award for my staff, for the people who work for me, the people who put in so much passion every day…. Two years ago we celebrated our 40th anniversary. I consider myself one of the guardians of what this magazine is—something precious, something special, something unique."
Laverne Cox, presenter
"Carol Lim and Humberto Leon are true risk-takers who are constantly challenging our expectations of the fashion world. Every time I see [Kenzo's Fall/Winter '14 ad campaign], it makes me want to revisit the imagery, and even more important, it makes me think differently about the visual world around me. And I love the idea of making people think differently about the world around them."
Humberto Leon and Carol Lim, Fashion Advertising Campaign of the Year, Kenzo
"This is one of the biggest honors for us. There are obviously a lot of great ad campaigns out there. Thank you obviously to Toilet Paper. If you guys aren't familiar, Toilet Paper is Maurizio Cattelan, Pierpaolo Ferrari, and Micol Talso, and without them, it wouldn't be the same experience."—Humberto Leon
"We would also like to thank Pierre and Sophie from Kenzo. We always bring them our crazy ideas, and they always let us take the brand to its outer limits. I want to thank our friends and supporters who are here with us tonight, and also Brian from Black Frame, for always advising us."—Carol Lim
Stephen Gan, presenter
The minute I met Kate Upton, I knew that she had huge potential. She had a Marilyn Monroe quality that creates not only excellent pictures but is good company as well. In 2012, a Victoria's Secret casting director said she was "too blonde and too obvious." With countless magazine covers and more than 1 million Instagram and Twitter followers, I can't help but wonder what that casting director is thinking now. Kate didn't just overcome discrimination, she rose above it, using her Internet following to change the conversation about size and beauty in an entire industry. In short, she has surpassed my wildest hopes and expectations for her."
Kate Upton, Social Media Award
"Stephen, I'm so inspired by you—an artist, a visionary, and an icon in the industry—and to have you stand up here and say those things about me is so amazing. I feel like I've done a lot in a couple of years, and social media was a great tool for me to accomplish all those things. It gives you the opportunity to show your personality. I've always been a talker, and I feel like on shoots, sometimes, people want me to quiet down a little bit, so social media is a good outlet for me to get all that out—all my opinions."
Kevin O'Malley, Publisher of the Year, ELLE
"I'm very proud to work at ELLE, and I think it's been a rather interesting transition for me, coming from being on the men's side for so many years. I thank David Carey and Michael Clinton for this opportunity. ELLE U.S. remains the cornerstone of a very, very big global network…. I'm very grateful to work with someone of Robbie Myers' caliber. She's a fantastic partner, and she has been so committed to ELLE's ongoing relevance and success.
André Leon Talley, presenter
"Vanity Fair's September issue is a world of exceptionalism; it is a world of perfect, imperfect, imagined, tragic, glamorous, self-made—the world of wonder, success, flames extinguished, flames dancing, the miracles of life. I am so honored to present this award to my dear friend and a great, great editor, Graydon Carter."
Graydon Carter, Best September Issue, Vanity Fair
"What Brandusa Niro and her staff have done with The Daily is create just the most innovative and original magazine to come along in decades. For those of us at Vanity Fair to receive this recognition from this iconic part of the fashion world gives us great pleasure and great joy. On behalf of my incredible staff, including the art and style departments, who are here tonight and perform so many duties in every issue, specifically this one, I want to thank you so much."
David Greenberg, presenter
"Our goal is to empower all women of all origins to make their mark and change the world. And our beauty innovator of the year is just that…. Just to give you some astounding numbers: 12 million readers of Glamour magazine, 3.5 million monthly uniques for Glamour.com, and another 2 million on Lipstick.com, and Glam Belleza Latina has an enormous following as well. If you have spent any time reading anything that Ying Chu writes, you will be amazed at how honest it is and how sincere, how interactive and involving it is. Her readers respond. She provokes them, and I think that's the way people like to interact in media today." 
Ying Chu,Glamour, Beauty Innovator of the Year, presented by Maybelline New York
"This award goes to team Glamour beauty, many of whom are here—Patricia, Lindsey, and all of the editors, whose creativity and wicked smarts lead the stories on Glamour, Glam Belleza Latina, and Lipstick.com. Always fresh, always insightful, and always gorgeous. And a shout-out, of course, goes to all the wonderfully talented artists and collaborators here with us tonight…. It's such an honor for me to represent the beauty world here tonight in the company of so many fashion icons. Glamour turns 75 this year and has never looked better."
PLUS! MORE FMA MORSELS!

BFF Moment! With Tom Ford and Carine Roitfeld…
Thanks for coming, Tom! What is it about you two?
Tom: Oh, come on! My God, first of all, we've known each other for 20 years. Did you know that, Carine?
Carine: Ah, no! Really?
What's your favorite Tom Ford memory?
Carine: When Tom asked me to walk with high heels on his back because he had a back problem.
At what moment did you know you'd made it in fashion?
Tom: Have we made it?! [Laughs] I never feel like I've made it. You have to keep working. That's the way fashion is! You cannot stop.
Carine: We are both never happy.
Tom: Never!
Required Reading! With Katie Grand…
Who did you invite to come along tonight?
I'm in such esteemed company with the other people who are being honored and who are presenting tonight, that I'm so glad to have a lot of friendly faces around me. And Marc's coming! I dragged him away from his work, and he told me this is the only thing he's going to this Fashion Week, so I was a bit surprised he even came!
What do you love about The Daily?
That it's there when you come into work, and it's really jolly. It's a nice contrast to Women's Wear Daily, because it's bright and immediate. When you're stuck in a studio, you can really feel like something's going on outside the studio when you read it. Plus, it's always on Marc's desk!
Memory Lane! With Stephen Gan…
What's it like to be back at the FMAs as an alum?
It feels like one big happy family! It's like a reunion. I'm happy to see everyone after the summer break.
Got any advice for this year's winners?
"Just enjoy it." I wish I would've said that to myself last year.
Why do you adore The Daily?
It's truly insider—and truly about the right insiders. Can I say that?
A special thanks to our sponsors…Maybelline New York, Wolford, Evian, Gibson, Nicolas Feuillatte, and Cointreau. We thank you for making the FMAs possible. It was an exceptional, inspiring, and fun evening.
AND! MERCI MILLE FOIS! To The Outnet's private label Iris & Ink clothing, By Kilian, and La Perla for spoiling our VIPs with divine gift bags!