Read today's dose of chic intel right here…
Raf Simons To Show His Menswear Collection In Paris 
Paris' je ne said quoi has been wooing luxury designers as of late. Just one day after Gucci said it would be staging it's spring 2019 collection during Paris Fashion Week, Raf Simons has announced he will show his next menswear collection in the French capital during Paris Fashion Week: Men's. No reason was given for the move in the release which simply stated: "Following three successful seasons in New York, Raf Simons will be showing his Spring-Summer 2019 collection in Paris on June 20th at 9:30 PM."
Coach To Offer Life Coaching — Of The Sensory Sort
Coach is offering non-sartorial guidance this summer with the launch of "Life Coach." It's an immersive pop-up, or "interactive experience" per the brand's materials, that will "heighten your senses, stimulate your soul, and wake up all the feels," through games, fortunes, and toolkits for self-expression and "other thrills for your third eye."  The 4-room pop-up will have a very limited run (June 12th through the 17th) at 107 Grand Street and while walk-ins are welcome, visitors are encouraged to book an appointment on startyourlife.coach. Admission is free so go ahead and reserve your spot. As the site asks, "If not now, when?"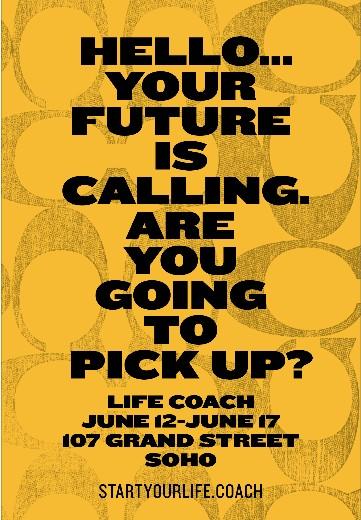 In Case You Were Wondering, Meghan Markle Isn't Running For President Any Time Soon (Harper's Bazaar)
It seems like Americans are mining the Hollywood for a candidate to face off with President Trump in 2020. There were those Oprah rumors, then Dwayne Johnson was thrown into the mix. Well, Kensington Palace is giving us one name we can definitely cross of the list: the newly minted Duchess of Sussex, Meghan Markle. Responding to a The Daily Mail UK report that Markle had told "an associate" that she plans to run for public office, a palace rep said: "The conversation you describe with an associate is fictitious."
24 Sèvres To Launch Fine Jewelry On June 14th
LVMH-owned e-tailer 24 Sèvres is launching into a new (sparkly) product category: high jewelry. The site, which previously carried costume jewelry from such brands as Dolce & Gabbana, Valentino, and Bottega Veneta, will feature 13 fine jewelers, a few of whom have created exclusive pieces for 24 Sèvres. High jewelers are becoming less weary of e-comm with Net-A-Porter launching their own finery portal in March.
Mindy Kaling Pretended Chadwick Boseman Was Her Boyfriend at the Met Gala 
Just when we thought she couldn't get more relatable, Mindy Kaling told Jimmy Fallon while appearing  on "The Tonight Show Starring Jimmy Fallon" on Wednesday that she pulled off a pretty incredible ruse at the Met Ball earlier this month. Kaling found her seating arrangement at the gala quite advantageous, and pretended Chadwick Boseman, seated next to her, was her boyfriend for the evening. "I sat next to Black Panther himself, Chadwick Boseman. It was great, but I also felt like … I kept kind of trying to make it seem like we were together because he didn't have a date," she cracked. Wouldn't you?
Subscribe to our newsletter and follow us on Facebook to stay up to date on all the latest fashion news and juicy industry gossip.