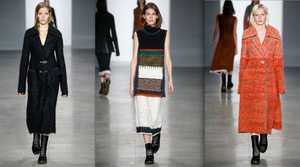 NYFW Fall 2014: Calvin Klein Collection
|
(NEW YORK) Calvin Klein Collection
Cozy grunge blanketed the runway at the Calvin Klein Collection show. Of course, it was done with the brand's signature minimalist stamp. Layered casual knitwear is having a moment this season and Francisco Costa's collection seemed to solidify the trend at the end of NYFW. The Doc Martin-inspired utility boots worn with patchy knit sweater vest dresses layered over knit skirts evoked a sort early '90s grunge meets a modern day Portland hippie vibe. Nearly everything, including outerwear, looked like a sweater you'd want to curl up in while taking a nap next to a fireplace. It's as if designers this season practically anticipated the polar vortex most of the U.S. has been suffering through this season.
Costa's knits came almost entirely in mohair, sometimes mixed in with cashmere. Outwerwear came sans buttons, pinned with oversize safety pins for closure. Colors were mostly earth toned in woodsy hues of brown, leafy greens, and burnt oranges mixed with blacks and greys. Even what would be considered eveningwear at the end of the show could be worn casually from day to night, like a black embroidered gauze and nylon split-waist dress with a glass chain-link belt. Normally words like "comfort", "casual", and "cozy" are the kiss of fashion death and best reserved for loungewear. But this season, they equate a chic simplicity that the busy modern woman has been longing for. Costa's collection was a shining example.