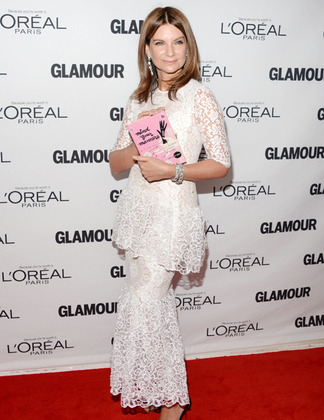 Net-a-Porter's Natalie Massenet On Stage Fright And Her Arsenal Of Accents
|
Even the most formidably awesome fashionettes get the jitters, apparently. Just ask Net-a-Porter's impeccably elegant, brilliant in business Natalie Massenet: she 'fessed up to us about the scary factor of public speaking at Glamour's Women Of The Year awards recently. Her solution? Quite creative and sort of theatrical…

Do you get stage fright?
Yes. I don't like speaking in public! My advice to entrepreneurs is to be careful when you're starting a business. Next thing you know, you'll be on stage at Carnegie Hall.
How do deal with an aversion to public speaking?
I'll practice my speeches in funny voices.
What kinds of funny voices?
A Texan accent. I use a British accent, too. Not that having a British accent is funny; it's very chic. But those voices help me feel prepared.
How often do you shop Net-a-Porter?
I do a little bit of splurging before the fashion shows. And when it gets cold, I shop a bit more.
Where can we find you surfing the site?
I'm just like everyone else: Back of a cab, on the train, on the way to a plane, between meetings…