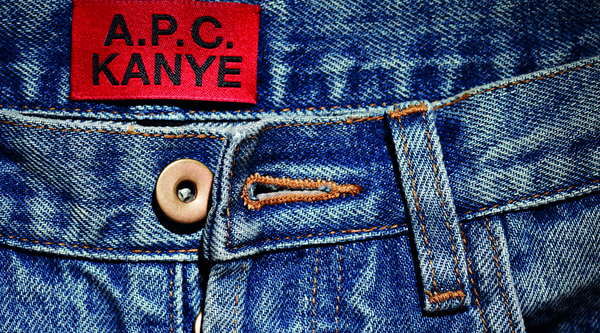 Kanye's Three-Piece Collection For A.P.C.
|
"May I know what your trade is sir?" were A.P.C. founder, Jean Touitou's words to Kanye West upon meeting the artist two years ago after West had come to him for advice on breaking into the fashion industry. He would learn that the man introduced to him at "Kenny" (sounds like "Kimye", non?) was in fact, Kanye West who was in Paris recording his hit album, Watch The Throne with Jay-Z at luxury hotel, Le Meurice (conveniently known as "The Hotel of Kings").
After months of hanging out together in Paris, Touitou and West decided to do a small collab together for A.P.C. And when we say small, we mean three pieces total. What's for sale? A pair of jeans (bien sur), a hoodie, and a T shirt. Like Touitou's initial oblivion about West's identity, the price tag, images and whether or not the collection will be for men, women, or both remain a mystery. Nut we imagine it will be fit for kings and for queens. Stay tuned for July 14th when the capsule collection will hit A.P.C. stores.