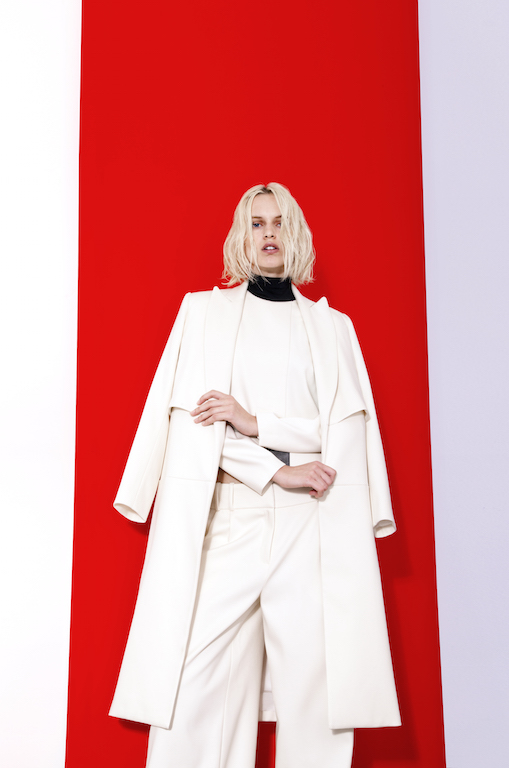 On the surface, sustainable brand behno speaks chic, with its flattering, crisp, and minimalist designs. But the label is looking sharp behind the scenes, too. From the start, behno has sought ways to create industry-wide social change, beginning at the very core of the company—in the textile factory. One step at a time, it's finding ways to enforce "The behno Standard." Founder Shivam Punjya and head designer Ashley Austin talk to The Daily about where it all began and their larger than life plans for the future.
Where did it all begin?
Shivam: The brand started in 2013 after I graduated from U.C. Berkeley and Duke, where I was studying global health issues, and part of my program required us to go abroad and do research in global health in a developing economy. So I was in India, and I interacted with a lot of textile weavers to learn about them very intimately, about their home life. While all of this was happening the factory in Bangladesh collapsed, and that really hurt my perception of what development looked like in developing economies. I talked with my family and we decided to jump in and build an ethical garment factory. We found some partners, a nonprofit called MSA [Muni Seva Ashram] and an industry veteran. The industry veteran runs our factory and the back end, and the nonprofit is how we will incrementally implement the guidelines. On the flip side we also want to show what Made in India looks like, from a very modern and fashion perspective, that doesn't look very ethnic or like the stereotypes of Indian clothes.
What do you look to when designing each collection?
Ashley: Each season the inspiration always changes, but overall there's usually a common theme. On the front end we want to change the way women are dressing and empower them to feel confident. That's a constant theme throughout every collection. Also minimalism, but kind of like a sculptural minimalism. That's something that's carried out every season, but now for each season I'm trying to really implement the social story.
How did you get involved with the brand?
Ashley: Our brand advisor, JasonPaul McCarthy, was the design director of Parsons Paris. I was one of his students, and he got me on the project. It was really inspiring. I remember Shivam and I met at a coffee shop for an hour probably and I knew it was something I was really interested in. Also the ethical background of the fashion line is something you don't see typically—someone being so passionate about it. It was a really exciting project to jump into.
Shivam: I was looking for someone who really understood the design vision but also understood the social side of it equally as much. I interviewed about 15 people and Ashley was one of the only ones that really saw both sides. That was a big part of it—making sure we have a strong team in place.
Ashley: A lot of these standards aren't in place yet, so we're learning a lot as we go about different things we can do or change to be more green and have less of a carbon footprint. In the industry now, so many of these processes aren't in place, so we're kind of paving a new road, so to speak.
What are some of the challenges that you face as you try to implement some of these changes?
Ashley: Trying to track the processes of exactly how or where the textiles come from. Sometimes that information doesn't exist or they don't know exactly where it came from. So we're asking people to find out where the fabric is coming from and only working with people who follow the standards. That's been a little bit of a challenge, but as more designers ask these questions, the more on the back end they'll have to provide this information. It's a good learning experience on all fronts.
Shivam: Another challenge that we constantly face is getting the consumers to understand what ethical garmenting means or what sustainability means in the fashion industry, simply because of the demand on the consumer side. It goes backwards from thereon out. It's about everyone being on the same page, and that doesn't happen overnight. But we're gaining a lot of new momentum around that. For example, there's a new documentary on Netflix called the The True Cost, which shows the invisible side of fashion, the back end. That challenge is slowly getting mitigated. The more people who are aware of the back end, then the easier it becomes to create change on a sustainable and ethical level.
What changes are you focusing on right now, and what's your long-term vision?
Shivam: We work with a variety of different factories in India. We have our own partner factory, which is called MSA Ethos, and we also work with a few other factories that specialize in different categories, like a knit factory. But at our MSA Ethos factory, we implement something we call 'The behno Standard,' which is more of a holistic way of looking at how employees are treated. A few things that we implement that aren't very common in garment factories and developing economies are for example health insurance, contracts, and putting women in leadership positions. The hierarchy of different positions is oftentimes impacted by gender inequalities. So if it's a woman in that position, it creates more of a comfortable space for the other garment workers. We have access to clean water, but we're hoping to do more work around family planning, like reimbursements. It's really about figuring out what works for garment workers and what they want.
Where do you see the label in the future?
Ashley: From a design perspective I would say expanding through accessories and shoes and other categories. And of course always redefining social practices and creating even better sources for sustainable textiles. We're feeling positive!