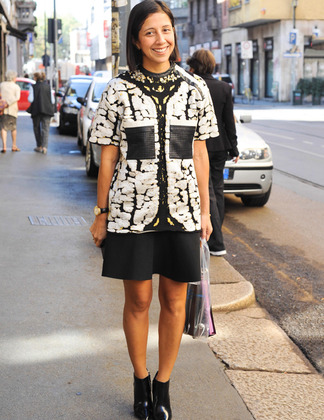 A Milano Moment With…W's Karla Martinez
|
We caught up W's fashion market and accessories director, Karla Martinez at the DSquared2 show in Milan to find out where she goes for a little sightseeing when she's not running around from show to show. Plus, her Milanese fashion besties!
Do you ever have time to get out and enjoy Milan?
Last year I went to see the Last Supper, which was really fun! I've been coming here for six years and had never seen it so I finally took the time to do that. It was beautiful. It's very civilized. It was like a moment of peace. But when you do have time to take a day in between, it's great. I was hoping to go to the Venice Biennale, which is two hours away. Also, last year a friend invited me to Portofino and that was really fun. It's an hour and a half away. I went for the weekend after the shows.
Who do you like running into when you're here?
I have a good friend Edgardo Ooario that does Aquazurra; we always do dinner here. It's always nice to catch up with my friend Michal Saad that works here for Loro Piana, Cristina Cavatore who works at Zagliani, and Carmen Borgonovo [fashion director of My Wardrobe and Vogue vet].
Fave restaurant?
Do I have to disclose? Well one that people always go to is Santa Lucia and Tore de Piza, As for my other favorite, I don't want to say!
Do you do any shopping while you are here?
Of course! Actually, I have to go shopping after this show because one of my bags that was filled with shoes didn't arrive. Otherwise, I'll be wearing booties all week. I think it will arrive tomorrow, but it hasn't been located yet. I'm not going to panic. Fingers crossed.
Oh, no! How many shoes are we talking?
A solid 12 pairs, I think.
Good luck! Any parties you're looking forward to?
The Hogan parties are always fun. There's just always a good energy and atmosphere.
What shows are you looking forward to seeing?
Oooo, I love the shows here! Obviously, I'm looking forward to seeing Prada and No. 21. I love No. 21, and Prada is always such an exciting fashion moment. I'm looking forward to Fausto Puglisi's show later in the week. There's also more up-and-coming designers that are great. There's one I'm seeing this week called Elena Ghisellini. Sara Battaglia is also doing a presentation this year with her bags.