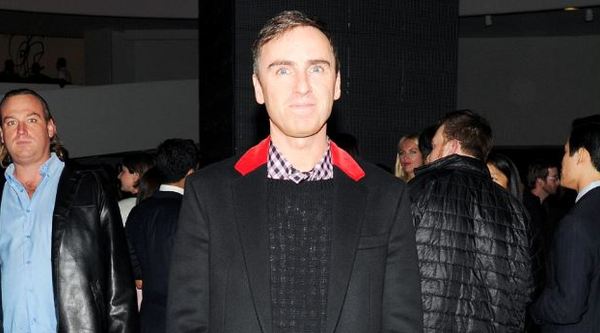 Raf Simons Pairs Up With Artist Sterling Ruby On A Menswear Collection
|
(NEW YORK) Raf Simons is spicing things up a bit: The Belgian designer announced that he's partnering with artist and longtime friend Sterling Ruby on an upcoming menswear collection for his eponymous line. The collection will go by 'Raf Simons/Sterling Ruby' instead of 'Raf Simons.' The pair's line will be shown in Paris on January 15th.
The creative duo first collaborated in 2008, when Ruby revamped the Tokyo outpost of Simons' namesake boutique. The artist covered the walls of the two-story boutique with splatters of blue paint and decorated display cases with brown splashes. The two then joined forces on a capsule collection of splattered denim in 2010, called 'Raf Simons x Sterling Ruby.'
Simons' Fall 2012 Couture debut at Christian Dior saw a continuation of the partnership. The collection featured adapted prints from Ruby's previous creations, festooning three silk ball gowns and a dress coat. "In the work of Sterling Ruby, there is a certain gesture, like a sweep of a brush but without brushstrokes," Simons explained to Dior Mag back in July 2012. Jennifer Lawrence even donned one of the aforementioned dresses during her first outing as the face of Dior.
This time around, Simons and Ruby have worked side-by-side to create the entirety of the collection. Ruby explained his curiosity about the recurrent tendencies of the fashion design process to Style.com: "It seems like an endless cycle for designers, and they make decisions so fast. I am thinking about how I could incorporate that kind of immediacy into my own work." As for the volume of this special collab? A statement from the brand promised that the collection will amount to an entire wardrobe, featuring pieces that incorporate the artist's aesthetics and the designer's innovation.