The Wolk Morais Diary is back! This time, designers Brian Wolk and Claude Morais pack their bags and leave LA for Tokyo.
Tokyo is the equivalent of graduate school for the design set. Nothing can prepare the creatively inclined for what's in store at this Mega-tropolis. With a population of 28 million espousing the sophisticated stylings of the Edo way of life, Tokyo's rich design history and contemporary art was apparent as soon as we landed.
The 5,000 Mile Journey
Taking the fast track from LA to Tokyo has never been easier; Delta Air Lines' nonstop flights from LAX to Haneda make the voyage  top-notch in service and seamless. Our journey began the moment we stepped out of our car and were whisked through the Delta One's new private entrance. As we sipped coffee and nibbled on snacks in the VIP waiting area, our dedicated concierge checked us in, and escorted us through expedited security and into the newly renovated Sky Club where we luxuriated until our flight. Once onboard we got a taste of what was to come. We indulged in the special Japanese menu and sake selection chosen by Andrea Robinson, Delta's inflight sommelier. After our delightful dinner and watching films, we drifted to sleep swaddled in our fluffy duvets on our very comfy flat beds. Upon opening our eyes, breakfast was served, just before a perfect touchdown at Haneda Airport and a 15-minute cab ride to our hotel in central Tokyo.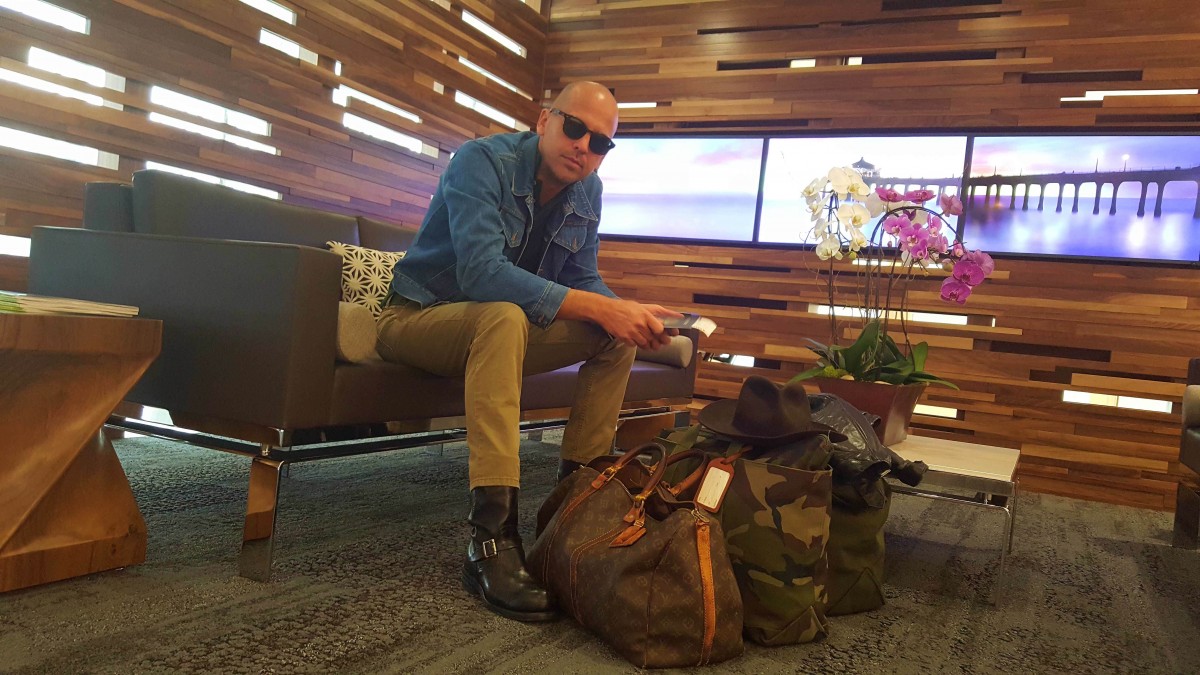 Staying In Tokyo…
The Ritz Carlton Tokyo is an oasis of luxury high above the city in Roppongi. Perched on the top nine floors of the tallest building in Tokyo, one can't get higher in altitude nor in service. When we arrived, the ground team sprung into action. Like true PR veterans, the front of house staff recognized us from a face sheet, greeted us by name, and whisked us up the elevator, through the magnificent lobby, and directly to our suite on the top floor of the building. We were mesmerized by the deco Japanese furniture, silk-covered walls, multiple sitting areas, and walk-in closet larger than most Manhattan apartments. As we settled in, we nibbled on a selection of chef-prepared snacks while taking in panoramic views of the city. Our marble bathroom, fit for an emperor, was replete with double sinks, soaking tub, rain shower, and Asprey amenities. The first order of business was a stroll down the hall to The  Ritz Carlton Club, availably exclusively for top floor guests. Our timing could not have been more delightful,—we arrived just as afternoon Tea Service was beginning. Homemade scones and clotted cream rivaled the best of which we've had in London, and a selection of traditional Japanese tea cakes evoked the thoughtful international savoir faire the The Ritz Carlton is best known for. The Ritz Club would become our home away from home for the next few days, and the incredible and warm team became our trusted family, arranging travel needs, reservations, and cultural expeditions. Other highlights of our stay included the use of the luxurious gym and spa, where we enjoyed Olympic morning swims, and received body treatments performed by the team of masseuses using the Sodashi skin care line, available exclusively in Tokyo at the Ritz Carlton. No stay at the hotel is complete with a meal at Hinokizaka. The ravishing post-modern Japanese interior of the restaurant is broken into four sections each highlighting a genre of Japanese dining. Our F.O.M.O. led us to the tasting menu. One truly has not lived until you have sampled a Kaiseki (a Japanese Multi-Course Dinner) of Edomae style sushi, Cutlass Fish Tempura, and Teppanyaki (grilled japanese meats) under the thoughtful guise of the Hinokizaka's  Chef Masamitsu Taima.
Getting around Town
While the city's scale can be overwhelming, when broken down into neighborhoods, Tokyo becomes quite manageable. Although the taxis are fabulous, reasonable, and immaculately clean (with lace covered interiors!), we found the simplest way around was the bilingual (Japanese and English) Tokyo Subway System. While the commercial shopping districts of Ginza and Shibuya are classics and incredibly comprehensive, we've focused on the more boutique neighborhoods that reflect the new emerging Tokyo.
The Neighborhoods
OMOTESANDŌ: The Champs-Élysées of Tokyo, Omotensandō is where the fashionable come and go. This highly stylish boulevard and surrounding neighborhood boasts the most haute shopping and dining in the city. But hidden amongst the big labels (Chanel, Dior, Saint Laurent), there are little Tokyo gems like The Comme des Garçons Good Design Shop, Chicago (a divine vintage store that harkens back to Canal Street Jean Company in New York), and Kiddy Land, where an entire floor is dedicated to everything and anything Snoopy (even pasta!). Don't forget Heiroku sushi where the the Kaiten (conveyor belt) brings sashimi your way.
MEIJI JINGU PARK: Closeby the glitter of Omotesandō is the magical Meiji Jingu Park and Shrine. This Central Park of Tokyo boasts forests and great lawns where Harajuku girls dance on Sundays, families pass the time, and monks commune. Dedicated to Emperor Meiji and Empress Shoken, the park's multiple walking paths and striking Shinto Shrine truly reflect the heart and soul of this great city.
HARAJUKU: Although famous for it highly stylized and fabulous Harajuku Girls, this neighborhood is the city's creative center for art and underground youth culture. Getting lost in the labyrinth of Harajuku's backstreets is the best advice for any urban explorer to discover truly independent brands, tiny cafes, and amazing galleries. A must-sees is Design Festa Gallery, the center for alternative art culture. Sakura-Tei, the Okonomiyaki (Japanese omelette) restaurant at Design Festa is "the" evening gathering place for ex-pats and local bohemians." For the perfect afternoon pick-me-up, stop by Jazz Union, the second floor micro-cafe open from 1 to 8 p.m. Listen to records and sip coffee in this secret and delectably designed lounge. For the serious trend shopper, Cat Street will be your mecca. From limited-edition sneakers to one-of-a-kind beauty products, this block is the epicenter of Tokyo Street Style.
MINAMI AOYAMA: This tucked away pre-war neighborhood is one of the most demure and alluring in Tokyo. Exquisite homes and chic cafes are punctuated with designer boutiques and tea houses. The hills and winding lanes add discreet, tony charm to this neighborhood's bourgeois provenance. Although the flagship stores of Prada, Marc Jacobs, and Commes des Garçon outline the edges of the neighborhood, the inner streets are where you'll discover Aoyama's true spirit. Highlights: The Nezu Museum, which focuses on ancient Edo and its rituals; tea and pineapple cakes at SunnyHills; lunch at A to Z Cafe, a living monument designed by famed artist Yoshitomo Nara;and a glass of wine and snack at Commune 246, a hipster collective of cafés, shops, and entertainment. This local hangout is the perfect way to rub elbows with neighborhood locals.
DAIKANYAMA: Daikanyama is the Williamsburg of Tokyo. Made up of two main drags (Kyu-Yumate-dori and Hachiman-dori) and a dizzying amount of little streets between, it has some of the best cafes, book shops, and music stores in the city. With its signature meandering topography along the city's canal, a romantic afternoon here is de rigueur. Our perfect Daikanyama day included a morning coffee at Sarugaku (rated best on Tokyo), sifting through vinyl at Bonjour Records, buying limited-edition art books at Daikanyama T-Site, walking through the new Tokyo campus of Fred Segal, and lunching at Grigio.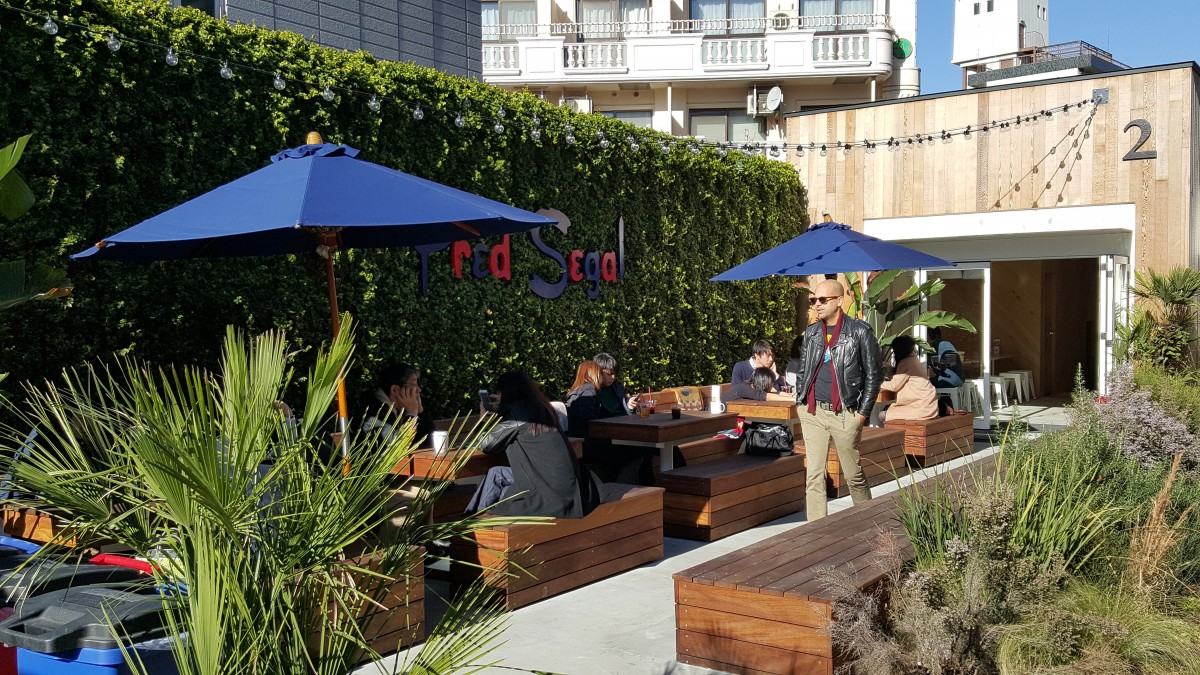 ASAKUSA: Asakusa is the birthplace of Tokyo. Sensoji, a beautiful 7th century Buddhist temple, is the centerpiece of the neighborhood. Enter through the 1,000-year-old Kaminari gate and walk toward the temple via the Nakamise, a shopping street with traditional snacks and souvenirs. Don't miss out on Sushi-Go-Round for a quick lunch.
Stayed tuned for part two of our adventures in Japan as we head on the Bullet Train toward Kyoto!