The Daily Front Row's Fashion Media Awards brought the chicest and most influential in fashion and media to the Four Seasons downtown, including, of course, this year's FMA winners. Emcee Ashley Graham dazzled the crowd onstage while Garrett Neff was on awards duty. Other major names came out to present the awards, from Diane von Furstenberg and Carine Roitfeld to Rashida Jones, Candice Swanepoel, and Mika Brzezinski and Joe Scarborough. We've rounded up a few of the best soundbites from the eve—one for the books!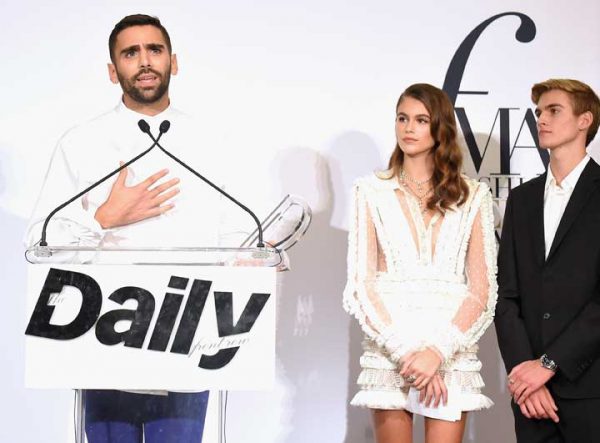 KAIA AND PRESLEY GERBER, presenting to TeenVogue.com's Phillip Piccardi, Media Brand of the Year
Kaia: "Since joining TeenVogue.com in 2015, the site's digital editorial director, Philip Piccardi, has helped change the way people our age get their news. Philip has expanded the brand's digital coverage to include topics like human rights and sexuality rights alongside breaking news and fashion and entertainment."
Presley: "Under his leadership, traffic at TeenVogue.com has increased from 2.4 to an incredible 12.4 million followers. It's become the fastest-growing magazine brand on digital for two years. At just 26, he's both the youngest editorial director and youngest site director at Conde Nast."
Phillip Piccardi
"I have never felt uglier than standing next to these two genetically gifted people…What we've done at Teen Vogue has not been a revolution, it has not been an ingenious sort of brilliance, it has simply been a heart and soul-driven effort that includes people who have traditionally not been recognized by our brand. And in doing so, we have shown young women all over the world that they can care about politics and their place in the world, and that they should be taking a defiant stand against the things that our administration is currently doing. In media, we are in a phase right now where we are driven by digital numbers and traffic scores and whatever the hell else. And I'm proud of the growth that we've done—from 2 to 13 million [unique visitors a month], but I'm also proud that it came from a place of knowing who our audience was and our instinct as a team."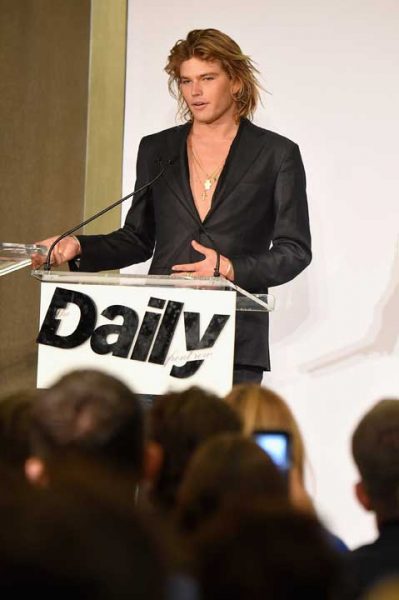 CARINE ROITFELD, presenting to Jordan Barrett, Male Model of the Year
"A male model is not only supposed to be beautiful, he is supposed to be well-dressed, charming, everything you dream about. But there is something even more beautiful about Jordan—he makes you feel beautiful, and it's very rare. He speaks with a lot of charisma. So I am so proud to give you this award tonight, and I really hope that very soon I give you an award in the business of film. You really deserve to be an actor."
ASHLEY GRAHAM, presenting to Stuart Weitzman's Susan Duffy, CMO of the Year
"Susan has taken a successful brand and turned it into a global powerhouse. In a time when we need more women voices as well as brand leaders, I love that Susan is the brains behind the marketing and the imagery of her brand."
Susan Duffy: "Michael Jordan once said, 'Talent wins games, but teamwork and intelligence wis championships.' And I have the most incredible team at Stuart Weitzman—passionate, imaginative, agile, they refuse to be average. And each and every one of them have been intrinsic in helping to write and tell our brand story in an emotionally resonant way…and also I have to thank my husband, who has quite often talked me off the ledge. But then, there is ultimate MVP, Mario Testino. Mario has helped establish a distinct visual vocabulary that not only resonates with women of multiple generations, but has helped us to proudly stand high heels above the rest of the industry."
DIANE VON FURSTENBERG, presenting to Lenny Letter's Lena Dunham and Jenni Konner, Digital Destination of the Year
"I didn't know I was coming to such a big event, and I have to say that I just came back from five weeks abroad, and I didn't seen anybody, but I saw a lot of whales and sharks. I guess, this is the same thing. [Laughs] In this very disruptive world of the digital tsunami that everyone is riding, where media is terrified for its future, where every magazine is looking for a new kind of new, where every girl expresses her own voice through social media, comes this thing, Lenny Letter. It appears and it creates a revolution by creating an irresistible new community of modern female voices."
Lena Dunham: "She is hot!…We just can't believe that Diane agreed to join us over here. She has done as much for women's right globally as she has for easy access sex with her wrap dress. We just want to thank you so truly from the bottom of our hearts…The fact is that I don't rise if you don't rise, and we are grateful for this honor and for the chance to have our voices heard unlike so many."
Jenni Konner: "Thank you to The Daily Front Row for this recognition. We are not fashion icons really in the traditional sense, so we know that this means that feminism and honesty and real stories are the new in vogue thing…The fact is that the fashion industry was built from the ground up from immigrants, from the Eastern European dressmakers of the 1920s to the seamstresses who labor over couture to to some of our favorite modern designers…Imagine if we closed our doors to Oscar de la Renta, Joseph Altuzarra, Naeem Khan, Monique Lhullier, Thakoon, Prabal Gurung, Diane von Furstenberg—what the f*ck would we wear?"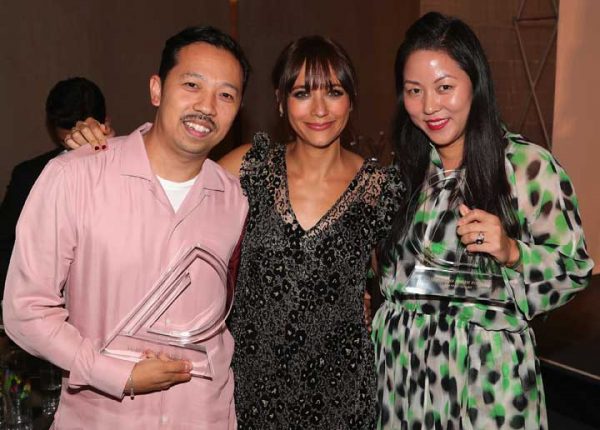 RASHIDA JONES, presenting to Opening Ceremony's Carol Lim and Humberto Leon, Fashion Innovators
"If you have been [to an Opening Ceremony show], you're never going to look at fashion the same again. Expect an experience, like a real true experience replete with streetcar racing, beautiful dance pieces, one-act plays, or a wall made of many tons of melting chocolate…Since 2002, Opening Ceremony manages to be the perennial cool kid brand. They push, they challenge, they disrupt, they get political, and they innovate."
Humberto Leon: "I think our guiding light through the years has been to stay connected to culture, stay rooted in friendships, and allow Opening Ceremony to be a platform for experimentation and discovery. The store became a meeting place, almost like a town square of sorts, and we began to build a great community. "
Carol Lim: "We feel really lucky to be here and to be able to continue working. We know it's a tough time in retail. We thank everyone for being part of the community and coming to visit the stores, coming to buy the collection, and just coming and having a dialogue with us."
MIKA BRZEZINSKI AND JOE SCARBOROUGH, presenting to InStyle's Laura Brown, Best September Issue
Mika Brzezinski: "We first met Laura Brown at an Oscar party in Los Angeles where we were also very out of place. She came stomping up to me in a red jumpsuit…and she said, 'I like you.' And we like her too, very much…The new InStyle is about so much more than fashion and celebrity. Although, it's about that too. It's about bringing out the personality and humanity in people, which we need now more than ever. At InStyle, being in isn't about being in the cool crowd, it's about included, and Laura you have done it again. You have built something amazing."
Joe Scarborough: "Mika and Laura became immediate friends for one reason: because they are both crazy. Absolutely crazy. They enjoy a good Pinot. They also, of course, enjoy being on Morning Joe together and she always comes on and says things that are wildly inappropriate and we always invite her back because we know she'll come on the next time and say things that are wildly inappropriate."

Laura Brown: "I was sitting on the hood of a car in Tanzania eating tandoori chicken when I received the email about this award. I made a loud whooping sound, but fear not, I held on to the chicken, because it was really, really good. To be recognized for the Best September Issue at any time is an honor, but for my first time as editor-in-chief at InStyle is really something else. So I hope you enjoy witnessing me at my peak…To us, style isn't just fashion, it's about women's voices, it's humor, and of course, it's always shoes."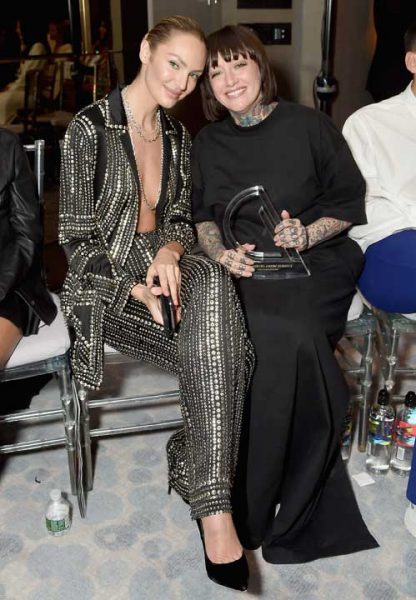 Candice Swanepoel, presenting to global makeup artist Erin Parsons, Maybelline New York's "Make It Happen" Award
"Her fixation with how a perfect lip or a shaped eyebrow could change a person's face brought her to New York City, where she chased her dream to assist some of the biggest names in the industry. Soon, she was assisting icons like Gucci Westman and Pat McGrath. While with Pat, Erin not only worked with, but became friends with the girls—myself, Gigi, and Adriana Lima, Jourdan Dunn, to name a few. Ever since, she has never failed to make us feel great and look beautiful."
Erin Parsons: "One of the best things that ever happened in my life was becoming Maybelline's global makeup artist. It just really proves you can come from nothing and you can come to New York and live in a basement and eat ketchup soup because you have no money. This is just a dream come true."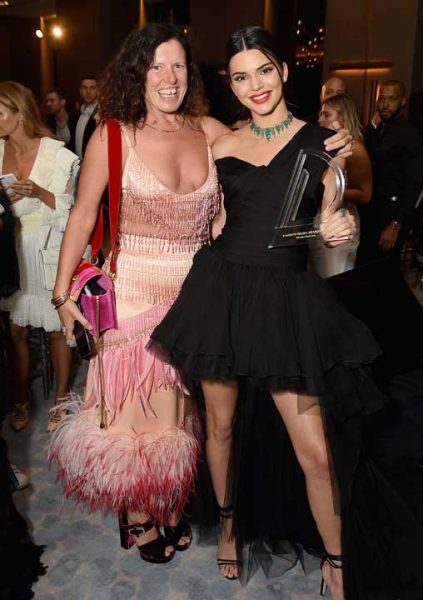 KATIE GRAND, presenting to Kendall Jenner, Fashion Icon of the Decade
"She's one of the most photographed women on the planet, and while she needs no introduction at all, I would be remiss if I didn't acknowledge her arresting beauty, kind heart, and fierce loyalty, especially to me, and her unequivocal work ethic. For years, models have struggled to compete with actresses for magazine covers, fashion campaigns and beauty campaigns, and then the world met Kendall."
Kendall Jenner: "All I want to do is inspire and be inspired, and if me living out my dream can inspire some little girls or little boys to live out theirs, then I think I'm doing my job."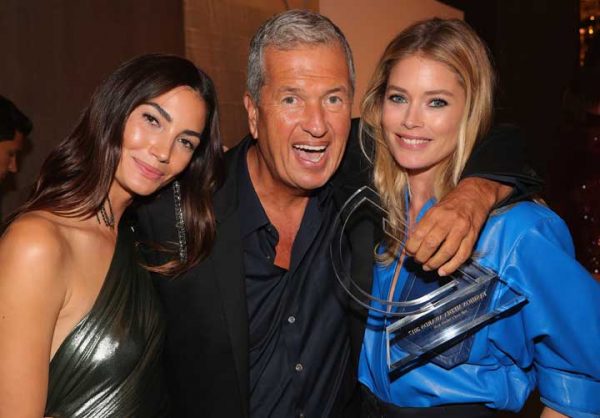 DOUTZEN KROES AND LILY ALDRIDGE, presenting to Mario Testino, Creative Director of the Year
Lily: "The first time I met Mario was at casting. I went in all excited to meet the famous Mario Testino. I instantly just felt a love for him and his personality. We got along so well, and he was like, I'm going to see you soon. And the next thing I know, he flew us off to Barcelona to throw me in a towel."
Doutzen: "Yes we know he's a photographer, but Mario Testino actually is far beyond that. As a creative director, he has defined brands and storytelling for the past decade and more."
Mario Testino: "I started off as a photographer in a world where everyone was American, English, French, Italian or maybe German. I was scared to state my opinion for the first 10 years. And then all of a sudden I started airing it and I realizing that I have an opinion of my own that wasn't English, wasn't French, wasn't American, and it was valid. I'd like to advise everyone that's in our business…that you all have a point of view, you can all say what you want and you all can win this award."
Thanks to sponsors Maybelline New York, LIFEWTR, MCM, Moroccanoil, and Brookfield Place, and to our bar sponsors Kim Crawford and Rémy Martin!
Photography: Getty Images and Hannah Turner-Hart