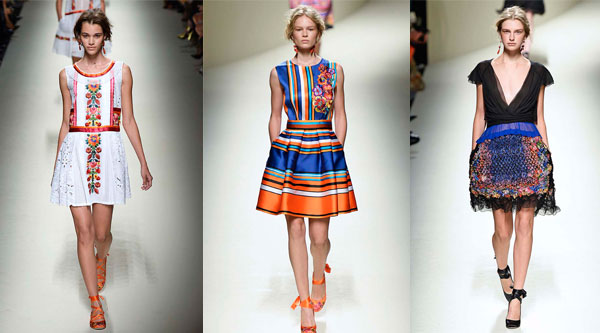 Milan Spring 2014: Alberta Ferretti, MaxMara
|
(MILAN) Alberta Ferretti
There was plenty of the femininity in Ferretti's latest spate of frocks, par for the course at this maison. But this season she seemed to be thinking of something more specific. The Andes, perhaps? The clothes looked like a romantic take on the traditional dress of the region. There were references to embroidered florals and stripes, as often seen in native Andes attire, as well as a shawl coats and ruffled skirts just above the knee. The first part of the show was comprised primarily of mostly dreamy white looks, like a stunning tiered dress with embroidered red, orange, yellow, and purple flowers that crossed the chest and fell softly on the shoulders. The layered tiers had woven ribbon-like stripes lining the hems. The woven ribbon was also seen nipping the waist in other dresses. Later, beautiful chiffon dresses in cobalt blue, tangerine, leafy green, and magenta floated down the runway, some of which sported floral motifs done either in embroidery or intricately sequined paillettes. While florals are nothing new for Spring, Ferretti managed to make them feel fresh yet again. We felt transported. So did one bold front row attendee, apparently—the guy was so overcome with awe that he stood up during Ferretti's finale as the models did one last tour down the catwalk to film the entire ending. Much to the dismay of the photographers' pit (the shutterbugs screamed and had a bit of a fit over the situation). He either didn't hear the ruckus or chose to ignore. While a bit gauche, we can hardly blame his enthusiasm.

MaxMara
The top tier took their thrones—aka, front row seats—at MaxMara today. The who's who included Anna, (our first spotting of the fashion queen at the Milan shows), Andre Leon Talley holding court in a very Milanese all-black ensemble and a pair of chic shades, plus Stefano Tonchi, Carine Roitfeld, Stephen Gan, Glenda Bailey, Robbie Myers, Cindy Weber Cleary, Cindi Leive, Jay Fielden, Giovanna Battaglia, Natalie Joos, and Paloma Faith. We could go on, but let's get down to the clothes. We may be in Milan, but chez MaxMara the references were all about New York. The show notes lauded Gotham as "the ideal stage for innovation and incomparable style icons, fashion, and contemporary art." The look was pure minimalism, right down to the models' sparse makeup. Monochromatic looks marched down the runway with neutrals, first in pared-down looks like a simple silk calf-length slip dress or a nude bell sleeved short jumpsuit. Patterns were sparse, save for a marble-ish print inspired by artist Robert Rynam's paintings. Big bursts of color also emerged, like an emerald cape cloak, a royal purple pencil skirt with suspenders, and a boxy orange leather jacket. As for the styling? Each look was paired with matching sheer tights. Think sheer cobalt blue pumps, a shift dress, and tights to match. As for those babushka-style head scarves? We initially thought the trend might not catch on, but we promptly changed our tune, as we saw a couple of said head scarves serving as street style photog bait. In terms of MaxMara's vision for Spring '14, we can certainly imagine these very wearable looks catching on with customers.