Michael B. Jordan stars in Calvin Klein's Spring '23 campaign
If you're driving down NYC's Houston Street or Los Angeles' La Cienega Boulevard, you've been warned to keep your eyes on the road. Today, Calvin Klein unveils its billboards with new Spring '23 campaign face (and body), the actor Michael B. Jordan. The brand shared a first look at the campaign starring the multi-hyphenate Hollywood heavyweight, photographed by Mert & Marcus wearing the new Calvin Klein 1996 Athletic and Modern Cotton Performance underwear styles. The series is Jordan's first campaign for Calvin Klein, and the entire campaign will be revealed on March 15. In the meantime…we'll just leave these here.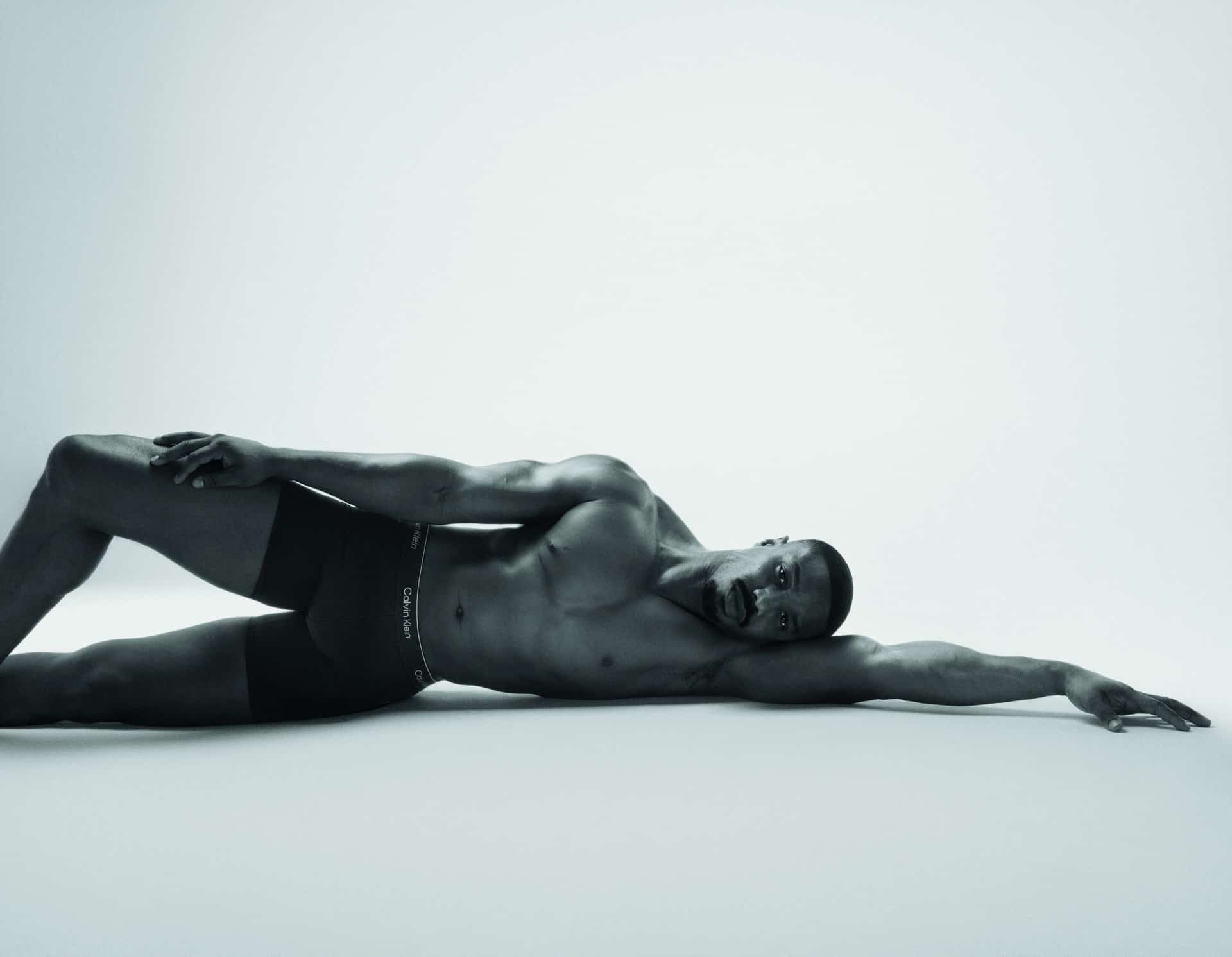 Hailey Bieber's latest Vogue cover
Hailey Bieber is Vogue Australia's March cover girl. Sharing a glimpse at the cover online on Saturday, Bieber also revealed that for her feature, she was interviewed by her poster husband, Justin—a first in their four-year marriage. The supermodel and budding skincare mogul delved into topics like style, music, and business advice in a brief one-on-one chat which took place at their Beverly Hills home. The magazine, on sale March 6, is the first under newly-minted editor in chief Christine Centenera. The longtime stylist and arbiter of taste is no stranger to Bieber, having collaborated with her through her brand Wardrobe.NYC. Speaking about being the first cover girl under Centenera's editorship, Bieber said it is an honor. "Christine has always been somebody I've really looked up to in the fashion space, and I've always really, really loved and admired her style," she added. "I feel like the way she and I both look at essentials and have a very curated wardrobe, and the way we look at style and fashion are very, very similar. I feel like she and I have a lot of synergy in the work we've done together—I feel like she really gets me, and I really get her. So, it's just been awesome developing a relationship with her, and I think that she's amazing, and I love getting to work with her." Read the full feature here, with styling by Centenera.
View this post on Instagram
CFDA and Donatella Versace team up on LGBTQ initiative 
If you're in LA next week, here's an event you won't want to miss. The Council of Fashion Designers of America and Versace have partnered on an educational initiative focused on an LGBTQ program, and on March 6 at the Los Angeles LGBT Center, Donatella Versace is set to host a masterclass for students and LA-based CFDA members. The revered designer will also take part in a fireside chat with the organization's chief marketing and communications officer, former Teen Vogue editor in chief Phillip Picardi. On the back of the event, the CFDA and Versace are partnering on a new scholarship for LGBTQ fashion design students, to launch later this year. The CFDA has also organized 10 students from the city's Otis College of Art and Design to attend Versace's Fall '23 women's and men's show, taking place in LA on March 10. "I have always believed in the power of young creatives," Versace said of the partnership. "At Versace we have had some of the most amazing young talent join us and we have learned so much from them. I am thrilled that we can support a scholarship with the CFDA for an LGBTQ student and cannot wait to see their creative energy come to fruition with our encouragement."
Gucci's 'Influencer Pit' stirs up some controversy
If you've been reading through the lines of passive aggressive subtweets all weekend (and really, what other weekend activities do we know during Fashion Month?!), you might have noticed a lot of chatter about a certain 'pit' or seating arrangement at one of the schedule's biggest shows. At the Fall Winter '23 collection reveal, it appears that Gucci teams sat influencers in their own sunken, pit-like area, separated from the rest of the traditional audience—i.e. press, buyers, and celebrities. When Vanessa Friedman shared the observation on Twitter—the NY Times chief fashion critic is known for tweeting multiple contextual and atmosphere updates from each show she is at—some influencers took it as a diss. "Someone's bitter," a user replied to Friedman, while another offered: "love the choice of words." Bryanboy, one of the original fashion bloggers and now editor in chief at Perfect Magazine, took umbrage with Friedman's post. He shared: "I did not save my own money and flew myself to Milan and paid my own hotel and taxis and Ubers to go back and forth to fashion shows only to be lumped up and insulted as a clown simply because we were sat in the middle of a fashion show venue not by choice. She was rude and mean." (Bryanboy later tweeted that he has "nothing but respect and admiration for Vanessa.")
In her review for The Cut, Cathy Horyn also referenced the "kind of conversation pit in the middle of the room (filled with influencers)" and Vogue Runway's Nicole Phelps pointed to the show notes, which called the pit a representative of "the collaborative circularity at the heart of Gucci's creative community." While the fashion critics didn't elaborate or offer an opinion about the seating choice, the call out of it in their reviews continued to stir the pot online.
Lainy Hedaya, a longtime influencer and content creator, shared: "It's not cool editors in the industry are still mocking influencers – what's worse, though, is that influencers even care. #mfw #gucci."
What do you think? Let us know in the comment section below!
The influencers had their own pit at #Gucci #MFW pic.twitter.com/SVbtYoMPVu

— Vanessa Friedman (@VVFriedman) February 24, 2023
set @ gucci fw23 pic.twitter.com/KMOwf1Fc43

— andriana シ (@MUGLERMIND) February 24, 2023
Gigi Hadid and Pat Cleveland join ANDAM judging panel
ANDAM—the French acronym for National Association of the Development of the Fashion Arts—is ensuring this year's grand prize contest and its ultimate winners adheres to purpose-driven fashion. The mentor for 2023 is Chloé's environmentally-conscious chief executive officer, Riccardo Bellini. On the judging panel are modeling superstars and fashion personalities Gigi Hadid and Pat Cleveland, joined by activist, campaigner, and model Quannah Chasinghorse-Potts, Mexican climate activist Xiye Bastida, human rights activist Trisha Shetty, Iranian-born actress and director Zar Amir Ebrahimi, Vogue China editor in chief Margaret Zhang, fashion critic, write,r and curator Angelo Flaccavento, and the founder of Stylenotcom Instagram account Beka Gvishiani. Bellini said the hope is for this edition to "highlight the approach to sustainability and positive social impact within their propositions." Applications are now open at andam.fr until March 31. Candidates for ANDAM's grand prizes can be of any nationality, but must own a French company or set one up during the same year as the receipt of the fellowship. The prize, which counts past winners including Martin Margiela, Viktor & Rolf, Christophe Lemaire, Anthony Vaccarello, and Jeremy Scott, has now numped up its grants to €100,000 each for its fashion accessories and innovation prizes, €300,000 for the grand prize winner, and €100,000 for runner-up, as well as a year-long mentorship with Bellini.
View this post on Instagram
Subscribe to our newsletter and follow us on Facebook and Instagram to stay up to date on all the latest fashion news and juicy industry gossip.