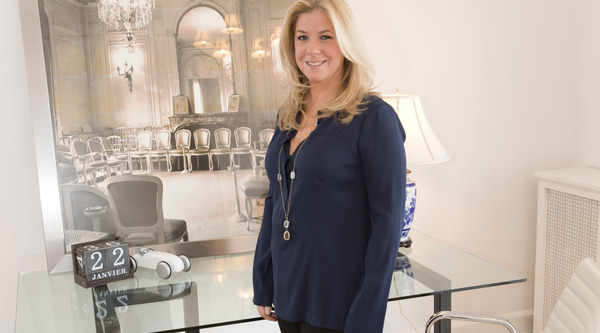 Marie Griffin, Media Made
|
(NEW YORK) Where do designers, EICs, models, hairstylists, makeup artists, and just about anybody who needs media training in fashion go for help? Straight to the blue eyes of industry vet Marie Griffin.
BY EDDIE ROCHE
What's your background?
During an internship at Seventeen magazine when I was 19-years-old, I was offered a position there. I took it on the spot and was sent out on the road to produce fashion shows, and represent the magazine on television and in print articles. After traveling to 48 U.S. cities as Senior Merchandising Editor, I decided to move on to explore Europe, and became U.S. Director of Promostyl, the first and foremost worldwide fashion, and design trend think-tank headquartered in Paris.
How long were you there for?
I was at Promostyl for 10 years working between New York and Los Angeles. Then I became VP of Global Marketing and New Business Development at POP-EYE, a pop culture research firm. Forbes profiled POP-EYE as the first of its kind to document popular culture trend research on video for the purpose of directing global corporations' marketing, image, advertising, and product development. Our clients included Coca-Cola, PepsiCo, Nike, Paramount Pictures, Levi's, Neiman Marcus, Volkswagen, The North Face, Mattel, and countless more. Armed with years of branding, marketing and communications experience, I returned to New York and opened Griffin Marketing & PR in 1995.
What do you specialize in?
In the simplest of terms, we secure the finest broadcast opportunities for our clients and their brands. And then we prepare them to be engaging storytellers.
Who have you worked with over the years?
We've had the great fortune to work with some of the finest fashion houses, brands and individuals in the world, handling broadcast PR for Salvatore Ferragamo, Hermès, Hugo Boss, TOMS, LVMH, Sanrio, Tory Burch, Moda Operandi, Nina Ricci, Natalia Vodianova, [Nobel Laureate] Muhammad Yunus, Target, and Ermenegildo Zegna, just to name a few.
How was your business built?
My business was and is built entirely by referral.
Who in fashion have you trained?
I never name individuals I train. The work is far too personal and intimate.
What do you do with the CFDA?
I prepared numerous CFDA/Vogue Fashion Fund nominees to present to Anna Wintour as well as her very prestigious and intimidating board.
You are always backstage on show day with Carolina Herrera and Betsey Johnson while they are doing interviews.
My team and I have been working New York's Fashion Week since its inception, handling broadcast PR and backstage for not only Mrs. Herrera and Betsey, but also over the years for Gilles Mendel, Max Azria, Catherine Malandrino, Charlotte Ronson, Matthew Williamson, Jeremy Scott, Stella McCartney, and Rick Owens, to name a select few. I have been working with Mrs. Herrera for 12 years and Betsey forever—maybe for 18 years or so.
How is it different working with those two?
We share a history and have a rhythm together backstage. For years, we did their shows back-to-back. They're very different dynamics, yet I have the same love for both of them.
Do you have to play bad cop for sweet Betsey?
Betsey loves controlled chaos. I set the controls so that she can revel in the chaos. On the other hand, Mrs. Herrera's backstage is naturally very orderly. Once she starts 90 minutes of interviews, I don't speak to anyone. I can say a lot with just these blue eyes.
What's the biggest challenge in your job?
Television has lost a lot of great programming over the years. I need my own television show to shine a bright light on the wonderful people and their stories I'd like to tell.
Why do you think you're successful?
I love people. I'm Cancerian, a momma Bear. My team and I are deeply committed to the success of the people we work with.
What's the biggest mistake people make when you are training?
Assuming they have no control in a given media experience.
What's your best advice for clients?
Prepare, prepare, prepare. Practice, practice, practice. And then I tell clients to enjoy it.
How do you reign in a chatty client who just can't stop talking to the press backstage?
That's rare, but some you just can't control and shouldn't. They are who they are and they're loved for it.
You're known as the secret weapon by many in the industry. Why are you dubbed that way?
My discretion.
Do you know everybody in fashion at this point?
Of course not, but that would be nice.
Alright, Marie, we know that Hello Kitty is a client. Has she ever tried to bite you?
Never! Firstly, she's a girl, not a cat. Secondly, she doesn't have a mouth since she speaks from the heart. And, thirdly, she knows me too well. We've been together for 15 years and we'll celebrate her 40th anniversary this year.