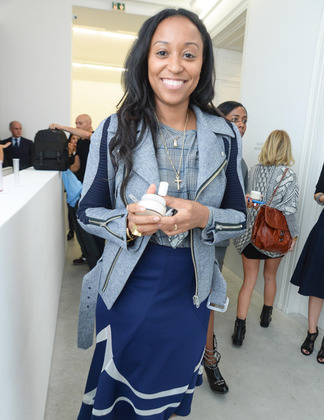 Cosmo's Shiona Turini On Her Driver's Paris Haute Spot
|
It's been a long month for fashion eds! We spotted Cosmopolitan's fashion market director Shiona Turini pre-show at Moncler sipping an iced coffee from Starbucks. We checked in with her to see how she's holding up after the hectic schedule of shows, showroom appointments, meetings, dinners, and events. It's survival of the fittest at fashion week!
How are you holding up after a month of fashion weeks?
I'm still going strong! But today I'm a little tired because the CR party was last night.
Did you have a good time?
It was a blast! It was so much fun and it was packed.

Any party highlights?
I got to see my old crew like Michaela [Dosamantes] and Carine, so that was definitely a highlight and we were just dancing like maniacs so it was a good time.

What else has been fun in Paris this season?
I'm obsessed with my driver! He took me to a hip hop club. As far as the shows go, I really loved Dior.