Beach wedding on the horizon? No idea what to wear? Don't worry, Temu, the online marketplace known for its wide selection of stylish and chic dresses, has got just the right seaside look for you. In general, receiving an invitation to a beach wedding is pretty exciting. It's essentially an excuse for a vacation. A vacation with a bunch of people you love, in the sun, and they'll at least be one night with an open bar! However, this type of tropical getaway wedding does throw up some fresh wardrobe dilemmas. Style queries you may not have faced before. Like, what kind of guest dresses are appropriate for a destination wedding? How many looks will I need? What kind of shoes can be worn on the sand? When preparing for a destination wedding, you do need to think carefully about the type of guest dresses you are choosing to throw in your suitcase. First, you need to think about location. What is the weather going to be like during this beach wedding? What's the venue like? Will you need a cover-up in the evening? Then there's the type of celebration. Are you expected to still be formal on the sand? Or is it more of a casual affair?
We know, we're flying a lot of questions in your direction right now, and all you want is to browse some guest dresses for that 2023 destination wedding! So, let's not delay. We've put together a selection of dresses that are perfect for a casual, boho style beach wedding. Lots of florals, prints and floaty fabrics that'll help you keep cool as you sip margaritas by the seaside.
Guest Dresses for a Boho Style Destination Wedding in 2023
We have selected 10 chic guest dresses suitable from Temu to wear for any stunning, breezy destination wedding celebration. Best of all, the dresses all cost under $20!
Floral Print V-Neck Summer Midi Dress
This super flattering style from Temu is ideal for a beach wedding, as its floaty fabric, and relaxed silhouette will stop you feeling too hot, or constricted. The pretty print is bold, without being overpowering, and it's available in blue or cream – our favorite is the cream! A good dress for styling up or down, with its cinched in waist lending itself perfectly to a statement belt.
Summer Floral One Shoulder Flowy Boho Maxi Dress
Destination wedding guest dresses should be fun, and this style certainly is! With its floaty ballgown skirt, ruffle detailing and statement floral print – this gown from Temu is sure to steal just the right amount of spotlight on the big day! The one-shoulder gives the dress a care-free vibe, while the ruched in waist keeps the silhouette flattering. Length-wise, you'll easily be able to navigate the sand, and the lightweight fabric will certainly keep you cool.
V-Neck Short Sleeve Printed Maxi Dress
This floral number is the perfect balance of formal and casual. Its slight peplum silhouette, V-neck and short sleeves give it a smart overall look. But the bold print, hand-tied belt and lightweight fabric really bring the party vibes! We love a dress that you can wear again and again, and this fun maxi dress from Temu would be ideal for any semi-smart celebration. Or even just brunch with the girls. The cut is so complimentary, and the placement of the high-waisted belt helps to keep this style ultra-flattering.
Floral Print Belted Shirt Dress
Is there anything more chic than shirt dress? This printed one from Temu simply oozes sophistication, and its daring print is sure to be a standout look. The short sleeves, collar and midi length gifts this style formality. But if you want to feel a little more casual as the sun goes down, release a few buttons on the skirt, and you'll be free to show some moves on the dance floor! The shape is effortlessly complimentary, while the multicolored print lends itself easily to coordination with shoes and accessories.
Geometric Floral Dress with Ruffle Hem
Easy, breezy and bold. This crew-necked halter from Temu is giving us the summer vacation feels! One of the most carefree in our edit of destination wedding guest dresses. With a look that feels very put together, but equally uncomplicated. The type of style you can just throw on 2 minutes before you need to leave and look fabulous! There's a modern geometric pattern that gifts a confident look, one that works well with the modern boho aesthetic, without leaning too far in that direction. The silhouette is flattering with a hand-tied belt just under the bust, and a crew-neck halter that elongates the body shape.
Ruched Satin Shirt Dress with Short Sleeves
This maxi can, and should, be worn time and again. With a look that lends itself to almost any occasion. It's button down, shirt style is complimentary on almost any silhouette. While the choice of 5 different colors makes this one of the most versatile destination wedding guest dresses on our list. For a classic beach wedding though, we feel the champagne tone would be ideal.
Cold Shoulder Long Chiffon Dress
If you want to elevate your look as day turns into night, this maxi dress from Temu could be the perfect style. With a chic cold-shoulder design, ruffled top and high thigh slit – this dress is certainly fun, and a little flirty. Without losing any of the formality essential in destination wedding guest dresses, especially evening affairs. The fabrication is an ultra- light chiffon, which'll help to keep you cool on those balmy Bali nights. And the fit and flare silhouette will look stunning as you're swept onto the dance floor.
Boho Floral Print Wrap Midi Dress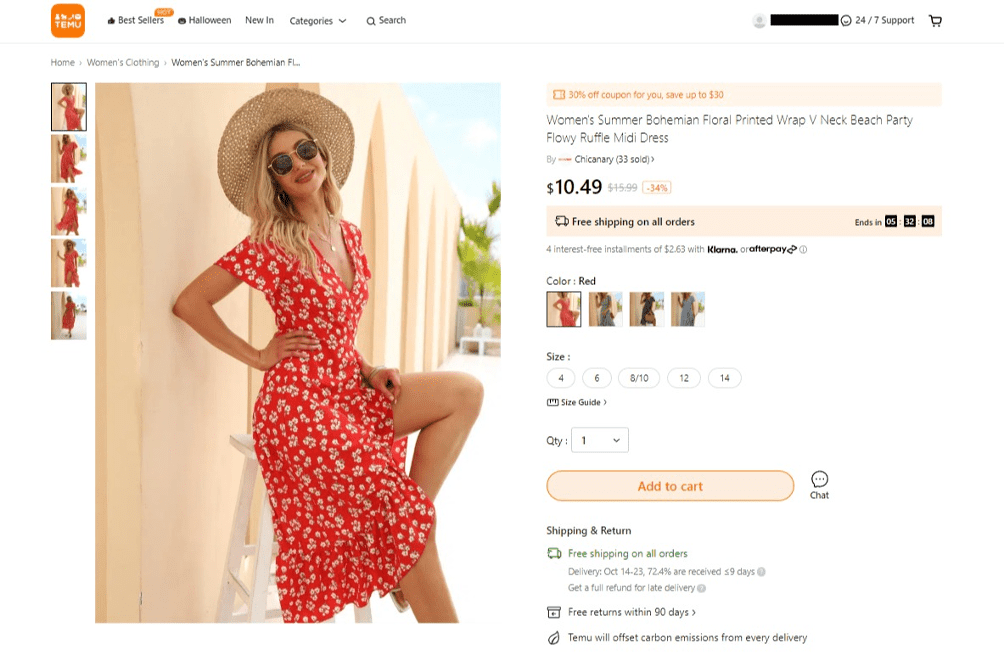 Be it classic red, elegant green or the pastel blue – this daisy print midi is a fool-proof chic look for a beach wedding. The perfect daytime style, with a lightweight, non-clingy structure that is ideal for sunny afternoon strolls. While the wrap around design allows you to show a little skin, and let the cool breeze in. That high wrap detail is also hugely flattering, as is the modern V-neck and cap sleeves.
Long Sleeve V-Neck Floral Print Dress
If you want to cover up, but still keep cool during the beach festivities, this long elegant style could be for you. It's cinched in, elasticated band under the bust gifts a complimentary feminine silhouette. While the low V-neck adds a flattering, modern feel to the top. The dress is crafted from a striking, yet subtle floral print that's timeless in design, and ideal for any summer celebration. The length is perfect for heels, but equally elegant with flats.
Long Palm Print Maxi Dress
Hugging in all the right places, this elegant maxi dress takes the look of a classic shirt dress with its lantern sleeves, and buttons. And combines it with a striking palm print that certainly matches the tropical vibes we're looking for! Throw that together with a flattering pleated upper skirt, an oversized hand-tie belt and a modern V-neck. And you have all the ingredients for a destination wedding guest dress that screams, 'where's the beach-side cocktail bar?!'
Haven't found the perfect guest dress for that destination wedding yet? No sweat, we've got so many more styles for you to see! Take yourself over to the women's fashion section to browse through everything, or use our search bar at the top if you're looking for something more specific.
Presented by: DN News Desk