With the September 2022 launch of Temu, the newest US online shopping site, consumers now have access to direct-from-factory deals on a wide variety of product categories.  Temu is able to offer wholesale prices to retail buyers thanks to its direct access to over 11 million global suppliers.  On Temu, you can find the merchandise you need the most on a daily basis from clothing to appliances to cooking tools. Unlike wholesale clubs, there are no annual membership fees to pay to join Temu, and you can buy just the quantity you need to enjoy the best prices.
To help you find exactly what you're looking for, we've compiled a step-by-step guide on searching Temu's endless catalog of high-quality products.
1. Surf the home page
Temu's home page is incredibly easy to navigate.  Here's what you'll find:
Deals and coupons are listed in a banner across the top, giving you any available discounts on shipping and first orders for new customers.
Category listings are underneath, which include Best Selling products, a Gift Guide, Holiday products, and New Arrivals. You can also browse through individual categories or use the search bar to find what you're looking for.
The customer review section presents recent reviews from actual Temu customers to highlight popular products for your perusal.
Temu's story details the history of the company and its key features including safe payments, secure logistics, secure privacy, and purchase protection.
Lightning deals and other discounted products are listed underneath, showing you special deals that last a limited time only.
Unlike online retailers like Amazon, Temu highlights its customer reviews to show you the most well-reviewed items on the site.  This helps you find products with the best quality for your money.
2. Browse through category listings
If you're looking for products in a certain category, you can browse the category listings on the top bar of the home page.  This includes categories such as:
Shoes
Toys & Home Improvement
Health & Household
Beauty & Health
Automotive
Toys & Games
Women's Underwear & Sleepwear
Office & School
Industrial & Commercial
Women's Curve + Plus
Baby & Maternity
Men's Clothing
Sports & Outdoors
Musical Instruments
Pet Supplies
Women's Clothing
Men's Underwear & Sleepwear
Jewelry & Accessories
Bags & Luggage
Each category is broken down into subcategories to help you find exactly what you're looking for.  For example, in the Health & Household section you'll find subcategories like:
Personal Care Products
Home Use Medical Supplies & Equipment
Household Supplies
Wellness & Relaxation Products
Health Care Products
Stationery & Gift Wrapping Supplies
If you know exactly what you're looking for, you can use the search bar to narrow down your search to your own unique category.  Type in anything from "goodie bags" to "cookie cutters" to have instant access to any product fitting that description.
Once you've decided on your product category, you'll be presented with a list of trending items within that category.  You can select filters on the left to narrow down the search even further based on factors like price, size, color, and more.  The filters are similar to what you'll find on sites like Amazon and Shein, only more detailed and easier to navigate.
3. Check out individual product listings
When you click on a particular product, you'll be taken to the product listing for more information.  This includes:
Product title that describes exactly what the product is.
Product images will show you the product from multiple angles.
Seller information.
Number of products sold.
Price and if it is on sale.
Color or size options.
Available inventory and who has the item in their cart but hasn't yet checked out.
Add to cart button.
Shipping & Return information.
Product Description that tells you details like the pattern, type, and material of the product.
Customer reviews.
Similar items.
Browse through the product listing to learn everything you can about how the product works and what options are available.  You can even check out similar items at the bottom to look at other products that might be suitable.
4. Read customer reviews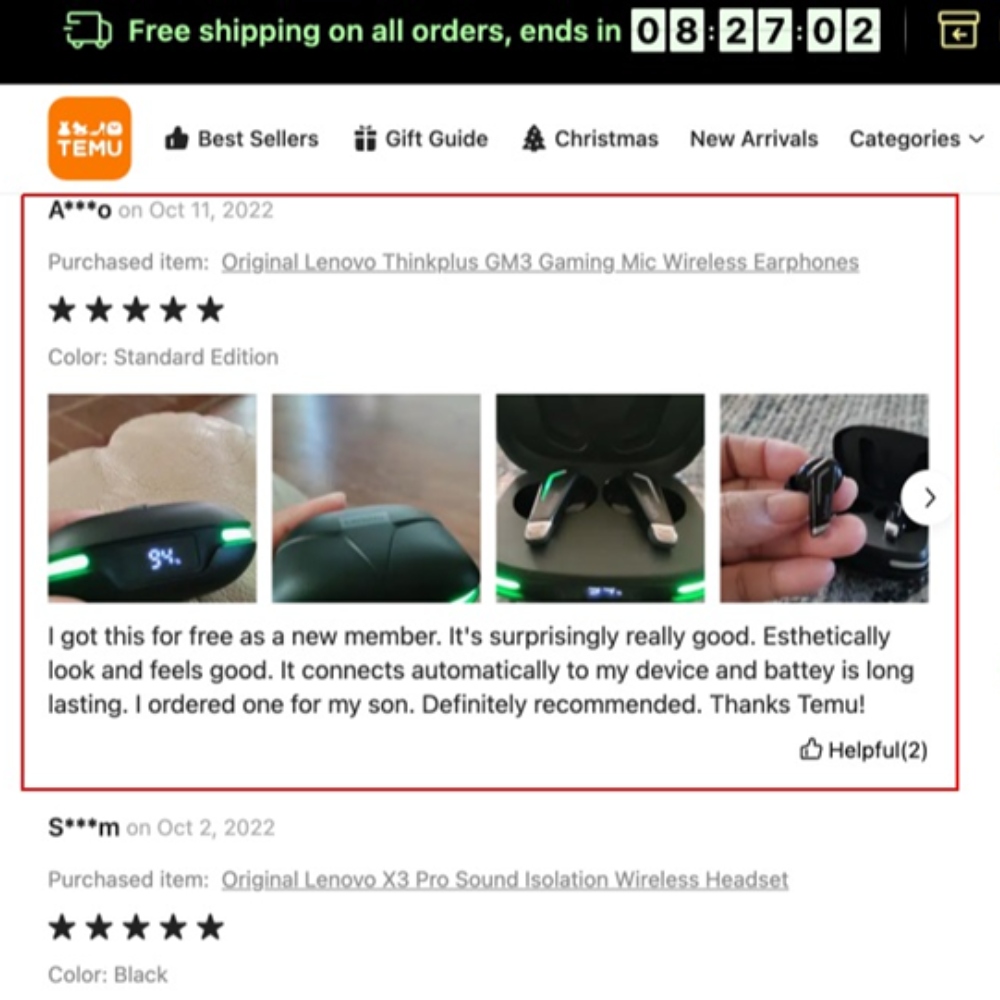 Customer reviews can give you a good indicator if the product matches your needs.  Customers will describe how easy it is to use, the quality of the product, and any pros or cons.  With online shopping, customer reviews are the key to establishing trust in the quality of what you're buying, so make sure you read through the reviews to see if it's the right product for you.  If not, Temu is sure to have plenty of other choices that can meet your needs!
Once you're ready to check out, make sure to note the shipping options to choose the one that gets you the product right when you need it.  If at any point you need help during the process, the Help Desk and Customer Service is there to serve you 24/7.  With Temu, you'll be sure to find exactly what you're looking for, no matter what.
Presented by: DN News Desk