By now you've likely seen the unforgettable work of Elizaveta Porodina, who has shot the likes of Zendaya, Brad Pitt, and Kylie Jenner in recent years. The photographer of the moment tells THE DAILY how she's following her true passion with a new book collab. 
We were fascinated to learn that you have a background in psychology. Tell us about that.
I came to Germany when I was 12. I'm a child of Russian-Jewish immigrants and when we came to Germany, my parents, who are ambitious, thought that I should build a life and an existence by myself. They weren't impressed by my initial plans to be an artist, especially because I was vague about what kind of artist I wanted to be. So I ended up studying psychology, and I became a psychologist for a couple of years. It's a fascinating subject, and I still find parts of it within my profession now, because psychology is the study of human behavior. It's pretty much everywhere, also in photography and modeling. My passion in life lies elsewhere, which is in art. When I was already about two years into working in psychology, I decided to try to be a full-time artist. And that's where I'm at currently. 
What was your "big break"?
There wasn't one big thing. I would say that there were many little steps, that one led to another. In 2015, there was a cover of Vogue Ukraine, which featured my favorite muses in their place of birth. And I think that a lot of people from the industry noticed that. And then, much later, like last year, I had these covers back to back with Zendaya and Brad Pitt and Bella Hadid. In 2020, there was a moment when everyone was isolated due to COVID and I found a way to photograph people and things that no one else was using in the way I was. I was photographing over Zoom, and I was photographing magazines, covers, campaigns, and album covers with this specific technique. That was also the moment that brought me some significant attention.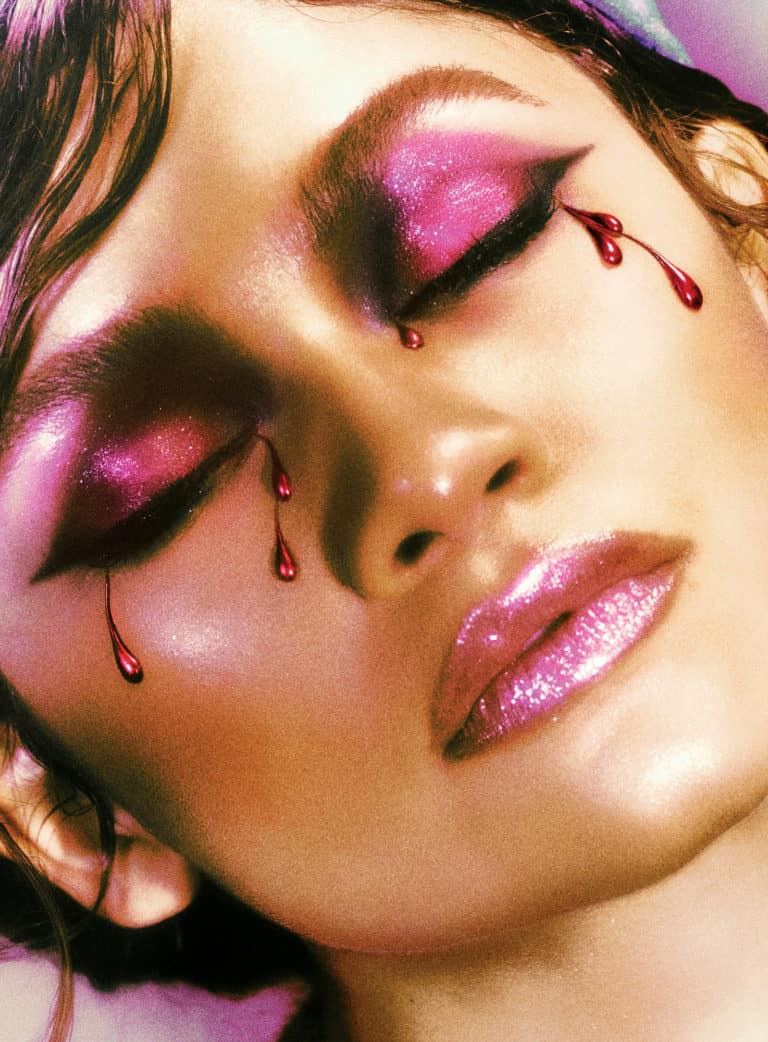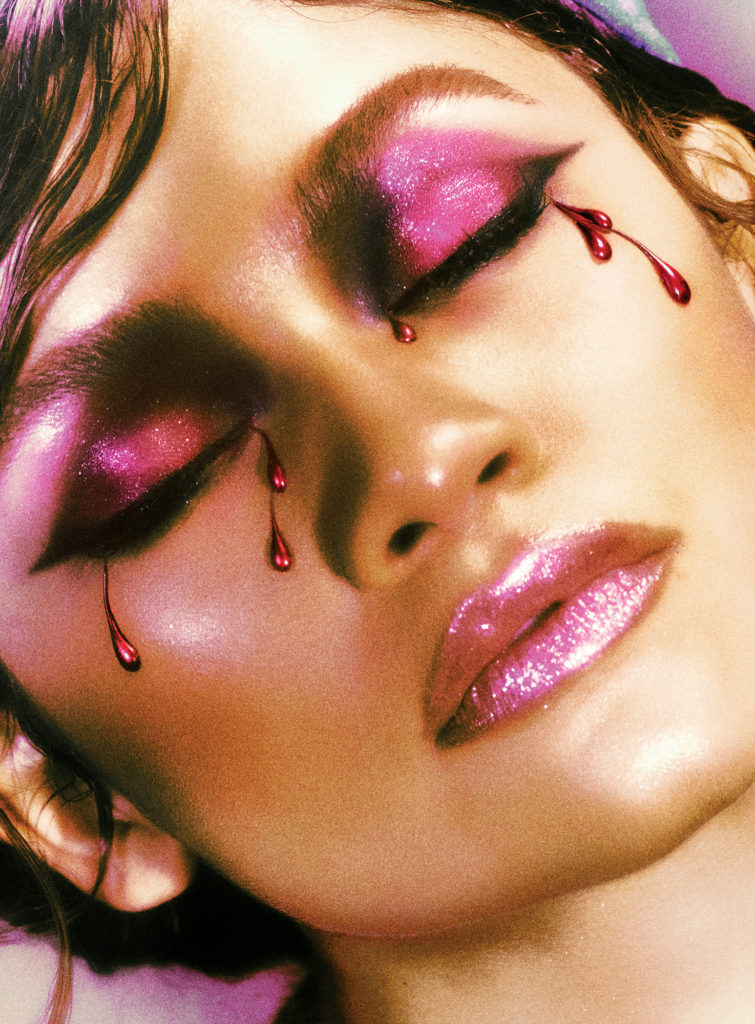 Do you apply your psychology background to what you're doing now?
I usually come into the room, then I scan everyone with my psychology laser eyes. [Laughs] To be honest, I don't know that I apply it. Hopefully I'm a better and more empathetic person. It's a different profession. I'm an artist. I learned a
chunk about myself and about humans in psychology in general, but I'm not trying to be a psychologist in a room full of people. I'm just trying to do my job as a photographer. There's enough other stuff that I have to focus on in a room with supermodels and super stylists and super magazines that I have to care about. 
Tears and water are big parts of your work. Are you a water sign!?
I'm a Leo. I don't know anything about astrology, but I'm pretty sure that is a fire sign. There's no astrological connection. Tears are a powerful expression of emotion, which is extremely important in my work. I love mixing aesthetics with real vulnerability and real emotion and tears. All this is a big expression of it. It also can be an expression of nostalgia and melancholy, which are powerful elements of my work. And water is an expression of nature, which I always try to implement within my work.
Who are some of your favorite people you've photographed so far?
That's a tough question, but I have enjoyed shooting everyone. They're all my favorites. They're my photo babies. I love them; I love them all. All my muses are amazing. 
Love it! You have a book coming out this week. Does it have a theme?
It's called Colormania: Color & Fashion, and it's a collaboration between me and the House of Carolina Herrera, specifically the designer of it, Wes Gordon. The theme is our collaboration, which has been going on for the past three years. We've been photographing all the collections and the archives of the work together, focusing specifically on interpreting it. We basically created an old language that we've been growing the past couple of years, and it's focused on abstraction, research of color, and abstracting the picture to a point that it becomes an illustration, a painting, a work of art of its own, through the lens of the powerful muses that we've been working with.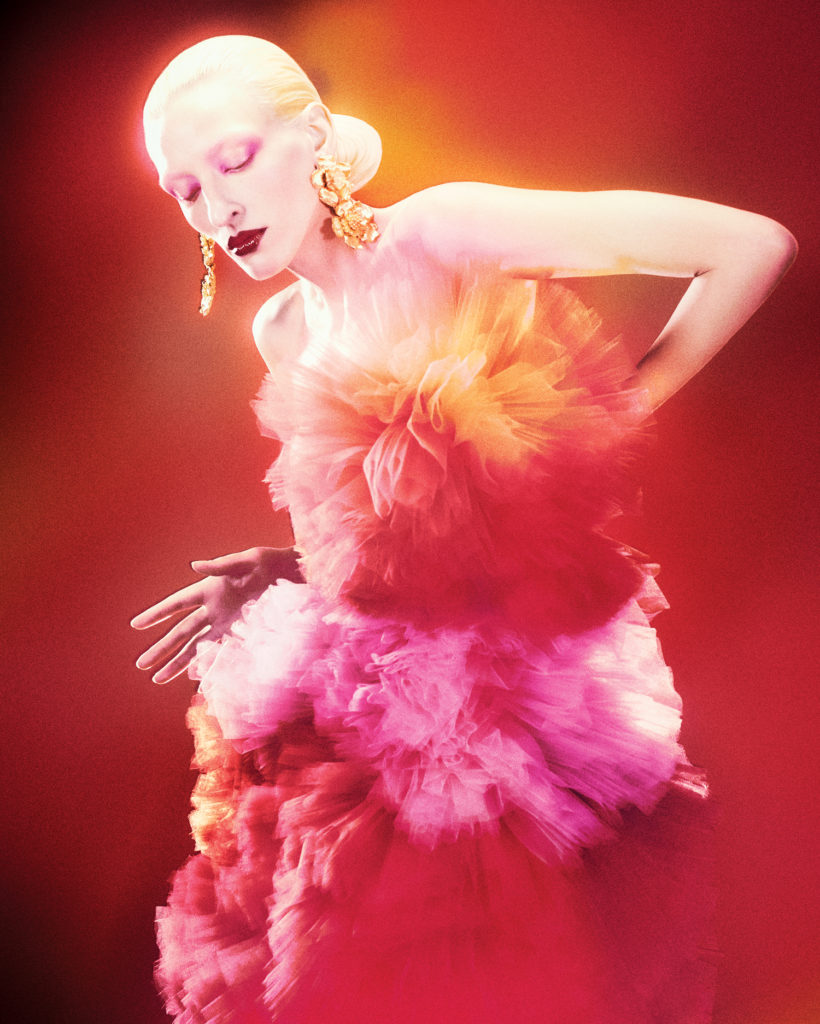 How did you and Wes Gordon come to work together?
I've known about his work forever; I'm sure he knew about my work, too. But it actually all started during COVID when everyone was isolated and Carolina Herrera wanted to photograph this quite twisted moment, where people were willing and were, like, dying to keep creating. The project that we started with was photographing or documenting prima ballerinas at their homes. So people who are incredible artists who live out their passion and their craft on the stage and were not able to do so. The first chapter was to photograph these dancers in Carolina Herrera gowns, sort of engulfed in this passion, in the passionate dance. And I photographed all that over Zoom in six different sessions. And these people, they were all over the world. They were in Australia, South Africa, and New York. They are beautiful memories. I'm so happy it's a book.
What was your reaction when you got the e-mail from The Daily that you were our Breakthrough Photographer of the Year?
I'm still working on the reaction! I'm bad at accepting compliments or awards or things like that. I feel like I have to work right, like I have to do my work. But it always feels alien to me to be noticed by people; it always feels like, oh, surely they mean someone else. I'm not trying to be humble; that's not what I'm trying to do. [Photography] is a weirdly solitary activity; it's very isolated. Then to be recognized by big and important institutions is obviously a huge honor, but it feels surreal and unreal to me. Hopefully it will sink in. 
Subscribe to our newsletter and follow us on Facebook and Instagram to stay up to date on all the latest fashion news and juicy industry gossip.