When lifelong jewelry lover Laura Chavez discovered the endless possibilities of cultured diamonds, she began the process of carving out her own space in fashion history. Meet the maverick behind Lark & Berry.
What's your professional background?
Two years ago, I got my MBA at London Business School. My undergraduate studies are in economics and managerial studies from Rice University in Houston. London Business School brought me to England — in years prior, I began my notable work experience in hospitality, specifically in the resort industry. I later served in an advisory role to a board of directors in that industry. Then, I ran my own restaurant in Buenos Aires, Argentina. I like to think of myself as a global citizen.
When did you first become interested in jewelry?
I've always loved jewelry, and it had always been a dream of mine to someday have my own brand; however, I was apprehensive about getting into fine jewelry as I didn't want to contribute to the controversial practices of the mined diamond industry. During my MBA, I found I still had an interest in jewelry that wouldn't go away, and I found, still, that the mined diamond industry remained controversial. However, I decided to take a course on the history of jewelry, even if just for interest. During this course, I happened upon the science of diamond culturing. I was amazed! Cultured diamonds are made in labs that replicate the exact circumstances under which diamonds form naturally underground. I learned with culturing diamonds, we could avoid all the negative aspects of mining. I took it as a sign, like, "Yes! This sustainable method is the only way I'm going to get involved in diamonds!"
What initially inspired you to learn more about cultured diamonds?
As soon as I discovered that cultured diamonds are 100 percent genuine diamonds that don't have to be mined — which hurts the whole environment, including plants, trees, wildlife, and people — and that they're guaranteed conflict-free every single time, and that with cultured diamonds, we can price them fairly, because they aren't subject to mined monopoly, I was just too intrigued to not learn more. When that interest blossomed into me deciding to start Lark & Berry, I knew cultured diamonds and stones would be the only way I would operate. I got excited about Lark & Berry being the first exclusively cultured diamonds and stones designer jewelry brand in the world, and we're so proud!
Dark Halo Sapphire Ring in 14k Rose Gold, LARK & BERRY, $625    Modernist Tennis White Bracelet, LARK & BERRY, $1675
Aerides Diamon Drop Earring in 18k Gold, LARK & BERRY, $7,250
When you launched Lark & Berry, what did you think was missing in the jewelry landscape?
Quite literally, more cultured diamonds! Lark & Berry is the first designer luxury jewelry brand in the world to exclusively use cultured diamonds. We wanted to get behind the movement of cultured to highlight how this isn't some fad—the planet is in serious trouble, and the only way to sustainably source diamonds is to culture them in labs. We can't keep digging, polluting groundwater, displacing wildlife, and creating an environment for human rights abuses to still flourish. Lark & Berry is not only the first to exclusively use cultured, but we're also pioneering with our luxury, in-store piercing concept in London, using our jewelry with only cultured diamonds and stones. I think having so many "firsts" to our name, coupled with the fact that we really try to educate in advertising and the media about the virtues of cultured, has been what earned us the label of "diamond disrupters" by the press. So even more than we're filling a niche that wasn't previously there in luxury, I like to think we are spearheading something altogether new.
What makes your lab-cultured diamonds so unique?
Cultured diamonds aren't just unique—they're a clear winner over mined diamonds for so many reasons. With cultured, we get no human rights abuses or conflict that still happens in some areas, far less harm to the Earth as no mining is needed, and an equal diamond to its mined counterpart that is often better quality. Cultured diamonds are routinely Type IIa status, the world's finest in diamonds. Only 2 percent of mined diamonds reach this purity benchmark. The science alone is amazing. I think there are still a lot of people out there who don't even know cultured is an option with diamonds yet. I've even been the one to tell some people about it for the first time, and I love seeing the amazement on their faces learning of a diamond that through heat and pressure can be created scientifically in a lab, exactly replicating how they form underground. I've also, firsthand, seen gemologists with years of experience not be able to tell cultured diamonds from mined diamonds; seen them admit defeat, because very simply, there's nothing to tell apart!
How do you describe the brand's aesthetic?
Design comes first with us. I like to think our Bow necklace winning the 2019 JCK Las Vegas Editor's Choice Award for design shows that we're doing something amazing! Our cultured diamond jewelry is delicate, yet bold, classic, and playful. We believe in wearing diamonds every day with a "why not?" attitude. We cover every base of cultured beauty, from glittering diamond stars to abstract-set sapphires and kaleidoscopic drops of ruby and emerald. Our pieces are luxurious but conversational—they're modern and offbeat.
Veto Multi-Coloured Elongated Earrings, LARK & BERRY, $2,495                  Knot Diamond Earrings, LARK & BERRY, $24,900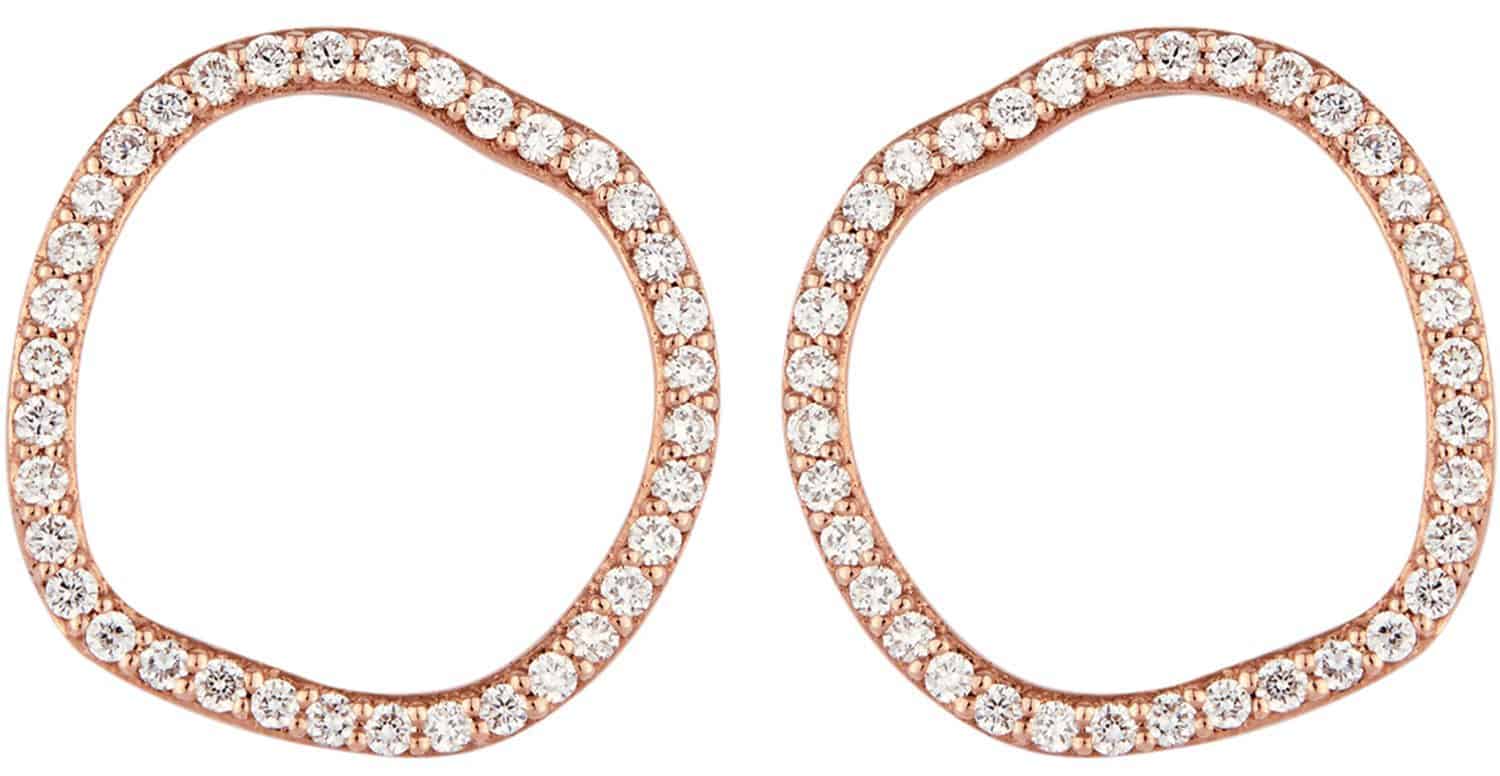 Halo Diamond Stud Earrings in 14k Rose Gold, LARK & BERRY, $895
Give us the scoop on your global campaign and the meaning behind "Clean. Cool. Cultured."
The phrase "Clean. Cool. Cultured." just totally encompasses what Lark & Berry is all about. "Clean," as in, a clean, cultured diamond that's better for the Earth and just as genuine as its mined counterpart without a single bit of shady history. "Cool," meaning that cultured diamonds are just the same as mined but created more responsibly with technology. What's cooler than that? Lark & Berry is all about scientific achievements! "Cultured" is my favorite term for grown diamonds. Much more so than "lab grown," cultured really embodies my favorite aspect of these technological and luxurious stone marvels—they're truly the way forward. Cultured diamonds are the progressive choice and the only truly sustainable choice. Our new campaign derived from this phrase is comprised of web ads, upcoming commercials, and the launch of several new jewelry collections. We're so excited!
Where is the brand currently sold?
Currently, our larkandberry.com e-store, which serves everyone around the world; our London flagship brick-and-mortar in Marylebone, which features our in-store piercing concept; The Alkemistry in Covent Garden, London, which also features our piercing collection; and Wolf & Badger online, as well as its brick-and-mortar boutique in NYC's Soho district.
What are your plans to expand?
We're in heavy research right now in different markets, but we can now announce that after careful consideration of various offers, we have found a partner that aligns with our values and we are set to launch in Scandinavia in a few months. We are also in talks to open pop-up concepts in NYC and Los Angeles!
Do you think you'll do any collaborations?
I'm open-minded to collaboration with anyone who knows cultured diamonds are the way forward. Some dream collaborations would be with someone like Emma Watson or Gwyneth Paltrow, as they have both made great strides fighting for sustainable causes. Stella McCartney would also be a dream come true. She's one of the pioneers when it comes to successfully marrying sustainable materials and design-centered luxury. And as far as partnerships go, Lark & Berry works with One Tree Planted, which for every Lark & Berry purchase plants five trees in areas of the world in need of reforestation—particularly in regions of Africa, where the diamond-mining industry has hit hard.  
Nocturnal Diamond Wrap Ring, LARK & BERRY, $1,150              Modernist Stackable Ruby Ring , LARK & BERRY, $245
Knot Diamond Necklace in Platinum, LARK & BERRY, $82,000         Dark Halo Sapphire Drop Earrings, LARK & BERRY, $995
Read the complete new issue of The Daily Summer below!
Subscribe to our newsletter and follow us on Facebook  and Instagram to stay up to date on all the latest fashion news and juicy industry gossip.