Even fashion trade events need a facelift and COTERIE's president Kelly Helfman set her sights on making some changes for the long-running show, which wrapped last week at the Javits Center. She took some time out of her busy schedule to talk to The Daily about the changes and why it was time to modernize the show. 
COTERIE had a reboot this year. What's new?
Honestly, we sat back, the pandemic did some good things, and we really sat back and thought, "What is our purpose moving forward and how are we going to address the changes in the industry, and how are we going to evolve?" Even though the traditional model, the trades how, is really great and Coterie does so many things well and we've served the market, things are changing. We really took a step back to think about what we want to help our customers with moving forward and that came between community, sustainability, and technology or digitalization of the business. We need to start having these conversations and bringing in resources, not just for the brands, also the retailers, and then start to give more of an omnichannel approach to how they're doing business. I really believe that we need to be customer-led, and that we can't just rinse and repeat the same tactics moving forward.
I noticed a difference walking the floor. What are some changes?
Since the last show, we've remerchandised the floor.  Although buyers really like to know where they're going and have a similar floor plan show-to-show, we also want to make sure, like fashion, we're always changing and staying on the pulse of what's hot. We've actually hired an architect from Europe. They partner with Balenciaga, they do a ton of concept stores, and we partnered with them and hired them to help us reimagine the floor plan, the set ups, start looking at the way we remerchandised booths.  Some of the biggest changes were that we put all of apparel in the same area, so, now you have a footwear and accessories section. We have played with aisles and direction to help these retailers discover brands.  Often we're creatures of habit; we walk up and down, up and down, but we want to walk to the sides, diagonally, zig-zagging. Ultimately, it's to help people discover new things. We're highlighting collections that we feel are portraying the new era of COTERIE. We have gender-neutral collections,  international collections that are artisanal…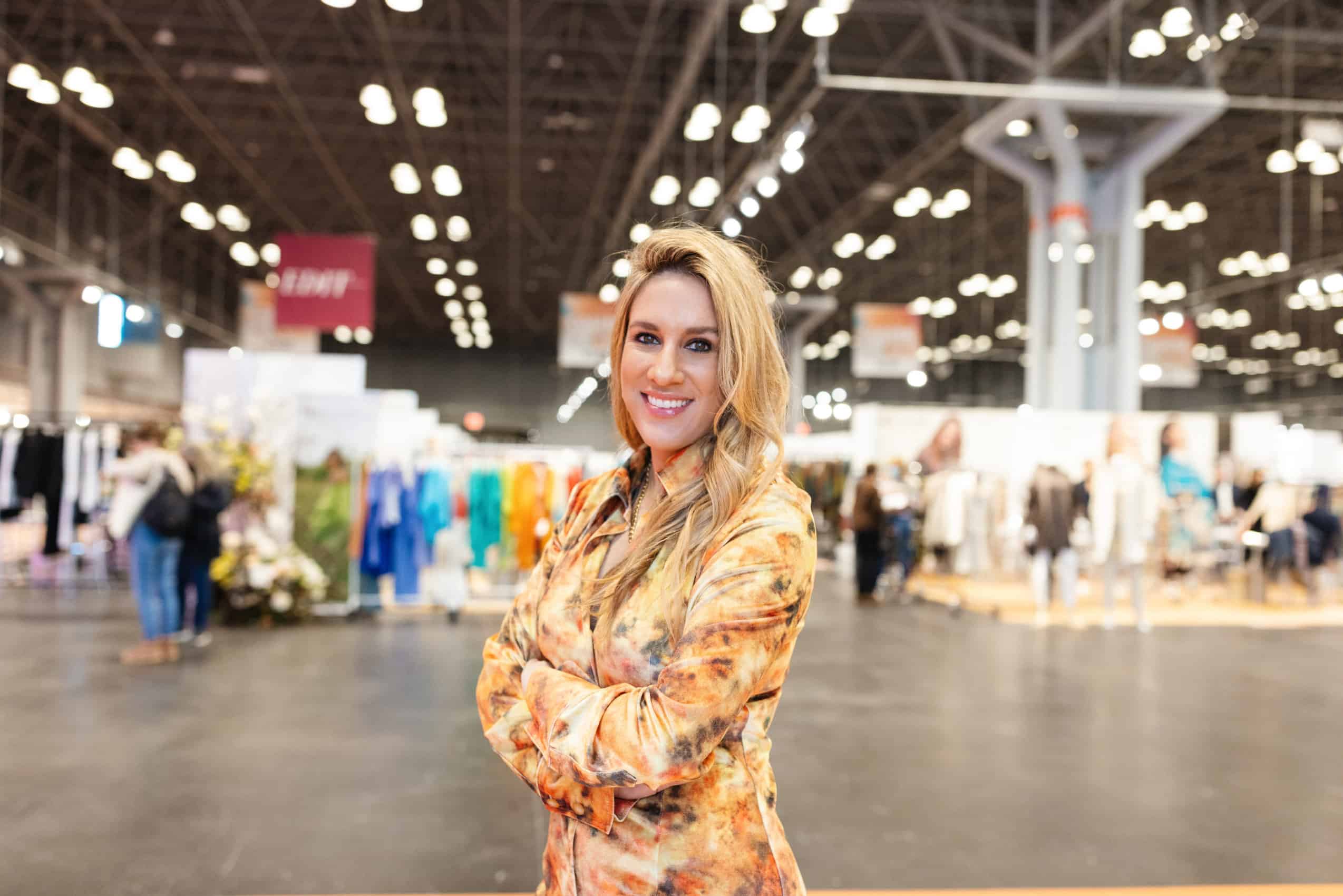 There's live models in certain areas of the show this year. Who are the models wearing?
We already had a huge partnership with Hey Social Good and they vet these brands who say they are sustainable.  We verify them like when you get that check mark on Instagram. Hey Social Good have a huge group of data researchers and they take weeks to do this process. Out of all of the brands, we had 20 that were actually verified. I wanted to celebrate these brands that got this verification from Hey Social Good. I thought that we had to put [the sustainable brands] on models, we had to make a splash. They're holding signs that say what they really stand for. We used locals from New York City [as models], not necessarily from modeling agencies. It's important that we're also highlighting the people of New York.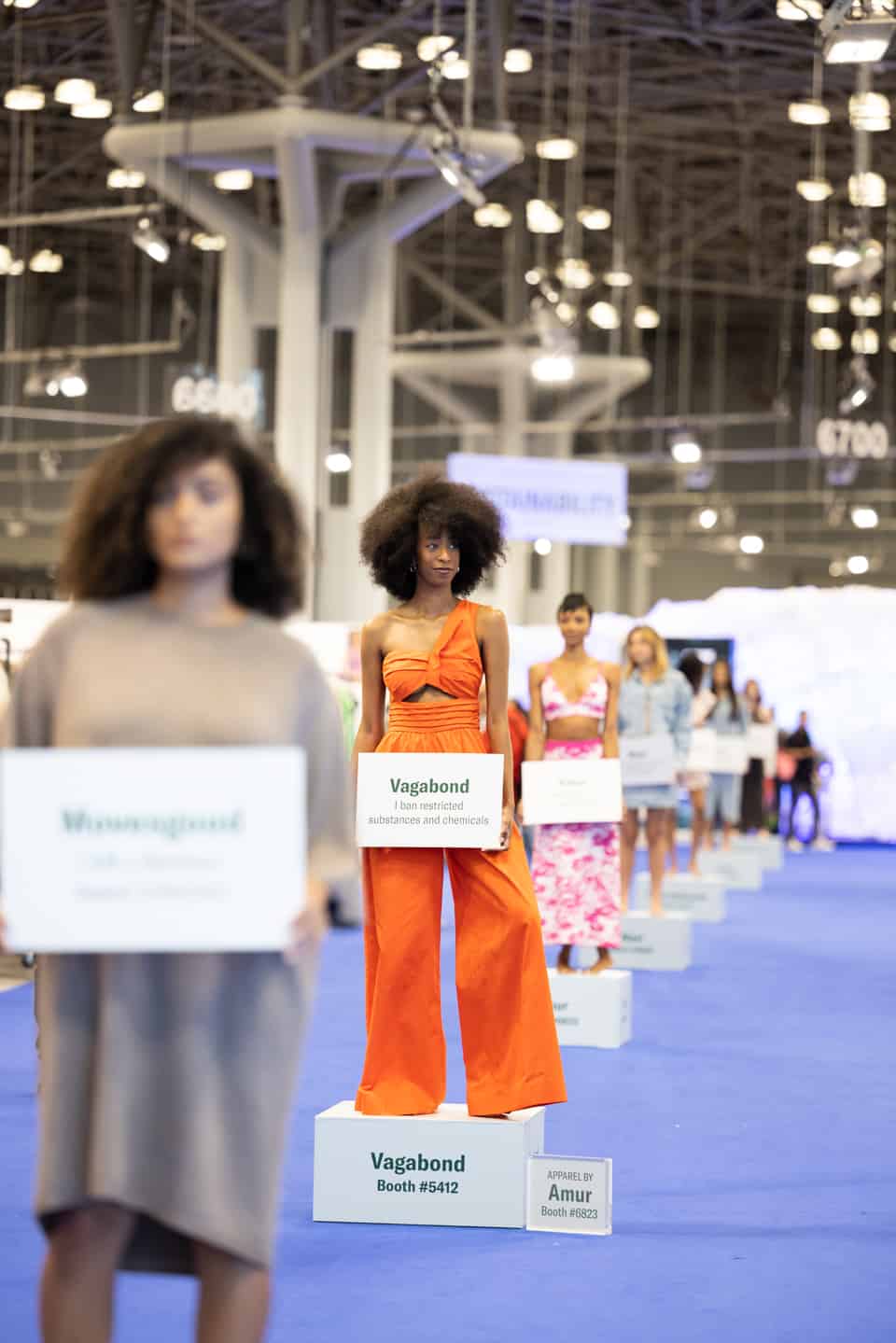 You mentioned that you're receiving a lot of positive feedback from this event. What are people saying?
They're floored by the brands. They feel a difference. I am getting that this has that buzz and that New York City is back. I think we felt that with New York Fashion Week. There was a difference going into these shows this week. It feels different. They're being inspired by our pillars and our new creative. I'm even getting chills right now [talking about it], I'm so passionate! They feel a difference and they're so grateful for it. And it's not just about the work we're doing, they've seen the work we're doing to get the buyers here, we're being more selective with the brands, and paying attention to the things that really matter in life.
How do you feel right now?  How did it feel when you came in here and saw everything?
Tears. Listen, we're going to have a lot of naysayers who are going to compare it to COTERIE ten years ago. You can't compare. What we've done here is taken some risks, shaken things up, done what matters, listened to our customers, evolved the thought process of fashion. That was scary, and ultimately, it's paying off because people are feeling inspired now when they walk in the door. They feel like we're on the pulse of what's happening, they are glad we're paying attention to what's happening in the world and that we're standing for something. We do listen to feedback and we needed to evolve and that's really where this evolution comes from. We did put a lot out there and it was scary. At the end of the day, we took some risks and they're paying off, and people are noticing. And it's only uphill from here, this is just the start. You should never walk into COTERIE and feel like it's the same every time. You should walk in and feel inspired every time and see the differences based on what's happening in the industry and the world.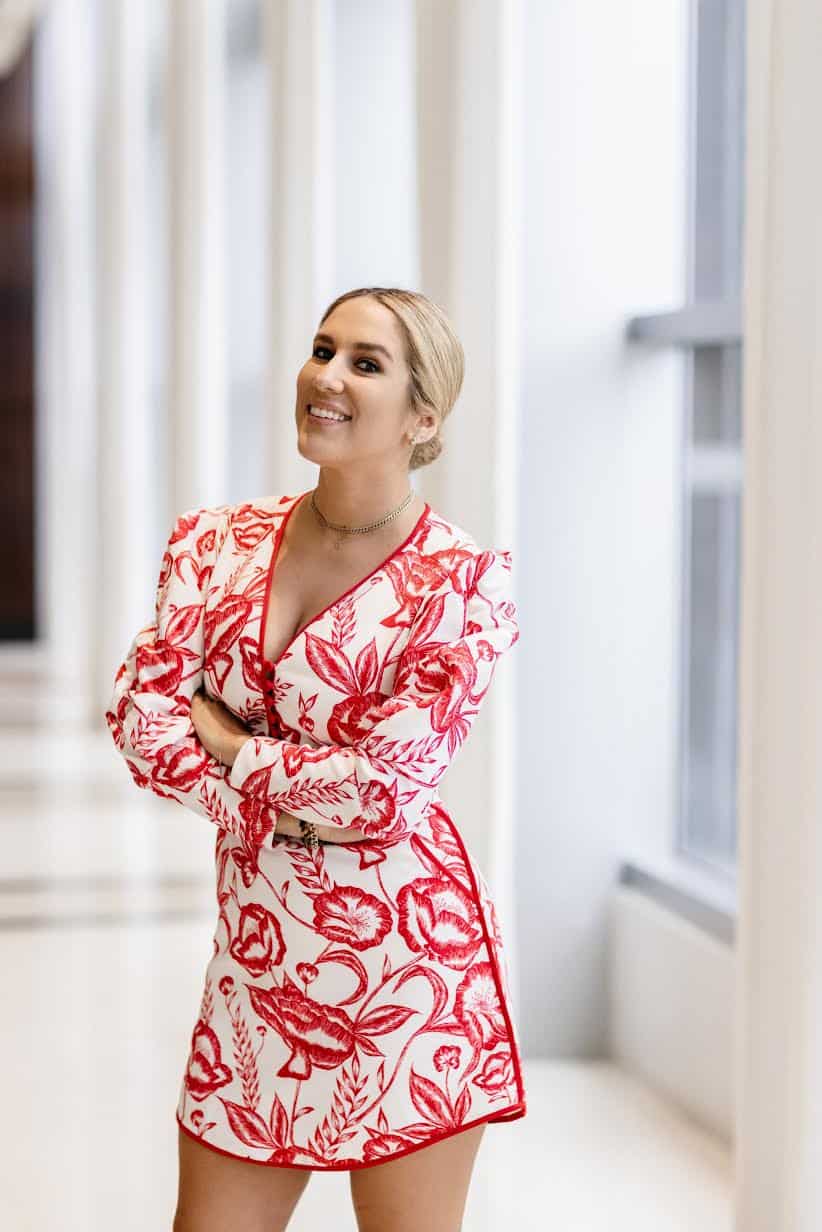 Is there anything else that you would like to talk about?
I think what really makes the show special is the international piece. We can't forget how many international brands we have here and how valuable that is for domestic buyers. About 40% of this show is international, from 30 countries. The fact that they can see all these brands in one city for three days is actually very sustainable, it helps their carbon footprint and it helps them discover these new brands that they might not have otherwise discovered. I'm very proud of that.
Follow Kelly on Instagram 
Subscribe to our newsletter and follow us on Facebook and Instagram to stay up to date on all the latest fashion news and juicy industry gossip.